Hardware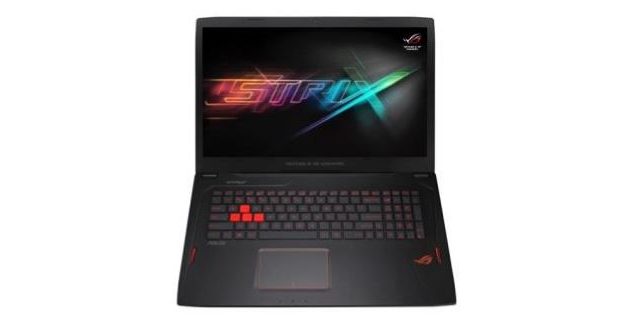 Published on November 2nd, 2016 | by admin
ASUS TO SHOWCASE NEWEST ROG PRODUCTS AT PAX AUS 2016
Sydney, 2nd November – Once again gamers and cosplayers from all around Australia are set to descend on the gamer's paradise that is PAX. This year event goers will be treated to an exciting showcase of the latest ASUS ROG products including the GX800, GL502, GL702, G752 and the Oculus ready G20CB. Now's your chance to get hands on with these heavy hitters and test them out for yourself!
GX800
The GX800 is a follow up to ASUS' previous flagship gaming laptop, the watercooled GX700. For those looking for the biggest and meanest gaming laptop look no further than the new GX800!   With a larger 18.3" wide view display, in 4K featuring NVIDIA G-Sync technology this laptop is a whole new beast. It features not one but two GeForce GTX 1080 graphics cards in SLI for an insane amount of graphical performance rivalling most high-end desktops!
Powered by the latest unlocked 6th Gen Intel Core i7 6820HK processor with 64GB of DDR4 RAM and 3xNVME 512GB SSDs in Raid 0 for very snappy performance throughout.   The GX800 comes equipped with the hydro-overclocking dock for superior cooling and overclocking but now with an RGB mechanical keyboard, the GX800 is definitely the new king of gaming laptops!
Availability & Pricing 
The ASUS GX800 is available exclusively from the ASUS Shop, with limited units available from AUD $9,999.
GL502
ROG Strix GL502 is a gaming powerhouse that delivers smooth performance and highly-detailed graphics with even the newest, most demanding titles. It's equipped with the latest quad-core Intel® Core™ i7 processor combined with a discrete NVIDIA® GeForce® GTX™ 1070/1060 GPU.
The Hyper Cool Duo-Copper cooling system uses heat pipes and a dual fan system to cool the CPU and GPU independently. This design maximises cooling efficiency to give ROG Strix GL502 the stability required for those intense gaming marathons.
ROG Strix GL502 boots up faster, loads apps quicker and has shorter in-game loading times keeping the gamer immersed and focused on the game.
The specially-designed chiclet gaming keyboard has 30 key rollover for precise command and control in battle and comes with red-backlit scissor-switch keys. This allows the gamer to keep up with team chat and destroy their enemies without getting a finger out of place.
For total immersion in the game the GL502 can filter out all ambient noise. The array microphones are designed to filter out ambient noise, which means that even if they're at a LAN party or a loud student flat their voice is still clearly heard.
Availability & Pricing 
The ROG Strix GL502 is available in FHD from $2,699, from select ASUS Channel Partners & ASUS Shop.
Strix GL702
Compact and potent, the ROG Strix GL702 packs the latest 6th gen Intel® processor and NVIDIA® GeForce® GTX 10 series graphics in a sleek, lightweight design. Strix GL702 enables users to enjoy high-end gaming, wherever they may be.
Powered by Windows 10 Home, the device displays unmatched performance with ROG Strix GL702's 6th-generation Intel® Core™ i7 quad-core processor combined with a discrete VR Ready NVIDIA® GeForce® GTX™ 1060 graphics with full Microsoft® DirectX® 12 support.
The latest hardware gives you efficient, powerful performance for heavy gaming or productive multitasking such as live streaming and video editing. The gaming experience is further amplified with an anti-ghosting keyboard with 30-key rollover.
ROG Strix GL702 utilizes a 17-inch panel with 178° ultra-wide viewing angle technology so there's no colour shift even when you're viewing it from extreme positions.
Availability & Pricing 
The ROG Strix GL702 is available from $2,799 from Bing Lee, select ASUS Channel Partners & ASUS Shop.
G20CB
The new ROG G20CB desktop has an incredibly compact and convenient size, the G20CB sports a designer 9.5-liter case, making it literally the world's most space-efficient, high-end gaming desktop! A perfect form-factor for games, work or entertainment that fits seamlessly into a gamer's life.
Oculus ready, the gamer can simply boot up and plug in, to catapult into gaming like they've never experienced. A powerful, state-of-the-art NVIDIA® GeForce® GTX graphics card easily handles intense processing to deliver smooth, stunning graphics to provide the next level of fully-immersive VR excitement.
Designed for high-powered use, this desktop remains whisper-quiet, while it's cutting edge heatmanagement system keeps everything running cool. With its aggressive design, top-notch specs, and unbelievable speed, it's no wonder that the ROG G20CB has been racking up accolades like a heavyweight champion!
Handling heavy files becomes a breeze with the latest in 6th generation Intel processors. Running  Windows 10, the ROG G20CB boots up with lightning speed and loads games and apps super quick! Work, videos, 3D-models, games and more are no match for the high performance capabilities of the Republic of Gamers G20CB. It's a total knockout!
Availability & Pricing 
The ASUS ROG G20CB with GTX 1080 is available at Scorptec for AUD $3999.