Uncategorized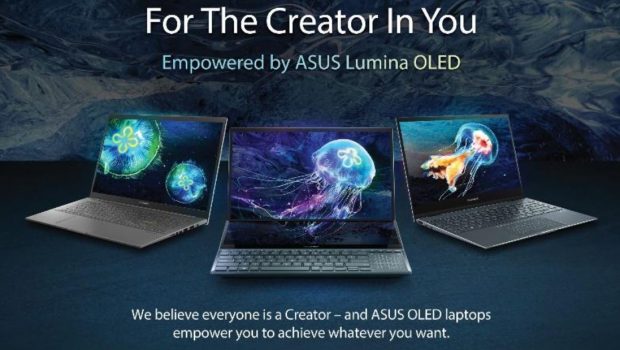 Published on May 24th, 2023 | by Admin
ASUS LAUNCHES NEW 2023 LIFESTYLE PC LINE-UP AS IT CONTINUES ITS MISSION TO PROVIDE 'OLED FOR EVERYONE'
ASUS has announced its latest OLED lifestyle line-up is now available in Australia. ASUS first integrated OLED in its lifestyle range in 2021, and this latest launch represents the next step in the brand's drive to make OLED technology more attainable for Australians and lead the industry in PC OLED technology.
The line-up spans three product ranges: Studiobooks, suitable for professional creators; Zenbooks, for savvy consumers who are focused on performance and aesthetic; and Vivobooks, which are designed for everyday users and creators. The OLED lifestyle line-up encompasses 24 models in 2023 (vs. 3 in 2021) and now includes flagship model, the Zenbook S 13 OLED, the world's slimmest OLED ultraportable laptop.
ASUS' continued integration of OLED technology in its lifestyle line-up has been at the forefront of its business plans given the constant growth and demand for the premium display technology.
"We first launched the world's most comprehensive lifestyle line-up with OLED in 2021 and  in 2023, we're focused on continuing to be the market leader in OLED laptops. Incredible technologies are often aspirational but rarely are they available to the masses. ASUS has committed to updating its three key lifestyle product ranges, ensuring more Australians have an opportunity to access an OLED display at various price points. As the content creator market continues to grow, we recognise all Australians are creators in their own right, so we are proud to be able to provide OLED technology to support this market," said Bradley Howe, Head of Consumer, ASUS Australia.
ASUS Lumina OLED displays
ASUS has included its Lumina OLED technology across the new lifestyle range, which aims to standardise a quality OLED experience. The name also highlights the unique advantages of ASUS OLED displays, which provide a visual experience that goes beyond the standard of traditional OLED displays. With more accurate, more adaptive, and more reliable features, Zenbook S 13 OLED is an example of the excellence that ASUS Lumina OLED displays have to offer.
Beyond the traditional OLED display benefits, such as high contrast and wide colour range, ASUS Lumina OLED displays provide a number of unique benefits:
Eye Care Support: With people spending hours working, playing and creating in front of laptops, ASUS has ensured its OLED line-up has TÜV Rheinland low blue-light certification, which means the devices can help to reduce strain on eyes caused by prolonged exposure to blue light
Colour Accuracy: Due to being Pantone® Validated and factory-calibrated to Delta E < 1, consumers can experience a wider array of more accurate colours, creating an immersive experience
Perfect Blacks: With VESA DisplayHDR™ True Black certification, ASUS' line-up gives creators the ability to see greater contrast when designing, creating websites, films, editing photos and more
True To Life: ASUS Tru2Life technology is a video enhancement feature that analyses each pixel of the video being displayed, adjusting brightness, contrast and sharpness to ensure the best, most vibrant viewing experience for consumers
Precision: ASUS Splendid colour-gamut management provides consumers with greater precision in their work
Reliability: OLED Power Saving and US military-grade durability ensures a trustworthy device that users can rely on
Studiobook: Designed for creatives
The Studiobook range delivers a computing experience that meets the visual and performance needs of the most demanding professions and use cases, including photographers, designers, animators, engineers, architects and more. It does through a number of features across the range:
NVIDIA RTX Graphics: Studiobooks ensure best-in-class graphics capabilities to help users with the most demanding visual needs, including animators and filmmakers
ASUS Dial: ASUS Dial is a physical dial at the rear of the display that can control compatible Adobe software or Microsoft functions, which can be customised to meet the user's needs, helping them to access software and functions with speed and efficiency
ProCreator Hub: ASUS' ProArt Creator Hub software provides control for a range of creator products, allowing the creator to tune the settings of their device, including creating customisable shortcuts to zoom, adjust brush size and brightness and more
A flagship model in the Studiobook range is the ASUS ProArt Studiobook 16 OLED (H7604), a powerful mobile workstation that aims to exceed all performance expectations. Its key features include:
A refined Mineral Black finish with a stepwise design that enables slimmer screen bezels and makes room for the rear air vents; this design also allows the laptop screen to lie flat, offering any viewing angle up to 180°
The device features a 13th Gen Intel Core i9-13980HX processor, NVIDIA GeForce RTX 40 Series Laptop GPU, up to 64 GB of upgradeable memory and ultrafast storage frees creators to do what they do best: create and design, without boundaries
The certified colour-accurate 16-inch 3.2K 120 Hz 3D OLED display does full justice to every creative vision, providing unrivalled visuals and its super bright OLED panel delivers stunning detail and vivid colours, featuring adaptive dimming technology to maximise display life
A large, stylus-compatible haptic touchpad and the intuitive ASUS Dial rotary control offer ultimate precision and control in apps. It also enables seamless connectivity to all the latest peripherals via dual Thunderbolt™ 4 ports, with up to 40 Gbps transfer speeds.
ASUS IceCool Pro thermal technology gives the ProArt Studiobook 16 3D OLED the edge when it comes to performance and quietness
In its relentless pursuit for innovation, ASUS has also developed the ASUS ProArt Studiobook 16 3D OLED (H7604), which is the world's first 3D OLED creator mobile workstation. With its groundbreaking new glasses-free 3.2K 120 Hz 3D OLED display, content creators and gamers can view 3D photos, videos, or even games, without cumbersome glasses or headsets. This is made possible by ASUS Spatial Vision technology, which allows 2D visual content to be seamlessly converted to immersive 3D in real-time with the flick of a switch.
ZENBOOK: Performance with a compact, thin and light aesthetic
Partnering with Intel, ASUS has redesigned the impressive Zenbook range for the most powerful Zenbook line-up yet. The Zenbook range intends to serve the needs of aesthetic and performance-focused individuals who fall into the 'prosumer' and 'social hobbyist' audience, typically comprising 25 to 45 year old individuals
A key feature in the Zenbook range include NanoEdge Displays, which offer ultra slim bezels and an anti glare coating for a visually impressive display with images that 'pop'.
The local Australian launch includes the flagship Zenbook model, the ASUS Zenbook S 13 OLED, which is the world's slimmest OLED ultraportable laptop and embodies the 'Thincredible' line-up that ASUS announced recently.
Key features:
The Zenbook S 13 OLED (UX5304) is the world's slimmest 13-inch OLED laptop, and also the most eco-friendly Zenbook ever
It's designed with the environment firmly in mind, using recycled metals and plastics in its construction, and utilising sustainable FSC™-certified packaging.
With a super-thin 1cm profile and a super-light 1 kg chassis, this sophisticated Zenbook is the epitome of ultraportable design, finished in brand-new Basalt Gray or classic Ponder Blue
The Basalt Gray model features the exclusive and revolutionary ASUS Plasma Ceramic Aluminum material that transforms the aluminum lid using an environmentally low-impact bath-based method, which helps to increase wear resistance, corrosion protection, thermal management, hardness, and lifespan, while also adding a natural look and feel
This Evo-certified Zenbook harnesses the power of up to a 13th Gen Intel Core i7 processor with 32 GB of LPDDR5 RAM and a 1 TB PCIe® 4.0 x4 SSD. There is also a full set of I/O ports for on-the-go connections, and a long-lasting 63 Wh battery
For immersive true-to-life visuals, Zenbook S 13 OLED has a 16:10 2.8K (2880 x 1800) ASUS Lumina OLED display that's Dolby Vision-certified, along with Pantone® Validated colour rendering and VESA DisplayHDR™ True Black 500 certification.
VIVOBOOK: OLED laptops for multi-tasking
This range seeks to meet the needs of everyday users who require a device that can run multiple apps and tasks, from app streaming, to work tasks, content creation and everything in between. The Vivobook acts as a superior entry point to OLED technology, following ASUS' mission to make the technology more available to Australians with varying budgets.
The ASUS Vivobook 15X OLED (M3504) is an innovative 15-inch laptop that offers a true-to-life 13.3" 2.8K OLED display for a more immersive visual experience. Its key features include:
The Vivobook 15X OLED provides a stunning visual experience with incredible detail and professional-grade, ultra vivid colours from its OLED panel, which has a 16:9 aspect ratio to give you more space to work on screen
Featuring an AMD Ryzen™ 7 7730U processor for cutting-edge performance, making it ideal for multi tasking
It's PANTONE® Validated for professional-grade colour fidelity, and the 100% DCI-P3 colour gamut gives you cinema-grade colours
TÜV Rheinland certification reduces low blue-light emissions, while flicker-free operation ensures less strain on your eyes during long viewing sessions
The device offers optimum 120Hz motion clarity, which means more frames per second so fast moving visuals are smoother and clearer, perfect for movie watching and gaming
AVAILABILITY
Full list of models launching here
Key models launching:
ASUS ProArt Studiobook 16 OLED (H7604) |  $4,999-5,499 | Available now and June
ASUS Zenbook S 13 OLED (UX5304) | $2,099 – 2,999 | Available now
ASUS Vivobook 15X OLED (M3504) | $1,399 | Available now
Via leading retailers and ASUS E-Shop