Hardware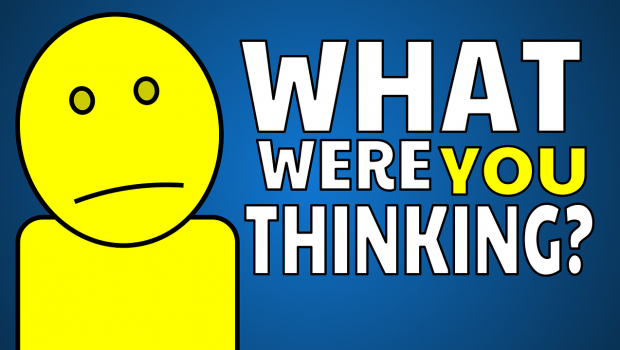 Published on November 15th, 2020 | by Scott De Lacy
ASUS – A personal vexation story: Episode one
A choice that matters
When choosing a motherboard for a new desktop PC build, there are really only a handful of available brand options, at least as far as the western world is concerned, these are:
These companies represent the totality of offerings from all our local retailers and unless you purchase an Apple Mac or brand PC such as HP or Dell you are restricted to choosing from one of these big four.
I recently purchased an ASUS ROG CROSSHAIR VIII FORMULA from Mwave Australia; and not at a profane but at a really offensive price;
There are certain expectations we consumers tend to have when purchasing any motherboard and, on this occasion, ASUS have let me down in one of the most unexpected yet shocking and surprising ways.
Expectations of any motherboard
Regardless of the brand you choose and for whatever 'reasons' or 'factors' you have deduced that leads you to ultimately make a choice of manufacturer and model, there are expectations that simply must be met.
As consumers we look for quality of build, performance, features and inclusions such as cables, Wi-Fi antennas, manuals and software features.
ASUS have excelled in all areas for many years, which is evident by their consistent reducing failure rate often being the lowest of the big four, at least according to some (very dated) sources. Ah but who knows what the stats really are!
In fact, what borderlines as a 'Ford vs Holden', or perhaps a 'BMW vs Audi' or even a 'Ferrari vs Maserati' take your regional pick; is the presumption that ASUS perhaps even set some of these standards that the other manufacturers have emulated. Of course, homage where it is due to Gigabyte (founded in 1986) when ASUS (1989) was chomping at their heels in their infancy.
The fact is, there is now very little difference in motherboard designs between the manufacturer's features, inclusions and even the BIOS layouts. The designs are predominately now determined mostly by the northbridge chipset and VRM's (power delivery design).
Where there is room for individual boards to shine, is in advanced manufacturing techniques such as extra board layers and designs that improve signaling, especially with compliance to PCI 4.0. Of course there is the question of including Thunderbolt or not; and don't forget the number of LED headers, fan controls and in the case of this ROG Crosshair board, the OLED and massive water-cooling compatible VRM block.
All of this is a long way of saying that what one expects from any manufacturer is premium quality electronics, because simply put – that is the standard. And whatever you ultimately choose, for reasons' it still does not excuse the one expectation that is often overlooked; SUPPORT.
A journey of confusion..
The problem
The motherboard arrived from Mwave along with some additional purchases and immediately apparent was the fact that there was no tamper evident seal on the motherboard box. That is, it was not shrink-wrapped, nor was there any ASUS branded sticker or binding tape that has existed on these products previously.
The box is a bit like a shoe box, with a lift up lid, exposing the board through a removable plastic cover, which apparently is ESD protected.
What is worse, is I found finger prints on the underside of the plastic top cover, which suggests the cover had at least been handled once by somebody.
All of the peel-able plastic covering was intact; however, there was no new-motherboard-smell. None. And don't judge me, that is part of the experience and my little special treat for spending what I spent on this board.
All this ultimately means that there is no way to know if this package has been opened, interfered with, or components have been removed.
The double-take
It was at this moment that the overwhelming heart-wrenching feeling of being cheated washed over me in an orgy of nervous anxious energy. Having been so excited to get new toys and build a new computer was replaced with disgust, skepticism, and the pre-conclusion that I had received previously opened goods. What the hell? Had I actually been sold a 2nd hand product or Mwave refurbished goods?
At the really offensive price of ~$800 AUD, this would not do. Not at all.
Seeking validation
It is simply not proper to go online and blast the retailer (Mwave) of foul play without having some evidence of the fact. So doing what any person in this situation would do, you go to your favorite non-tracking search engine and enter in search terms akin to getting to the truth, such as:
"My motherboard was not sealed in the box"
"ASUS motherboard not sealed"
"no tamper evident seal + motherboard + ASUS"
"Mwave selling 2nd hand goods?"
"Mwave + refurbished"
I also promptly checked the Mwave terms and conditions for any such 'gotcha' clauses with respect to ability to sell refurbished as new, none were obvious.
Don't just take my word for it, if you go down this search engine rabbit hole you will end up reading two prevailing conclusions across multiple sites and forums that represent this 50/50 split.
It is now common place for motherboards to come in an unsealed box and that is "just how it is."
Motherboards do come in sealed boxes.
Of course, there are pressing and obvious posts that suggest this is only an ASUS 'thing' and Gigabye at least do distribute the box sealed. This led me to the conclusion that at least the jury is still out and that is not sufficient for the money I had spent.
Armed with an absolute sense of confusion and realising that for the last few years this question has not been resolved and that the internet and opinions on reddit et al are just opinions, I was still not resolved in such an obvious split.
Online unboxing videos of this motherboard are hit and miss and still did not satisfy the question of if there was a tamper evident seal or if it was removed off-camera. There was no way of knowing for sure.
I contacted ASUStek support, via their website contact form, advising them of the situation and asking specifically for clarification.
Why is a tamper evident seal important?
I have no doubt I've lost some of you at this point – I get it, you may say, "who cares?" "so long as the motherboard works what's the problem?"
Consider the manufacturing and distribution chain for a moment; imagine in your mind the work-flow. Here is a simplified version:
| | | | | | | |
| --- | --- | --- | --- | --- | --- | --- |
| Manufacturing | → | Distributor | → | Wholesaler | → | Retailer |
There are also any number of warehousing, multiple distributors and international carriers in-between these phases. All of which involves countless people before the product is picked and packed and sent to you as an online purchase from the retailer. The point is, without tamper evident seals employing the ASUS logo, there is absolutely no way to determine if the product has been opened, turned on, repacked or otherwise tampered with.
This poses a risk to the buyer, but a huge risk to ASUS as they cannot guarantee the security of the item once it leaves their control. This is the reason tamper evident seals exist in the first place, to mitigate risk to each party along the distribution chain.
It also can limit the amount of returns, aide in identifying fault, reduce shrinkage and fraud.
It is by these reasons, that one is so embolden in the determination that something was not right with the package I received.
Why would they stop using tamper evident seals?
Having been faced with an overwhelming 50% of posts and commentary on the apparent "fact" that they simply "don't do tamper evident seals" any more, forced me to examine the possible merit in ASUS hypothetically making this company wide decision.
With consideration of the reasons to have tamper evident seals, the only 'compelling' reason that could be cited as the factor, is a pathetic woke reason of 'environmental factors'. That is, to reduce the amount of plastic per unit. But if this is to be the reason, it has the negative effect of increasing shrinkage, returns and other risks to ASUS, wholesalers and retailers which would logically equate to more packaging during returns and exchanges.
In actuality, it would create more use of single use plastic than it would remove; and that does not even go down the path of other methods of seals such as rip-once box binding, wax, or other such detail, and let us not forget the single most important factor when going woke..
YOU GOT's TO PROMOTE THE WOKE!
Nowhere does it say on the box how awesome they are by reducing single use plastic, which is not of itself evidence that they didn't make such a decision, but if it is going to cost your business money, you at least want to leverage the marketing angle and there aren't many companies out there that wont do that after all is said and done.
Needless to say, this line of thinking was dismissed on the face of it.
The first reply
Anthony as a representative of ASUStek replied a couple of days later;
+ October 5th 2020: ASUS's first reply
There should typically be a plastic covering on the motherboard. You can search unboxing videos for this motherboard online. Cartons are weighed during Quality Assurance and before leaving the factory to ensure everything that is meant to be in the box is there. The Cartons are sealed and should not be opened until the End User opens the box for the first time. If this is not the case please contact and notify your reseller.
Holding my tongue at the right angle and looking sideways at the email, the conclusions drawn from his reply is:
Anthony has poorly phrased his response to me
The customer should be the first person to 'open' the product
#2 and his words dictate the product should be sealed
This was a clear indication in my mind that I had been sold an opened product. It does not prove any foul-play or wrong-doing by Mwave, although I was unhappy about it, mistakes can happen. I emailed Mwave;

+ October 5th 2020: My first message to mwave
Hello, My recent order SOxxxxxx was received on Friday and upon opening the delivery box I noticed that the ASUS mainboard was not sealed with any tamper evident / plastic seal. Further, I noticed a few finger prints on and underneath the plastic holder that is evident it had been at the very least opened before. I have confirmed with ASUS (service number U20xxxxxxx) that this should be the case, they said: "The Cartons are sealed and should not be opened until the End User opens the box for the first time. If this is not the case please contact and notify your reseller." This can only mean that the box has previously been opened in your possession or has been previously sold to another customer. I was not able to make this determination until opening the packing box, obviously. As you can appreciate, I am not happy about this, having paid full price for a new product. I cannot verify the integrity or condition of this product. It remains in the box, unused by me. I propose that you replace the product asap with a new and original sealed product, with the delivery and pickup of the one in my possession at your expense. As you can appreciate, I have deadlines with respect to this build and there is a need for a timely resolution. Regards Scott De Lacy
I also sent a response to my personal ASUS representative, Anthony. I wanted to ensure that if Mwave would respond unfavorably that I would be covered by an RMA. I sent this reply:

+ October 5th 2020: My reply to ASUS first reply
Hello Anthony Thanks for the fast response. I had seen a few unboxing videos but none of them show shrink wrap or tamper evident seals being removed on them, but it is difficult to know at which point they started filming. I have contacted the reseller to request a replacement based on your advice. I will await their response, but should it be unfavorable would an RMA be provided? Scott
A few days passed.
The second reply
Anthony replied with another message, this time contradicting the first.
+ October 7th 2020: ASUS's 2nd reply
Thank you for your email. Based on the boxes seen none come with a shrink wrap. It only has the plastic sheet covering that is placed on top of the motherboard. If the device was not opened when you received it and you have the plastic sheet, then I do not believe this is a used or previously opened unit. Unfortunately, we will not be able to raise an RMA for replacement for this issue. ASUS RMA is for repair. Replacement requests has to be channeled to your reseller.
STOP THE PRESS
Now he has changed the advise and situation entirely. He has seen boxes – what boxes? Who's boxes? From a public video or from ASUS inventory? Why would a support center have inventory? They wouldn't! Perhaps some clarification is needed here? That the first answer given was now incorrect?
The former support center manager in me starts to become outraged.
This prompted a rather firm response from me, choosing my words carefully and expecting a perfectly framed response back, I sent this:
+ October 7th 2020: My second reply to ASUS
Hello Anthony,
I have raised a return request to the reseller mwave, based on the information you provided on your first response to me.
I now need you to clearly and carefully confirm the following:
1. The ROG Crosshair VIII Formula mainboard is sold to the end user in a box that is not shrink wrapped or with any tamper evident seal (branded tape etc)
2. The ROG Crosshair VIII Formula mainboard inside the box, contains a plastic top cover that can be easily removed and is not sealed with tape or any tamper-evident seal.
3. The conformations[sic] for #1 and #2 are based on visual confirmation of ready-to-ship products by yourself OR The confirmation is based on a person of direct authority for this product.
Please reply asap, as there are deadlines associated with this build, and a current return request that needs to be actioned based on your response.
Thank you Scott
A next day reply from Anthony again:

+ October 8th 2020: Supplementary reply from ASUS
Thank you for your email. For your information, cartons are weighed during Quality Assurance and before leaving the factory to ensure everything that is meant to be in the box is there. The Cartons are sealed and should not be opened until the End User opens the box for the first time. This is the tamper proof that needs to be verified.
I have personally not seen this particular motherboard packaging, however, based on photos and videos there is no shrink wrapping. Please kindly note that ASUS Service Australia is not the reseller, supplier, importer, or Manufacturer of ASUS products, we are the assigned ASUS repairers and will only typically receive this opened already. However, I have escalated the case to the Internal Team for further advise.
This response was not in keeping with the minimal level of response I expected; naturally I responded again. I sent this on October 8th 2020:
Hello Anthony,

At this stage, can you please escalate this to a supervisor within ASUS proper/ corporate and have them phone me asap?

You have provided me conflicting information of which forms the sole basis of whether I am to return a product to a reseller requesting a replacement or not. This has also cost me a week of time, for what should be a very simple matter.

You mentioned photos and videos; which photos and videos are you referring to? Are these internal (ASUS) or random public youtube videos of reviewers unboxing?

As you may or may not be aware, reviewers are often sent many products that are "samples" which may have been opened previously, tested or evaluated previously or are refurbished and would otherwise not be packaged as expected. I myself am one such reviewer.

As soon as you or a member of your team read this, please escalate this matter immediately. Afterall, I did initially send this request through the sales channel on the website, so I do appreciate that you would not necessarily be in a position to answer my question, I would expect the issue to be directed to the appropriate department to answer.

Scott
And naturally during this period, Mwave responded with a request for their return process form to be filled out.
The third reply
My best mate, Anthony from ASUS responded. He has escalated the issue to 'Internal', which sounds rather serious. The definitive answer was not forthcoming nor helpful were his previous suggestions to simply look at unboxing online.
+ October 9th 2020: ASUS third reply
Thank you for your email. This has already been escalated to ASUS Internal team. I will update you once I get a reply from them. We do not have phone support so we will not be able to call you, unfortunately. I will however, follow up with this and update you accordingly.
Anthony was trying to be helpful but it was clear that I had reached the limit of his capability and knowledge within ASUS.
I phoned the general contact number for Australia, but wouldn't you know it, I would end up speaking with a colleague of Anthony, whom reiterated that the question had been put to the internal team. He did confirm however that the contact team in Australia are 3rd party contractors who handle all support, sales and all other inquiries on behalf of ASUS in Australia.
There was no choice. I had to wait for the response of internal if I was to have the answer. Meanwhile, I was also waiting for Mwave to advise of the return. The answer to this question may had come from Mwave by accepting the return and fault which would indicate to me that it was indeed previously opened.
Of course, life is not that simple.
The fourth reply
Anthony replied one more time with this pearler;
+ October 13th 2020: ASUS's Final word: The answer
Thank you for your patience. I have received feedback from the Internal Team regarding your query on the packaging of the motherboard. They have advised that they have tried confirming if the motherboard come shrink wrapped and there is no indication it does. If it does at all, this could be removed during distribution stage or at the retail stage. This will need to be confirmed directly with the reseller.
Although it is unclear who the internal team are, they are ASUS proper, that is corporate. By this response, it is reasonable for any 3rd-party perspective to doubt ASUStek's support offerings in their entirety, and in this case, I formed the opinion that ASUS do not know what the left hand and the right hand is doing.
PATHETIC.
The worst part about this response is the impossible position that the internal team put Anthony in. At that point the correct thing to do would be to have somebody from 'internal' contact me directly and apologise for the inconvenience, which is an overture that would be more than the intransitive at this juncture.
The very dismissive nature ASUS have taken, deferring to the reseller is a very bad sign. It fills the mind with a myriad of concerns, some of which include questions about the quality of their products (the electronics) and future support offerings.
Mwave consequently came good with the prepaid postage, accepting a return graciously had I elected to send it, however I responded to Mwave to ask them if they had a 'new one' in stock that was with a tamper evident seal. This would at least fulfill what ASUS had requested of me.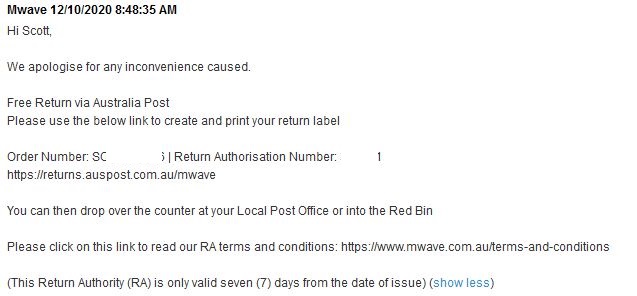 + October 12th 2020: My second response to Mwave
You 12/10/2020 3:47:55 PM
Thank you for the response, I was getting concerned due to the delay.
Prior to returning the item, can you please confirm that you have;
1. Have a replacement unopened mainboard, (sealed by ASUS) in stock
2. Read and agreed to the return and replacement at your cost.
3. The ETA of the replacement As you can appreciate, I do not wish to have any further problems, this has already been exceedingly inconvenient.
The inconclusive answer
Mwave took it upon themselves to take a look at their stock and offered this explanation:

+ October 13th 2020: Mwave's third reply
Mwave 13/10/2020 9:11:44 AM
Hi Scott,
Thank you for your reply,
I can confirm we do have a replacement in stock however upon checking this it appears no ASUS motherboard actually come with ASUS seals so the received unit is indeed correct.
Thank you
Being the only fair and reasonable option available; by taking Mwave at their word and discounting all possible colluding between the parties, since they were after-all biased in the outcome and aware of the support ticket number from the get-go, is; that beyond all reasonable logic, and with no explanation that should be easily forthcoming by ASUS corporate, is that retailers in Australia receive all ASUS motherboard boxes completely open, all loosey-goosey, open slather, spread eagle like a Christmas turkey waiting for their stuffing to fall out.
The decision
This motherboard formed part of an article featuring the AMD Ryzen 3800X, which by the way is a stellar processor.
Deadlines notwithstanding, it had been several weeks from the time that AMD had sent through the CPU and this back and forth with ASUS and Mwave respectively, was wearing me down.
By attrition I accepted some level of defeat here, not by choice but because Mwave would not be in a position to supply me a 'sealed' product, be it possible or not to do so and yes, because of the deadlines.
I built the computer.
I also sent a nice polite response to Mwave to thank them for their customer service and apologise on behalf of ASUS:

October 14th 2020:
Hello,
It seems there is inconsistent information being provided to me by ASUS. They have now advised:"Thank you for your patience. I have received feedback from the Internal Team regarding your query on the packaging of the motherboard. They have advised that they have tried confirming if the motherboard come shrink wrapped and there is no indication it does. If it does at all, this could be removed during distribution stage or at the retail stage. This will need to be confirmed directly with the reseller."Obviously my request for replacement was based upon their first advise to me. Now with the above and based on your response, that all your ASUS boards arrive without being shrink wrapped/sealed, then it would seem, at least as far as mwave is concerned, there is no way to know what happens along the supply chain, which is quite concerning and this clearly demonstrates ASUS has a poor grasp on their own operations. Quite concerning.In any case, I will hold onto the board on the presumption that it is 100% as new and plan to use it this week. My apologies for the inconvenience that this request (and ASUS) have caused you.
Where does this leave us?
A quick word on the motherboard itself; it is excellent and extremely well designed. The VRM runs cool, everything works out of the box and there no problems. Also, the onboard chip fan is quiet, in fact any fan you plug into your computer will be louder.
It handles DDR3600 ram without issue (G.Skill of course), and surprisingly, Wi-Fi works without the antenna connected; not tested on purpose but kind of scary when you think about it (the TX/RX power?!).
The OLED display is cool looking honestly, yet will be buried underneath your case fan position in most cases, so what is the point? It's purely a wank value and that is fine, the VRM cooling block however – that is something else. Don't forget the fact that this board absolutely supports the next generation of AMD Ryzen 5000 processors.
Ultimately, ASUS have on this occasion failed to live up to my personal expectations and I would suggest most readers would agree. Or perhaps you don't? That is fine, but the standard you walk by is the standard you accept. How many people would be willing to accept a package where the contents could have fallen out along the way?
My last two motherboards were ASUS, my current one is an ASUS and by this definition I personally would qualify as an "ASUS fanboy."
There can be no doubt that the hardware is solid, the build quality is seriously next level. Yet this current experience has and will give me serious pause and motivation to reconsider any future ASUS motherboard purchases.
Having received no follow up from the support team, 'Internal' team, the ticket is presumably considered "closed."
The decision to post this article is not about having a rant, but to try and offer some answers to this question which still remains definitively unanswered. It is by hope that somebody with authority from ASUS will see this article and get in touch, however some attempts will be made to get in touch with ASUS corporate directly. In either case, if we do hear back, then a Part two will be posted.
ASUS, the ball is in your court.