Hardware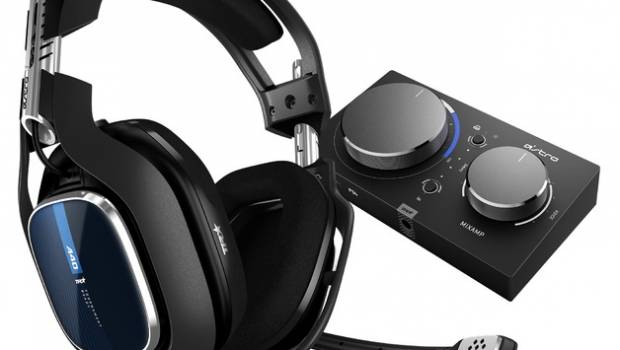 Published on April 20th, 2020 | by Nathan Misa
Astro A40 TR Gaming Headset + MixAmp Pro TR for PS4 Review
Summary: The Astro A40 TR with MixAmp Pro TR is a compelling premium product that delivers crisp sound bundled with extensive functionality and control.
The Astro A40 TR Gaming Headset + MixAmp Pro TR is a phenomenal piece of hardware best suited for gamers playing at the desk and a comfy chair, rather than on the couch far away from the big-screen television. This is a premium wired gaming headset – emphasis on wired – but it has a lot of moving parts to get set up before you're ready to dive in.
Priced at $449 RRP, the Astro A40 TR and MixAmp Pro TR is far from an entry-point, budget device. The A40s are geared toward gamers that want high-quality sound, comfort and voice above all else – and are willing to pay premium. With the included MixAmp offering more fine-tuning over volume, balance and EQ settings, this is a fuller package for those who want greater gaming audio control.
Just don't expect plug 'n' play – it's more plug, tinker and play… with amazingly crisp audio quality.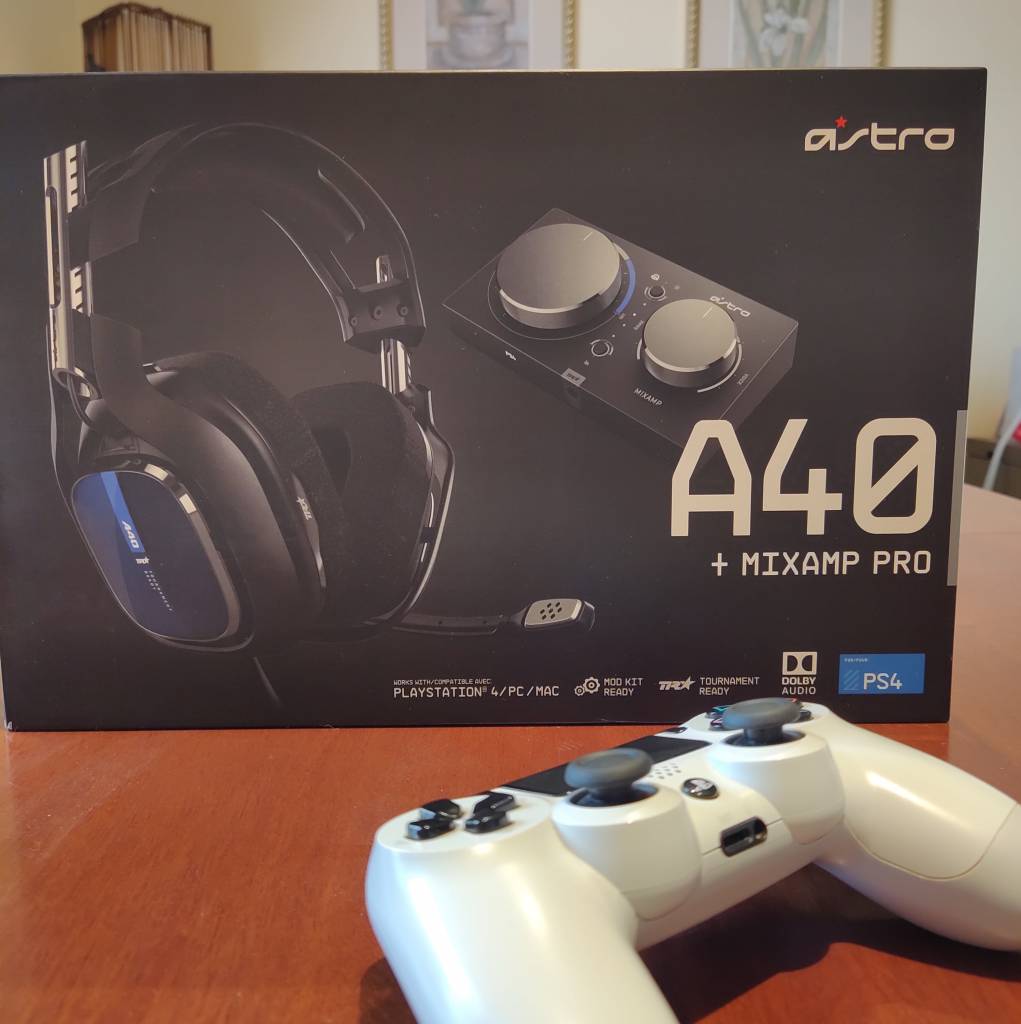 Tested over 20+ hours, the A40 proved to be comfortable for prolonged sessions of gaming, excellent for a variety of different gaming soundscapes and experiences, and crisp and clear when communicating with team-mates via voice-chat – and the MixAmp Pro easy to use.
Before heading into my breakdown of the headset's pro's and con's during my testing, here's a list of its technical specifications for your convenience.
Astro Gaming A40 TR Headset + MixAmp Pro TR 2019/2020 Technical Specifications
Headphones
Headset: Transducer
Principle: Dynamic, Open 40 mm Sound
Driver: Tuned for gaming
Frequency response: 20Hz-20,000Hz
Nominal Impedance: 48 ohms
Weight w/o cable: 369 g
Connector: 3.5mm Mini-stereo
Boom Mic: 6.0 mm Uni-directional
MixAmp Pro TR
Sound Power Out: 100 dBSPL
Sample rates: Game audio 48 kHz @ 16 bit, chat audio 16 kHz @ 16 Bit
USB Standard: USB 2.0 Full Speed and USB Audio 1.0
Stream Port (Line out): Frequency response 20 – 24 kHz
USB Game and USB Voice (Chat): Aux port line out
Frequency response: 20 – 8 kHz
Inputs: Audio inputs Optical In, USB Game and USB Voice, Aux port line in
Total Harmonic Distortion: < 0.05% @ 0 dBFS
Signal to Noise Ratio: > 70 dB
Weight: 296 g
Dimensions: 137 mm x 80 mm x 38 mm
Design & Comfort – A40 TR Headset
The design of the A40 TR has stayed relatively the same for the last five years of iterations on the market – cool, sleek and sturdy, without the unnecessary gaudiness of other high-end sets.
The headband and ear cups are made up of black matte plastic, with aluminum struts on each side so you can adjust smoothly and get a fit perfect for your head. The memory-foam over-ear pads are covered in black cloth that feels both soft and breathable, and during extended gaming sessions, I never felt the need to take them off for a breather, like I have with other headsets. 
The back panels of the ear cups (called speaker tags) are glossy black plastic with silver accents, and contain Astro branding. My version has blue accents for the PS4 version (there are different colours for the Xbox One version), and it generally looks quite quite good and understated. They can be swapped out for further customisation, but I find the out-of-the-box look slick on its own.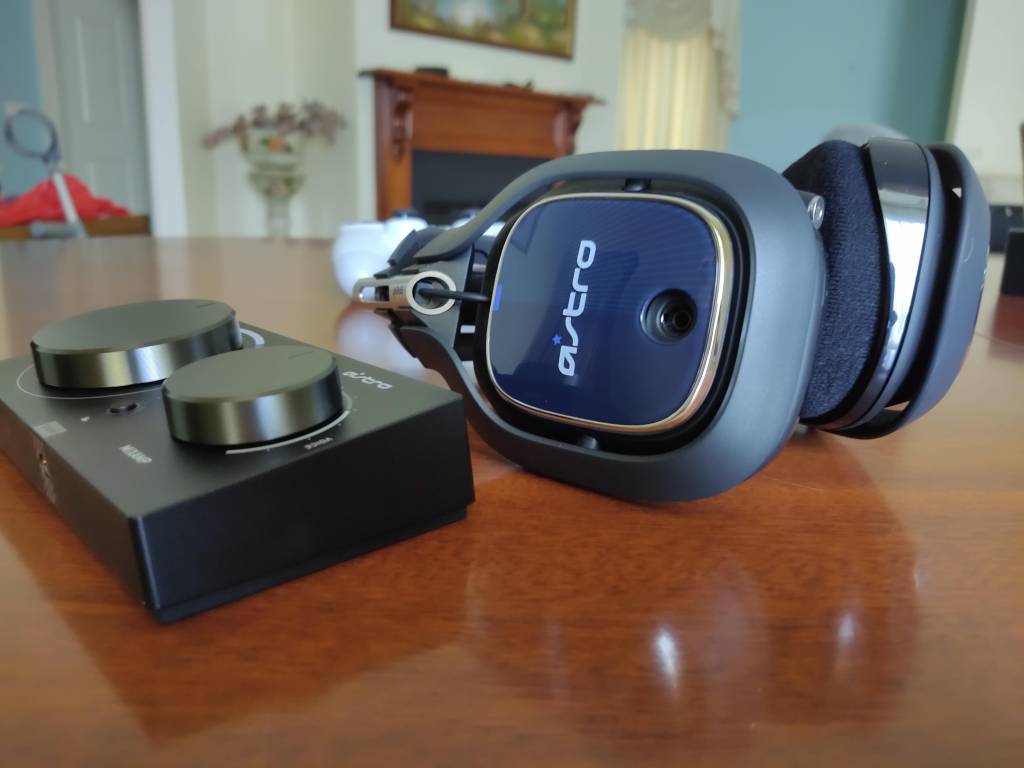 The boom microphone is made of rubber with a plastic at the end with an aluminum grille, attached to the left ear cup. It's flexible to adjust, pivoting a full 360 degrees, and can be removed. It never got in the way of a session, and all you have to do is flip it up to mute.
Underneath the left ear cup is the 3.5mm hookup, and for the most part the cable is unintrusive. There is a mute toggle on the cable, but no volume wheel, as that is reserved for the MixAmp.
Despite the sturdiness that accompanies the quality of materials used, the A40 TR never felt too heavy or overbearing for long periods of gaming – which was a major plus in my book. As a "Tournament Ready" headset, it definitely ticks all the boxes in terms of aesthetic and usability.
All in all, the A40 TR is a lightweight gaming headset that's durable, comfortable and slick.
Design & Comfort – MixAmp Pro TR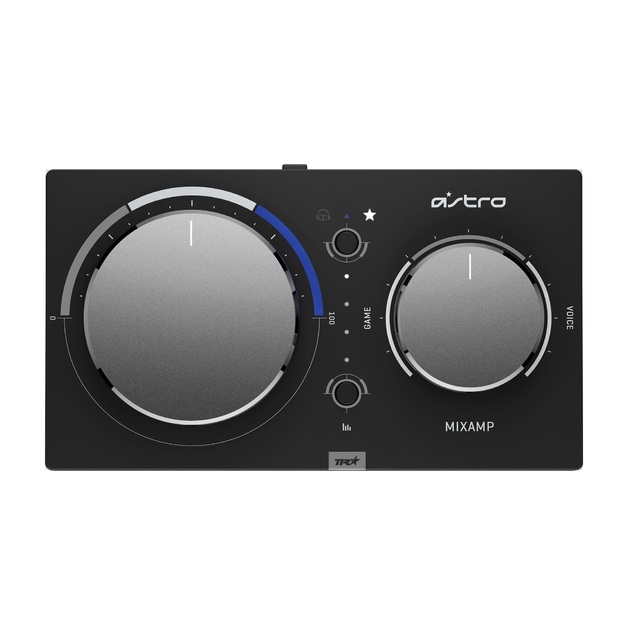 Unlike other standard headsets, the A40 TR has no volume controls on the headset. It instead comes with a separate controller box that allows for deeper customisation of voice chat-mix, volume control, audio balance, Dolby and EQ settings. It's neatly laid out, but in-depth.
The MixAmp is a dark gray box with distinct edges containing two large dials with backlit indicator notches that glow white when your microphone is active and red whenever it's muted. 
The left dial is bigger and is for controlling master volume, while the right dial is smaller and handles game audio balance and voice chat sound, both coloured in a distinctive gunmetal.
In the center, between the dials are four lights to indicate which EQ preset is in use, a button to switch between them, and another button to swap between Stereo and 7.1 modes. At the front of the MixAmp is the 3.5mm headphone jack on its own, while at the back, all other inputs are neatly spread out – power, optical, USB, AUX, streaming audio and two FireWire daisy chains and a convenient button that allows toggling between PlayStation 4 and PC very quickly.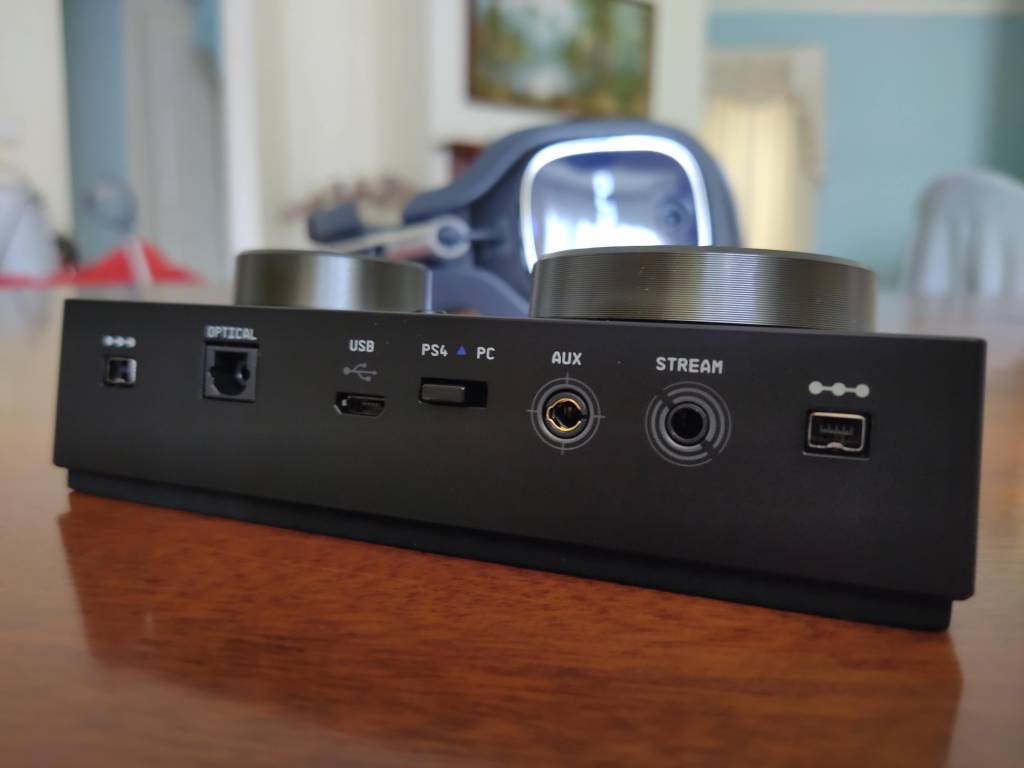 The 2020 refresh of the MixAmp Pro TR is a noticeable improvement on the older build design, which resembles more of a toy than a premium product and confusingly split inputs on the front and back that made cable routing messy. The new MixAmp is cleaner and professional looking as a result.
Without the MixAmp, the A40 is not as compelling. With it, it's a much stronger offering. In my opinion the MixAmp is the only reason for such a high price-tag, given that without in-built volume controls on the headset itself, the A40 is not a great standalone headset for the cost.
Features & Setup
Setting up the A40 TR for use with a PlayStation 4 and television in the living room can be a mess if you aren't used to wired headsets like myself, and I must stress – it's better when you're playing at a desk on a monitor, for both comfort and neatness with so many wires to account for.
The MixAmp is very intuitive and extendable for audiophiles with their own cables, and there's special software to use on PC for further customisation of EQ presets and audio balance… but for average PS4 users like myself, all you really need to use is the USB and optical audio ports. 
All you need to get started is to input the optical audio cable into the back of the PS4 and a USB cable into the front, and attach both cables to the back of the MixAmp. Finally, just connect the headphone jack at the front of the MixAmp with your headset and you're good to start playing.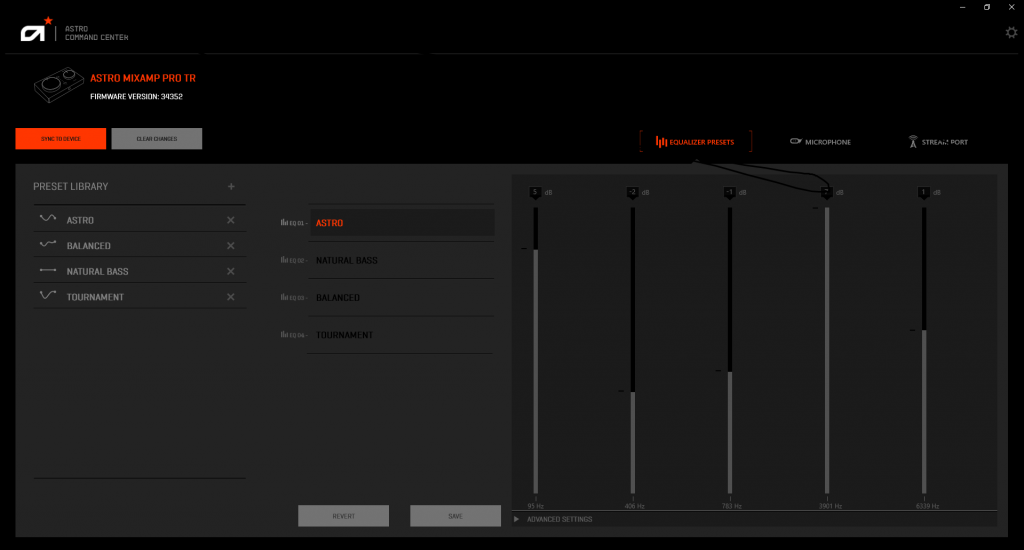 If you want to delve into sound profile customisation, the Astro Command Center is simple and straightforward to use. The four included presets – Astro, Balanced, Natural Bass and Tournament – do a great job of offering diverse profiles for distinct sound preferences, but you can easily add your own preset and start adjusting, with quick and easy sync with your MixAmp achieved via simple USB connection to your PC (and the toggle set to PC mode).
The sheer amount of cables involved makes the A40 TR less practical for the standard PS4 + living room + big TV setup, especially if you need to move around a lot or if also you want to use it with your PC. It's definitely better suited for the desk and monitor where you have ready access to the MixAmp at your fingertips, and for this reason I can see the A40 being particularly great for professional and up-and-coming gaming live-streamers who absolutely need on-the-fly adjustment of broadcast, game and chat audio available at all times.
Sound & Voice Quality
The sound performance of the A40 TR and its MixAmp definitely lines up with its hefty price tag. 
Across games, movies and music, it consistently delivered excellent audio on both PS4 and PC.
I tested the A40 TR out of the box through a number of loud and bombastic games – Doom Eternal, Persona 5 Royal and Rainbow Six Siege – to put it through the paces. Gunfire and explosions in Doom felt punchy and reverberating, the subtle sound of sneaky enemies in Siege was noticeably clear and helped elevate positional awareness, while the bass and jazzy tones of P5 Royal's soundtrack were richy realised. The results left me impressed at every stage.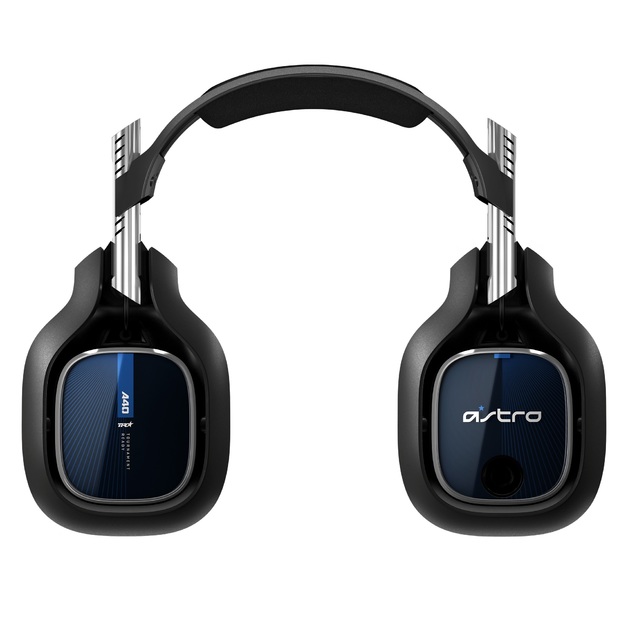 Switching between Stereo mix and 7.1 surround, sound is vivid and crisp – dialogue, ambient noise, in-game music, special effects. Astro's included EQ presets are decent for livening up the bass and treble, but overall the soundscape is nuanced and satisfying on all levels. 
The boom mic is unidirectional and in my testing was excellent in isolating background noise and only capturing my voice during multiplayer sessions with numerous people in the same party. Voice is crystal clear, crisp and without distortion, and my friends noted a recognisable uplift in quality compared to other, more budget gaming headset options I've used in the past.
The Final Verdict
As its flagship wired headset, the Astro A40 TR with MixAmp Pro TR is a compelling premium product that delivers crisp sound bundled with extensive functionality and control.
The 2019/2020 design refresh remains modern and sleek in its design that looks great, feels great and, most importantly, is always comfortable.
However, in my opinion, the Australian RRP is a little on the high side, even with the MixAmp Pro's featureset, but the sound quality is undeniable.
If you're in the market for a premium gaming headset with greater customisation of soundscape (and the design, if that's your thing) then this is a solid option. However, I highly recommend the MixAmp Pro as a combo deal rather than just buying the A40 standalone, as it only realises its full value together. This is also a wired headset that's best suited for desk and monitor setups rather than living room gaming sessions – for the latter, an upgrade to the A50s or another wireless headset alternative is recommended.