Films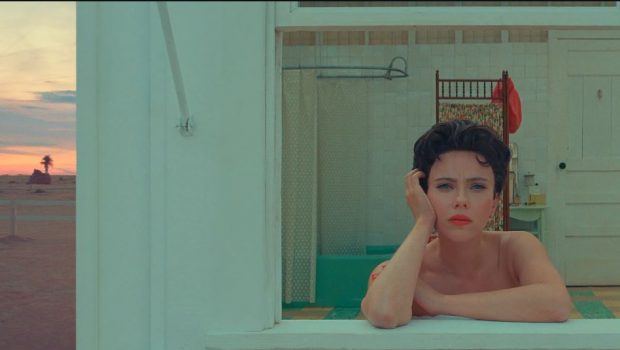 Published on August 3rd, 2023 | by Branden Zavaleta
Asteroid City – Film Review
Reviewed by Branden Zavaleta on the 3rd of August 2023
Universal Pictures presents a film by Wes Anderson
Screenplay by Wes Anderson based on a story by Wes Anderson and Roman Coppola
Produced by Wes Anderson, Steven Rales, and Jeremy Dawson
Starring: Jason Schwartzman, Scarlett Johansson, Tom Hanks, Jeffrey Wright, Tilda Swinton, Bryan Cranston, Edward Norton, Adrien Brody, Liev Schreiber, Hope Davis, and Stephen Park
Cinematography Robert Yeoman
Edited by Barney Pilling
Music by Alexandre Desplat
Rating: M
Running Time: 105 minutes
Release Date: the 10th of August 2023
Asteroid City is the lost brother, or even triplet to Barbie/Oppenheimer's tremendous twins, replete with existential crises and icons of Americana aplenty. Think Marilyn Monroe in a Norman Rockwell painting. It's the 1950s redone in Wes Anderson's trademark starch and stripes and it makes for another charming trip into his meticulous imagination.
Asteroid City is a dustbowl in the middle of the Arizona desert. It has a population of eighty-seven people with one old dog and one roadrunner. On Asteroid Day, the Junior Stargazers Convention arrives and science, space, love, hate, and Slim Whitman follow. But Asteroid City isn't a real city, it's a play and everyone in it is an actor. The star, who plays war photographer Augie Steenbeck (Jason Schwartzman), has been troubled by his character's motivations, and the world of the actors and the story intertwine while the city's many stories unfold.
All the usual Anderson adjectives are in Asteroid City: charming, quirky, cute, odd, offbeat, and rose-tinted. There are endless references and homages to catch. For example, Schwartzman is made-up like director Stanley Kubrick and Scarlett Johansson resembles Elizabeth Taylor. Every line, phrase, or image ties into a neat bow by the end of the film. Even an off-handed comment about a woman bathing on a fire escape comes back to bite. But is any of this new? Yes, and no.
Like Tarantino, each movie Anderson makes is an overstuffed, postmodern extravaganza of a favourite place, genre, and time. Inglourious Basterds (2009) is 70s American WWII flicks, Once Upon A Time In Hollywood (2019) is 70s Hollywood, The French Dispatch (2021) is 70s France, and Asteroid City is 50s America. They're all fantastical places that these directors have loved and escaped to through cinema. And they're done with such obsessive love and care that it's hard not to fall in love with these worlds too.
Bryan Cranston opens the film in black and white like Rod Serling in The Twilight Zone and introduces us to a Tennessee Williams-like playwright named Conrad Earp (Edward Norton). A canary yellow train rustles into Asteroid City while the Johnny Duncan song
Last Train to San Fernando plays and the opening credits roll. Miniatures and puppets and stop-motion animation live in Asteroid City, and everything is clean, shiny, and cute. It's not the 50s as they were, but as they'd like to be remembered. The diner has more options on the menu than you can imagine, and the only traffic is the odd car chase between pinstriped gangsters and the coppers.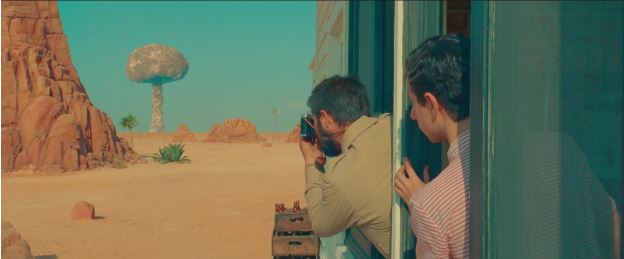 It's true that the black and white play-within-a-film offsets and complicates all this fun and flair, but it also adds another genre, and a little bit more. Johansson plays a noir, femme fatale, the behind-the-scenes works literally as a behind-the-scenes look into Anderson's mind, and there's a cute moment when Bryan Cranston pops up in Asteroid City by accident and says, "I'm not in this scene, am I?".
Asteroid City sits between The Grand Budapest Hotel's nostalgic nowhere, The French Dispatch's complex collection, and Moonrise Kingdom's remote romance for another fun fare, even if it's not Anderson's very best film.
Summary: Asteroid City features atom bombs, aliens, and 50s Americana. It makes for another charming trip into Wes Anderson's meticulous imagination.