Games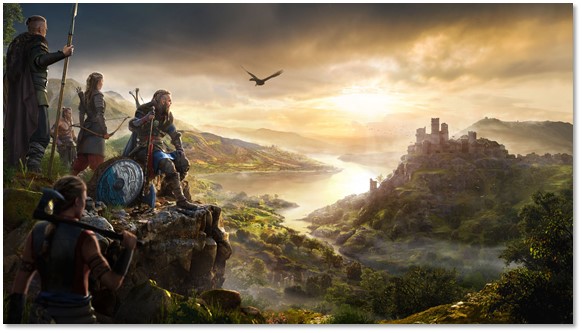 Published on May 11th, 2020 | by Adrian Gunning
Assassin's Creed Valhalla Trailer
Today, Ubisoft announced during the Inside Xbox May Episode that Assassin's Creed® Valhalla, the next installment in the Assassin's Creed franchise, will take full advantage of the enhancements offered by the next generation of consoles, including Microsoft's Xbox Series X. Players can also take a first look at Assassin's Creed Valhalla gameplay in a trailer that released today.
"As developers, we're always excited to work with new hardware because it gives us a greater ability to express our creative vision. Assassin's Creed has always been committed to exploring new technologies and leveraging new consoles abilities to deliver the most immersive experience possible. We are excited to be collaborating closely with Microsoft to bring Assassin's Creed Valhalla to the Xbox Series X" said Ashraf Ismail, Creative Director of Assassin's Creed Valhalla.
With the Xbox Series X, Assassin's Creed Valhalla will take full advantage of its enhanced graphics, giving players the opportunity to experience the open world of Norway and England down to the very last detail. In addition, Assassin's Creed Valhalla will benefit from faster loading times.
Finally, Assassin's Creed Valhalla will leverage Smart Delivery technology, allowing players to buy the game once and play it on either Xbox One or Xbox Series X when both the consoles and the game are available.
Developed by the team behind Assassin's Creed® IV Black Flag®  and Assassin's Creed® Origins at Ubisoft Montreal*, Assassin's Creed Valhalla invites players to live the saga of Eivor, a fierce Viking raider raised on tales of battle and glory. Offering a captivating Viking experience, the game brings players to a dynamic and beautiful open world set against the brutal backdrop of England's Dark Ages. In Assassin's Creed Valhalla, players can take advantage of new features including raids, growing their settlement, building their power and expanding their influence.
Assassin's Creed Valhalla will release worldwide Holiday 2020 on Xbox Series X, Xbox One, PlayStation®5, PlayStation®4, Stadia, and for Windows PC exclusively on both the Epic Games Store and the Ubisoft Store. The game will also be available on UPLAY+**, Ubisoft's subscription service.
Fans who pre-order*** Assassin's Creed Valhalla will receive at launch an additional mission The Way of the Berserker, in which players will join a legendary Norse Berserker on his quest for revenge.
For more information on Assassin's Creed, please visit: assassinscreed.com