Games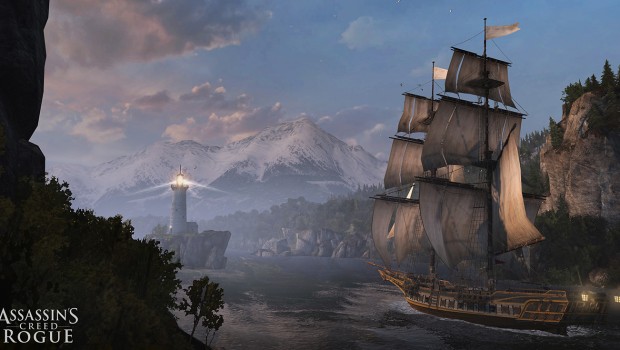 Published on March 11th, 2015 | by admin
ASSASSIN'S CREED® ROGUE IS NOW AVAILABLE FOR WINDOWS PC
Sydney, Australia — March 10, 2015 — Today, Ubisoft® announced that Assassin's Creed® Rogue, the latest installment of the Assassin's Creed franchise lead by the Ubisoft Sofia studio, is now available for Windows PC.
Developed by Ubisoft Sofia, in collaboration with Ubisoft's Singapore, Montreal, Quebec, Chengdu, Milan and Bucharest studios, Assassin's Creed Rogue takes players to new adventures set in the mid-18th century during the Seven Years War. Starting in 1752, players follow Shay Patrick Cormac, a former member of the Brotherhood who turned into an Assassin Hunter and experience the Assassin's Creed universe through the eyes of a Templar. Assassin's Creed Rogue gives players new locations across North America to explore, including the frozen North Atlantic, the Appalachian River Valley and New York. Assassin's Creed Rogue for Windows PC has been adapted by Ubisoft Kiev.
The Assassin's Creed Rogue PC development team in Kiev has partnered with Tobii Tech to incorporate eye tracking input as part of the gameplay. With Assassin's Creed Rogue being the first game of this scale to incorporate this technology, players will be immersed in the Assassin's Creed universe thanks in part to the "infinite screen" experience the Tobii Tech will provide.
A Collector's Bundle is available for Assassin's Creed Rogue PC exclusively on Uplay Shop. It includes a collector's box, an art book, 3 lithographs in an envelope and the original game soundtrack. Players will also get access to two extra single player quests and additional in-game items.
Assassin's Creed Rogue for Windows PC can be bought on the Uplay shop both in physical and digital version by visiting: http://shop.ubi.com/acrogueuplayshop
Assassin's Creed Rogue is also available on the Xbox 360 games and entertainment system from Microsoft and PlayStation®3 computer entertainment system.
For more information about Assassin's Creed Rogue, please visit assassinscreed.com/rogue, twitter.com/assassinscreed, and facebook.com/assassinscreed.
PC Specifications
PC CONFIGURATION (Minimum and Recommended)
Minimum PC configuration
OPERATING SYSTEM:
Windows 7 SP1 or Windows 8/8.1 (64bit versions only)
PROCESSOR:
Intel Core2Quad Q6600 @ 2.4 GHz or AMD Athlon II X4 620 @ 2.6 GHzH
RAM:
2GB
VIDEO CARD:
nVidia GeForce GTS450 or AMD Radeon HD5670 (1024MB VRAM) or Intel HD4600
DIRECT X®:
DirectX June 2010 Redistributable
DVD-ROM DRIVE:
Only required for the Disk installation ( 1 Dual Layer DVD )
SOUND CARD:
DirectX Compatible Sound Card with latest driver
HARD DISK:
11.4 GB
PERIPHERALS:
Xbox 360 controller, Tobii EyeX Controller, SteelSeries Sentry
MULTIPLAYER:
Not Available
SUPPORTED VIDEO CARDS AT TIME OF RELEASE:
NVIDIA GeForce GTS 450 or better, GeForce 500, 600, 700, 900 series AMD Radeon HD 5670 or better, Radeon HD 6000, 7000, R7, R9 series Intel HD4600, HD5200

Note: Laptop versions of these cards may work but are NOT officially supported.