Comics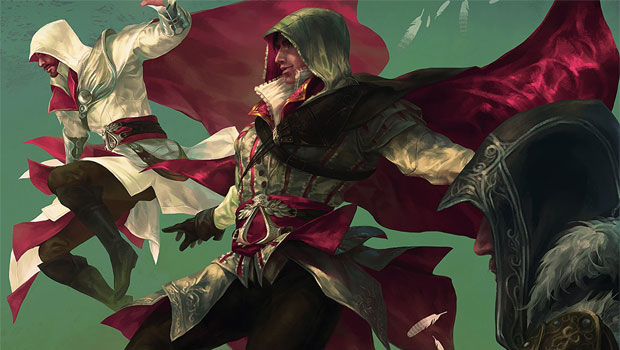 Published on October 10th, 2017 | by Tony Smith
Assassin's Creed Reflections Review (TPB)
Summary: Assassin's Creed Reflections is a fun look into the world of this franchise through its four main characters.
Collecting all four issues of Assassin's Creed Reflections, this trade paperback is written by Ian Edington and is illustrated by Valeria Favoccia which returns fans to this blockbuster gaming series which revolves around the noble world of the Assassin's and their nefarious enemy, the Templars who want to control the world. Although not set in one single Assassin's Creed period, this collected edition features Ezio, Altaïr, Kenway and Connor in four separate stories which 'reflect' on four new memories as it takes the reader deeper into the franchise.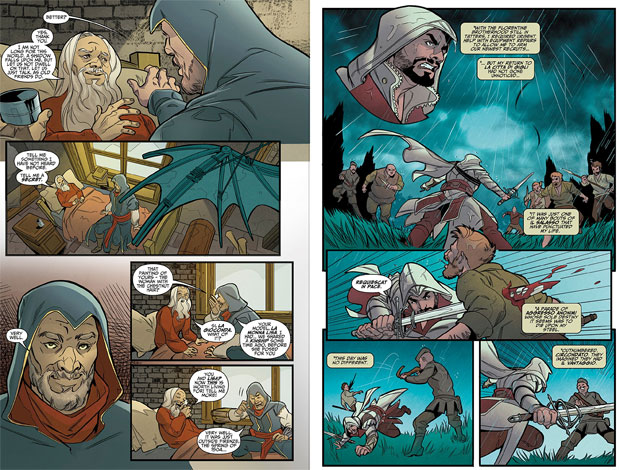 The first story is about Ezio, however the theme of these stories focuses on to know your enemy, you must first become your enemy as we are introduced to a mysterious individual in the present who wants to learn more about the Assassins. So as an older Ezio visits a dear old friend called Leonardo, we are given a new insight into this character as he recounts the story where he was almost killed, only to be helped by a kind young lady called Lisa. The story ends with Ezio introducing Lisa to the famous Leonardo da Vinci, his close friend.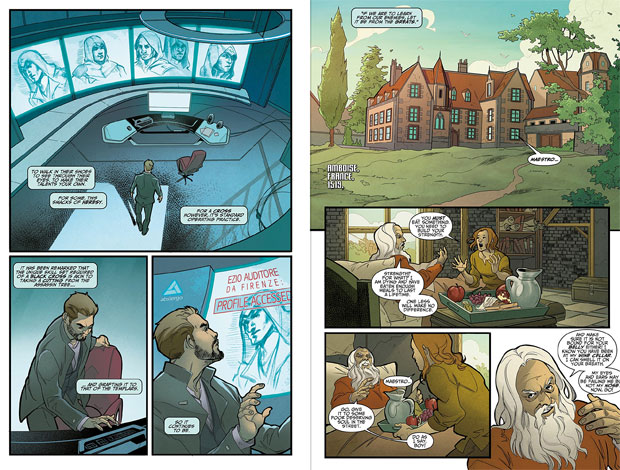 Next up is Altaïr with this story taking place in China 1227 as he meets another famous person with the infamous Genghis Kahn. With the odds against Altaïr, he proves victorious in this classic story of Assassin turned hero. The third story focuses on Edward James Kenway, my favourite swash-buckling hero as he turns the tables on a villainous captain who has left a trail of dead bodies. Thankfully Kenway gets the upper hand in this story that has parallels to the Golden Age of Hollywood.
The final story sees Connor help a young Indian boy called Okwaho which pits this assassin against the dangers of mother nature. Unlike the stories, this one is more grounded and probably the most emotional story out of them but nonetheless a very enjoyable story. This memory of Connor also pulls at the emotional heartstrings of the individual we saw at the start which forces him to call his daughter that nicely ends this enjoyable TPB.
All in all, this TPB is very well written and the author is definitely a fan of the video games which shows through his work. Complementing the writer is the excellent artwork which helps create this almost Blockbuster comicbook from start to finish.
Recommended!
Book Details
Series: Assassin's Creed
Paperback: 144 pages
Publisher: Titan Comics (October 17, 2017)
Distributor: New South Books
Language: English
ISBN-10: 1782763147
ISBN-13: 978-1782763147