Games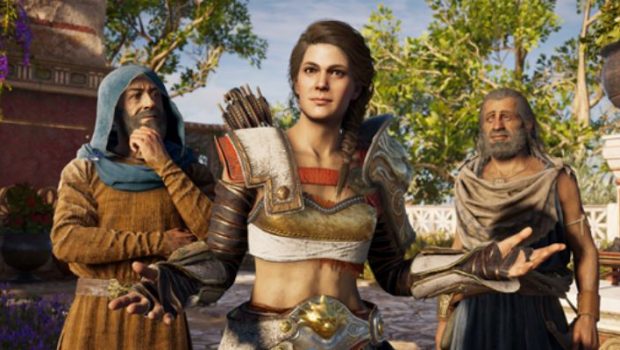 Published on December 15th, 2021 | by Adrian Gunning
Assassin's Creed Crossover Stories Featuring Eivor and Kassandra Available Today
Today, Ubisoft announced that Assassin's Creed Crossover Stories featuring Eivor and Kassandra are available now. Both stories are available for free for owners of the respective base games, with one story featuring Eivor and Kassandra available in Assassin's Creed Valhalla and one story featuring Kassandra or Alexios available in Assassin's Creed Odyssey.
Assassin's Creed Crossover Stories is the first cross-game project on the franchise, led by Ubisoft Quebec in close collaboration with Ubisoft Montreal. The content aims at answering the question "What happens when two Assassin's Creed heroes meet?", allowing fans to deepen their experience in the franchise and exploring the ties between the heroes of the two games, and featuring new environments to explore as well as a rich storyline.
For the Assassin's Creed Valhalla crossover story, A Fated Encounter, players must have reached Settlement Level 4 and completed the quest "A Wise Friend," where Eivor helps Valka establish herself in Ravensthorpe.
For the Assassin's Creed Odyssey crossover story, Those Who Are Treasured, players will need to have completed Chapter 1 and reached Megaris to access the content, but it's recommended that players finish the main game's three story arcs (Family, Cult of Kosmos and Mythology) to avoid spoilers.
As part of Ubisoft's 35th Anniversary celebrations, Assassin's Creed Odyssey will be available to play for free for a limited time from December 16 to December 19 on PlayStation®4, Xbox One, Stadia, and Windows PC through the Ubisoft Store. During this time, fans will be able to purchase Assassin's Creed Odyssey at discounts up to 75% off and keep their progression from the weekend. For more details, please visit: https://www.ubisoft.com/ubi35
For more information about Assassin's Creed, please visit assassinscreed.com.
For the latest news on Assassin's Creed and other Ubisoft games, please visit news.ubisoft.com.