Hardware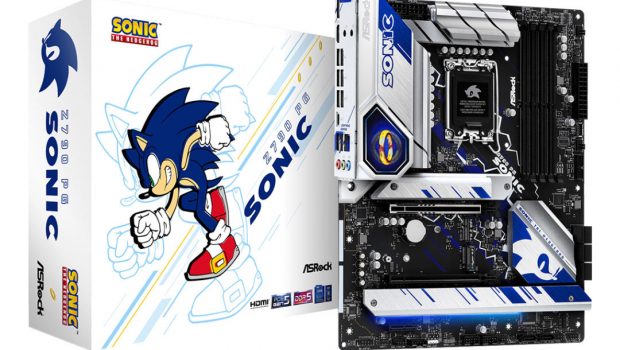 Published on August 2nd, 2023 | by James Wright
ASRock Z790 PG Sonic Edition Review
Summary: The ASRock Z790 PG Sonic Edition motherboard is pure gaming power and also looks the part thanks to our favourite hedgehog!
The new Z790 PG Sonic Edition motherboard from ASRock supports both the 2021 Intel 12th Generation processors and also the 2020 Intel 13th Generation processors for improved all-round performance and excellent expansion capabilities. Add in the latest ASRock technology and this board is ideal for gamers and PC enthusiasts, including those who want to push their system with overclocking.
However what makes this motherboard standout from its competitors is its gaming aesthetics that boasts a timeless favourite, Sonic the Hedgehog particularly with its colouring and Sonic images on the board itself. This officially licensed motherboard even comes with a 16-bit spinning ring emblazons the IO cover with the rear side showing Sonic in mid-run.
It's pure gamer!
This LGA 1700 ATX Motherboard from ASRock boasts a wealth of features such as five M.2 sockets, the latest DDR5 support, eight SATA ports and a whopping 9 USB ports. Add in PCI Express 5.0 x4 and 14+1+1 VRM compatibility and there's plenty to like about the ASRock Z790 PG Sonic Edition motherboard.
Further complementing the design is a front USB 3.2 Gen 2×2 Type-C connection, Killer 2.5G networking, Nahimic Audio and Polychrome SYNC which allows gamers the ability to sync with other devices and even create their own lighting effects.
In terms of CPU installation, we tested the board with the Intel Core i9 13900K and Intel Core i5 13600K, using the Intel Core i9 12900K and Intel Core i5 12600K as a baseline. For RAM, we used the Kingston Fury Renegade memory running at DDR5-7200 (32GB in total), however the system supports a whopping 128GB in total. For graphics, it was the AMD Radeon RX 6800 XT.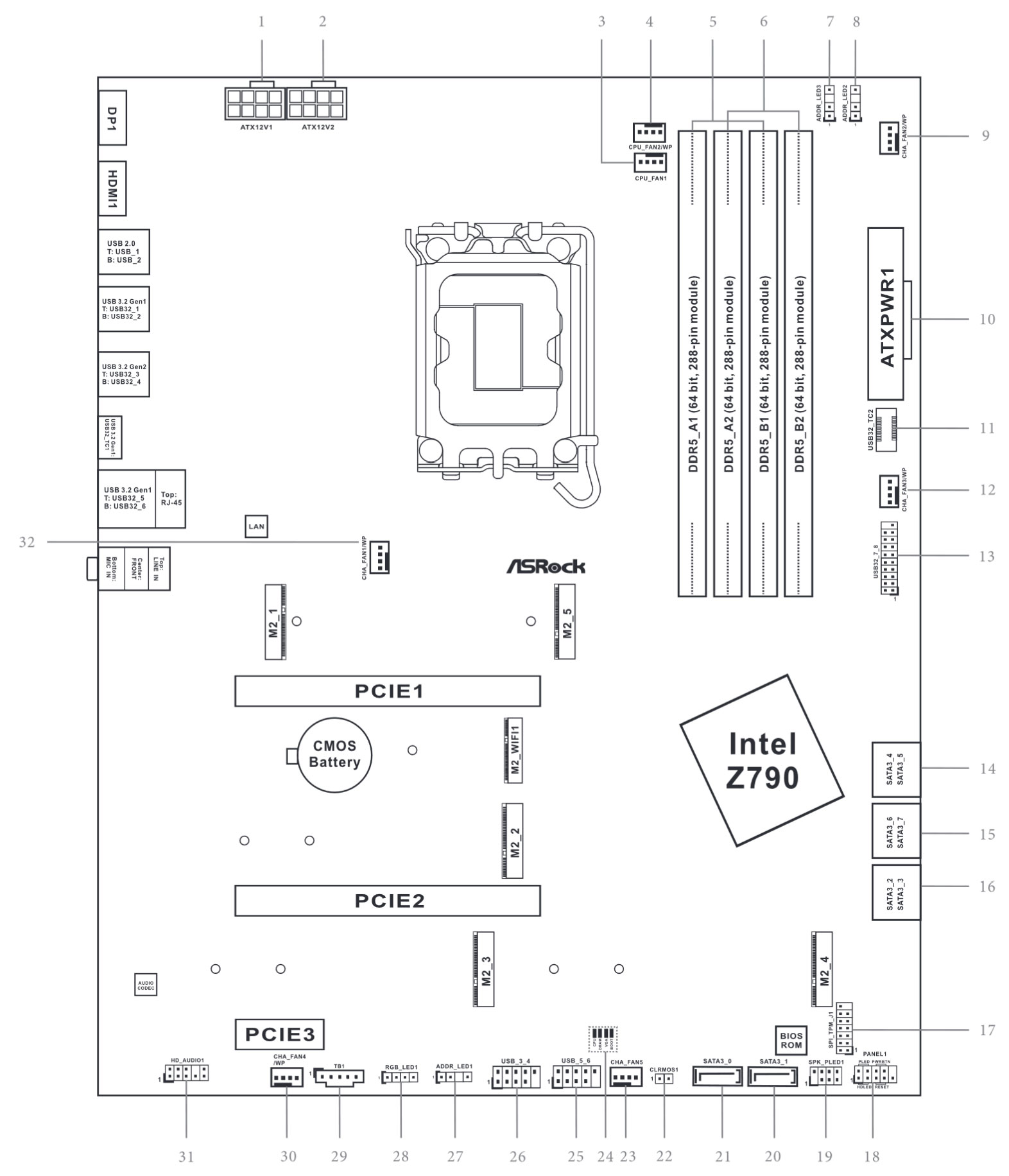 No. Description
ATX 12V Power Connector (ATX12V1)
ATX 12V Power Connector (ATX12V2)
CPU Fan Connector (CPU_FAN1)
CPU/Water Pump Fan Connector (CPU_FAN2/WP
2 x 288-pin DDR5 DIMM Slots (DDR5_A1, DDR5_B1
2 x 288-pin DDR5 DIMM Slots (DDR5_A2, DDR5_B2
Addressable LED Header (ADDR_LED3)
Addressable LED Header (ADDR_LED2)
Chassis/Water Pump Fan Connector (CHA_FAN2/WP)
ATX Power Connector (ATXPWR1)
Front Panel Type C USB 3.2 Gen2x2 Header (USB32_TC2)
Chassis/Water Pump Fan Connector (CHA_FAN3/WP)
USB 3.2 Gen1 Header (USB32_7_8)
SATA3 Connectors (SATA3_4)(Upper), (SATA3_5)(Lower)
SATA3 Connectors (SATA3_6)(Upper), (SATA3_7)(Lower)
SATA3 Connectors (SATA3_2)(Upper), (SATA3_3)(Lower)
SPI TPM Header (SPI_TPM_J1)
System Panel Header (PANEL1)
Power LED and Speaker Header (SPK_PLED1)
SATA3 Connector (SATA3_1)
SATA3 Connector (SATA3_0)
Clear CMOS Jumper (CLRMOS1)
Chassis Fan Connector (CHA_FAN5)
Post Status Checker (PSC)
USB 2.0 Header (USB_5_6)
USB 2.0 Header (USB_3_4)
Addressable LED Header (ADDR_LED1)
RGB LED Header (RGB_LED1)
5-pin Thunderbolt AIC Connector (TB1)
Chassis/Water Pump Fan Connector (CHA_FAN4/WP)
Front Panel Audio Header (HD_AUDIO1)
Chassis/Water Pump Fan Connector (CHA_FAN1/WP)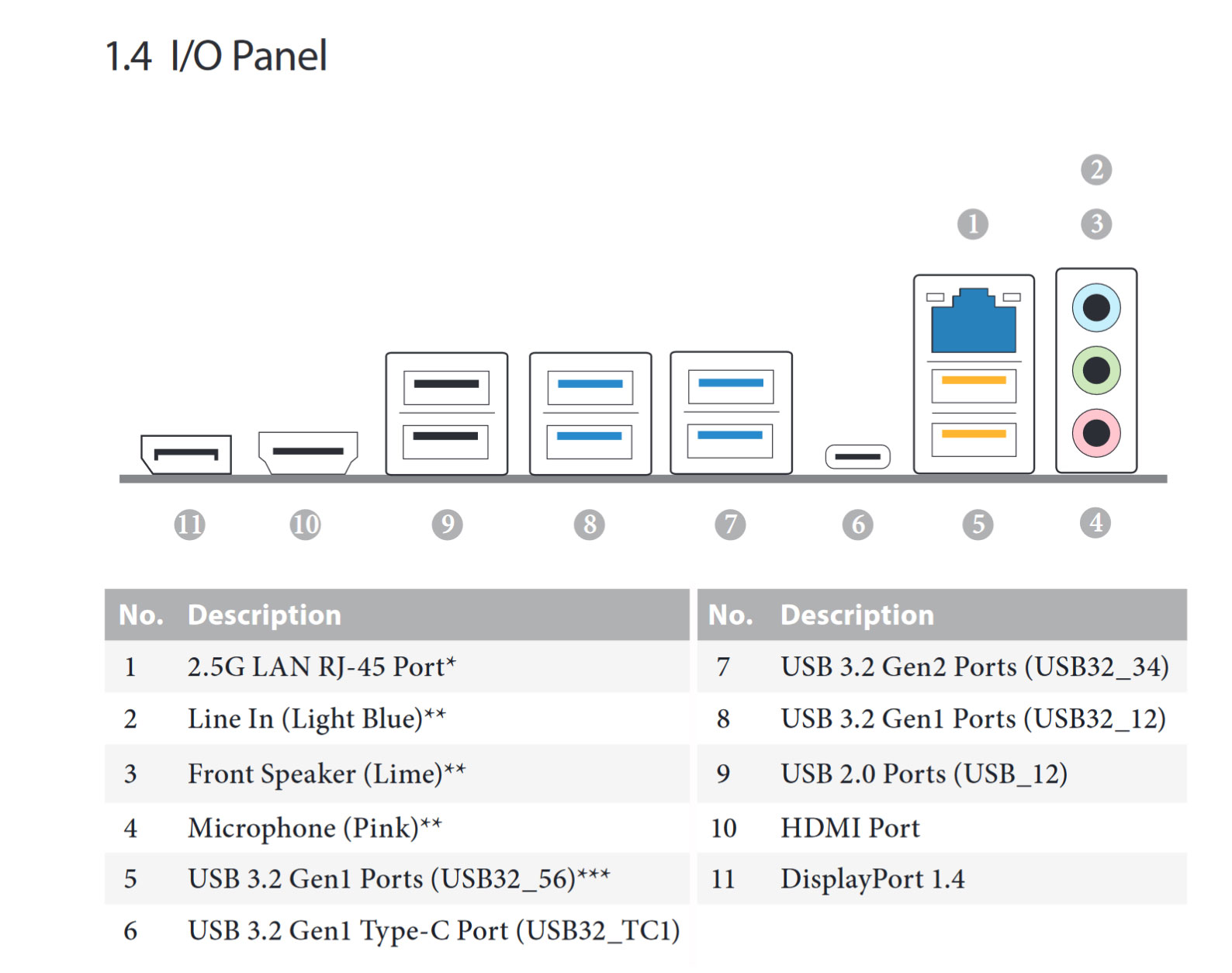 Unboxing
Visually, this motherboard looks fantastic, however the other important factor is that the board not only feels well designed but is quite sturdy, which is a must for building or modifying a gaming rig. As it is a larger motherboard (ATX form-factor), it gives you plenty of access to connect your components, including easy access to RAM and M.2 slots and SATA inputs, not to mention power and other cables you need connected.
You can also attach a myriad of cooling accessories to the motherboard from fans to liquid coolers in order to ensure your gaming rig keeps cool under pressure. The board also has one HDMI and DisplayPort and while the board doesn't have a display for errors, it uses LED lights to inform the user of any potential issues. It also has reinforced DIMM slots that provide additional strength when installing your DDR and according to ASRock, its design promotes better memory stability.
Further supporting the user, is the Optimized VRM Design with 6-Layer PCB and 2 ounce copper inner layers that helps in keeping temperatures lower, particularly for gaming and when you want to overclock components. Speaking of gaming, the lighting gaming ports for your mouse and keyboard help reduce lag to ensure your gaming is not impeded.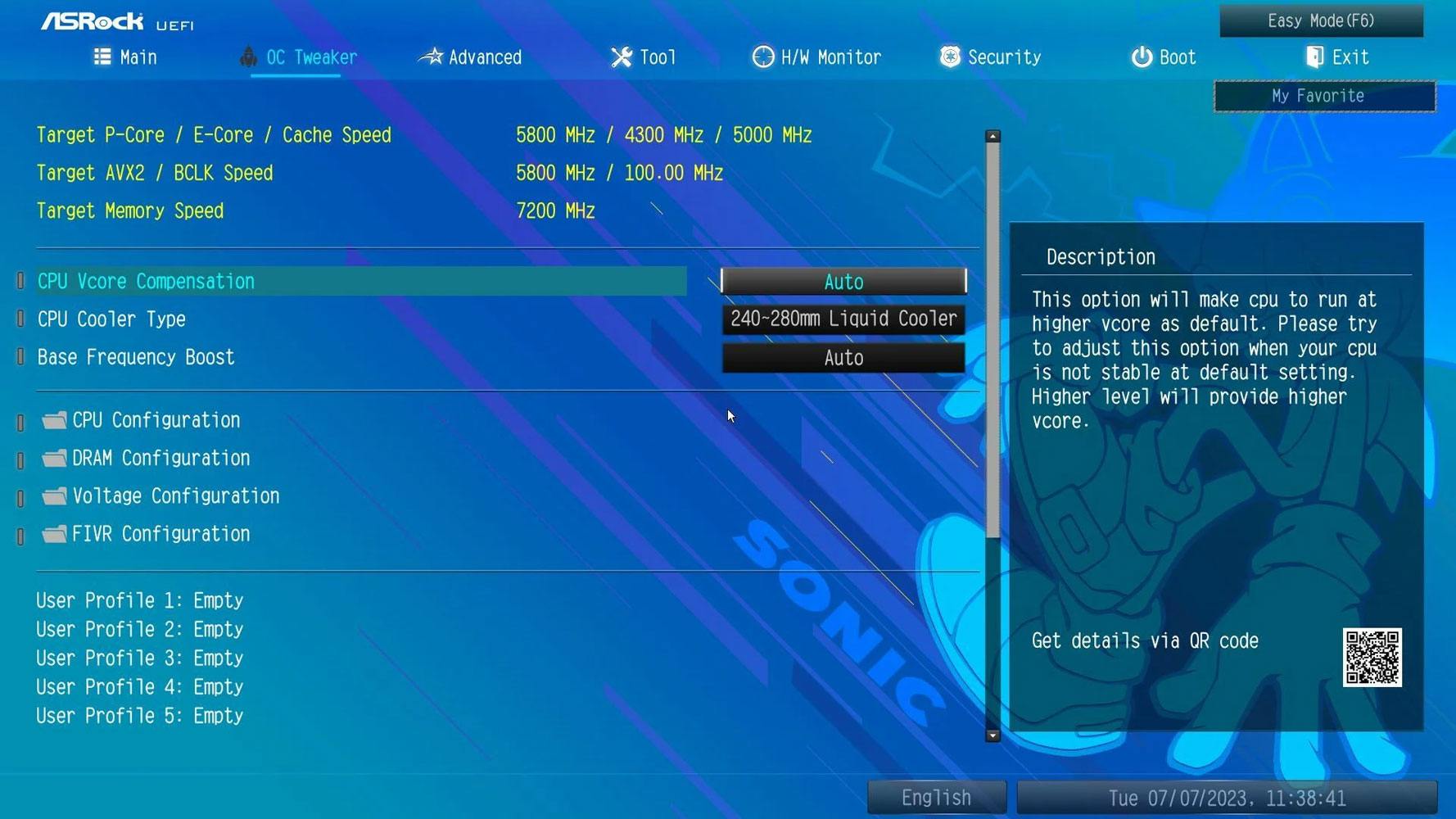 While the physical aspects of this motherboard is a celebration of Sonic, the BIOS also channels this super-fast hedgehog (see above). If you are familiar with other ASRock motherboards, the BIOS menu is identical to previous released boards that easily allows the user to navigate through the menus, including offering overclocking options, peripheral tweaks and other system information. Further, the Windows 10/11 software for performance (e.g. overclocking) called A-Tuning (below) and also Polychrome Sync is also quite intuitive as well and again shows Sonic!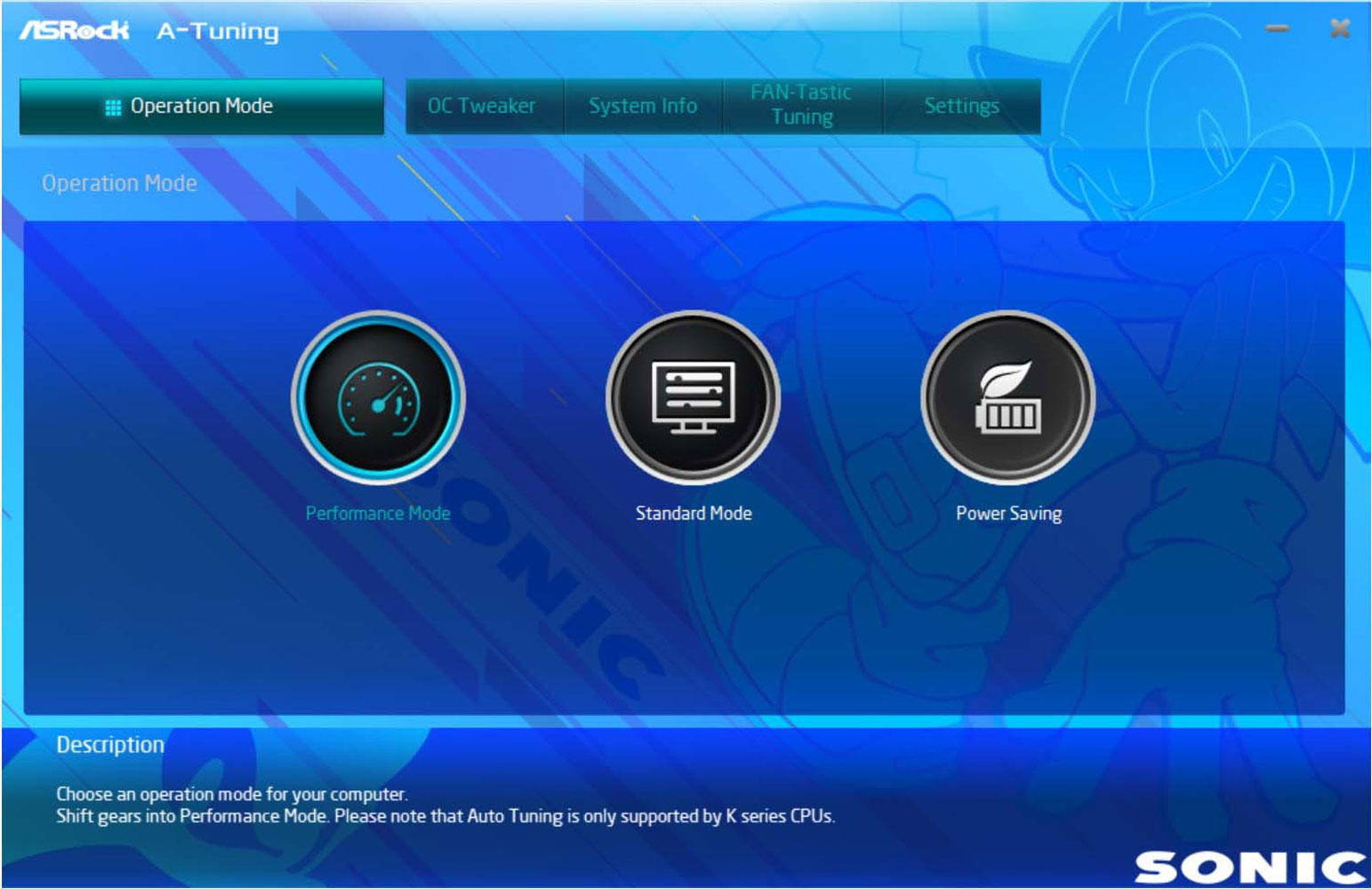 Benchmarking
Although Benchmarking is subjective, it can still provide a relevant score of where your system, including its components, is ranked with other users from around the world. From a processing aspect, CPU and RAM are the most important elements and from a graphical perspective, it is a combination of GPU, CPU and RAM. The motherboard however brings it all together. However from our testing of the ASRock Z790 PG, I can safely report that with the latest Intel CPU and Kingston DDR5 RAM it scored where a decent high-end gaming system should be ranked.
Our first test was AIDA64, a very popular benchmarking tool that provides detailed system information, diagnostics and benchmarking for Windows systems. It's also a great tool to help troubleshoot if you have any CPU, motherboard, graphics card or heating issues. AIDA64 has an excellent test called CPU Queen which is a simple integer benchmark which focuses on the branch prediction capabilities and the misprediction penalties of the processor that is based on the game of chess. The higher the results, the faster your CPU.
Score Breakdown: Intel Core i9 13900K 156821, Intel Core i5 13600K 119901, Intel Core i9 12900K 113260 & Intel Core i5 12600K 83751
Our next test was Geek Bench 5, a benchmarking tool that offers a single core performance test and then a multi-core performance one. As you can see from the below single core test, the CPU with this motherboard scored quite high, particularly with the Intel Core i9-13900K.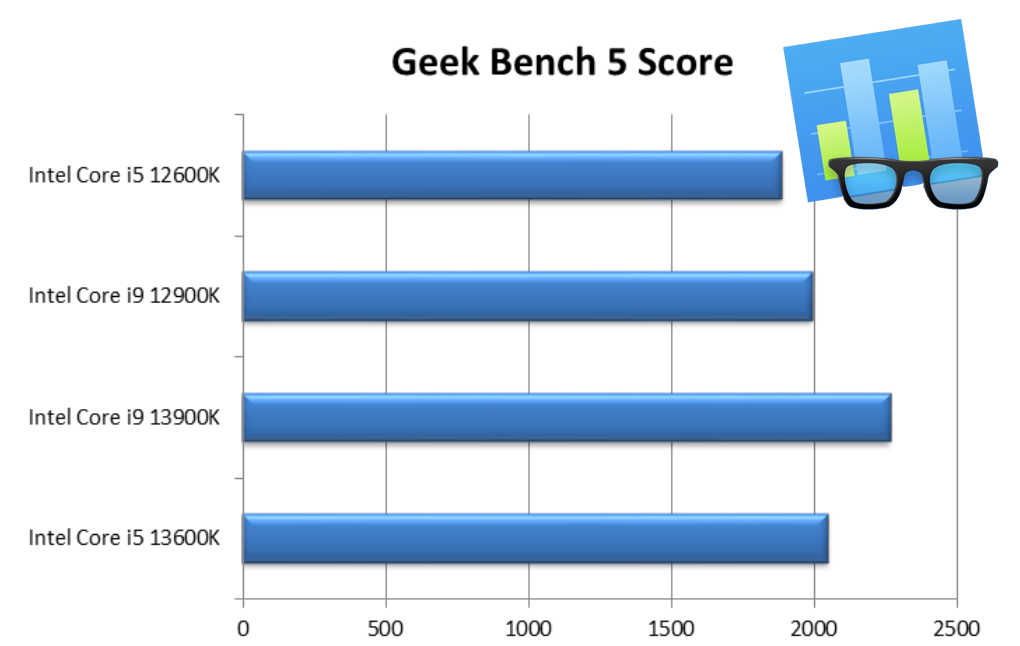 Score Breakdown: Intel Core i5 13600K 2049, Intel Core i9 13900K 2267, Intel Core i9 12900K 1992, Intel Core i5 12600K 1886
What about multi-core?
On the multi-core tests (below), there was a considerable difference between the 2021 CPU's and the 2022 CPU's, however again, all CPU's performed quite well on the ASRock Z790 PG Sonic Edition motherboard.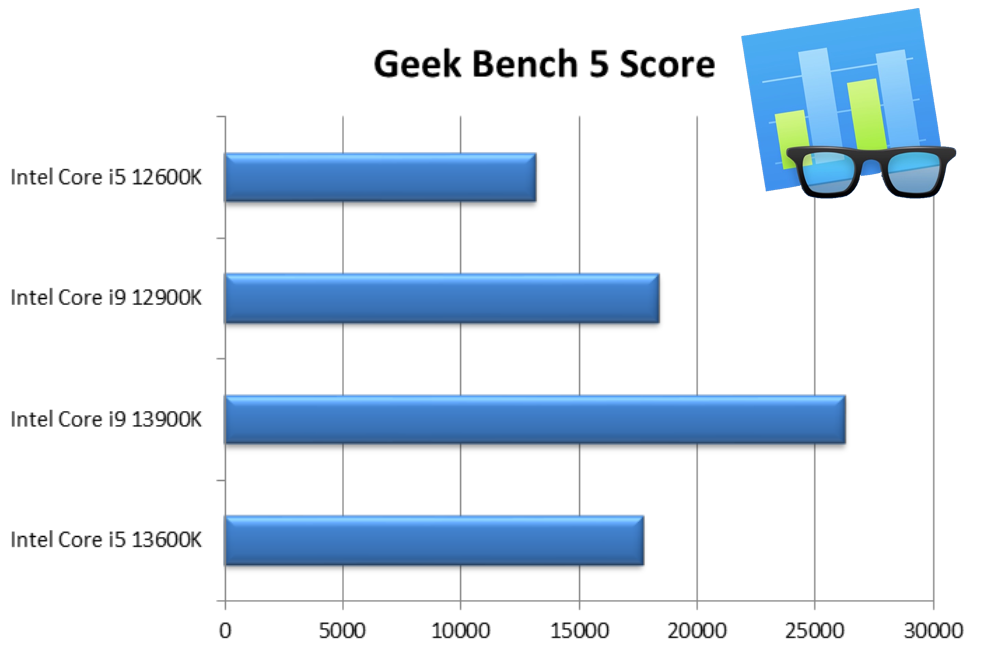 Intel Core i5 13600K 17701, Intel Core i9 13900K 26261, Intel Core i9 12900K 18390, Intel Core i5 12600K 13167
Cinebench R23 from Maxon focuses on video and 3D which is quite taxing on the CPU that makes it ideal to test processor speeds. Again, excellent scores on the ASRock Z790 PG Sonic Edition.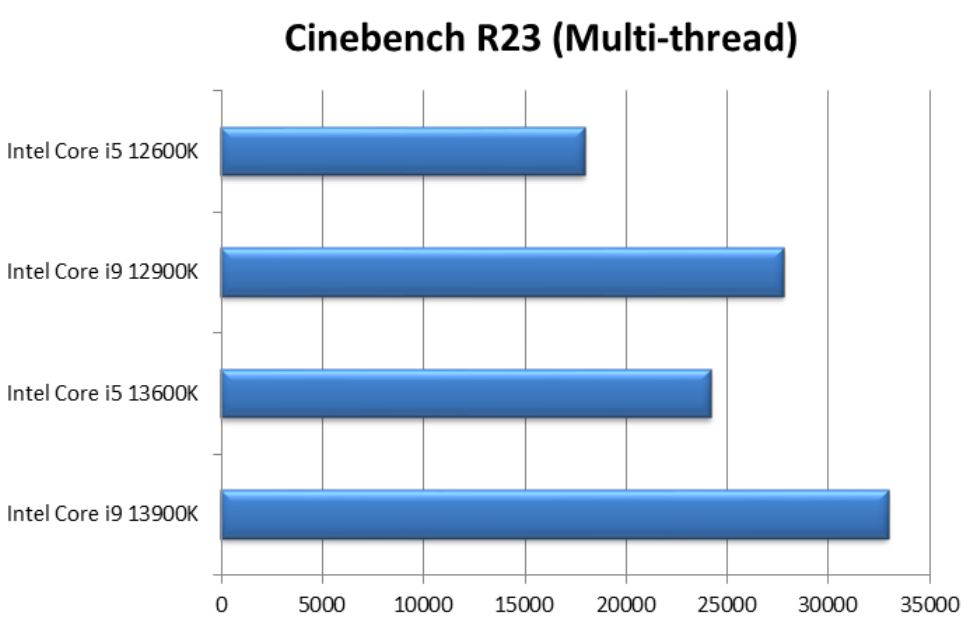 Score Breakdown: Intel Core i9 13900K 2309, Intel Core i5 13600K 1901, Intel Core i9 12900K 2031 & Intel Core i5 12600K 1921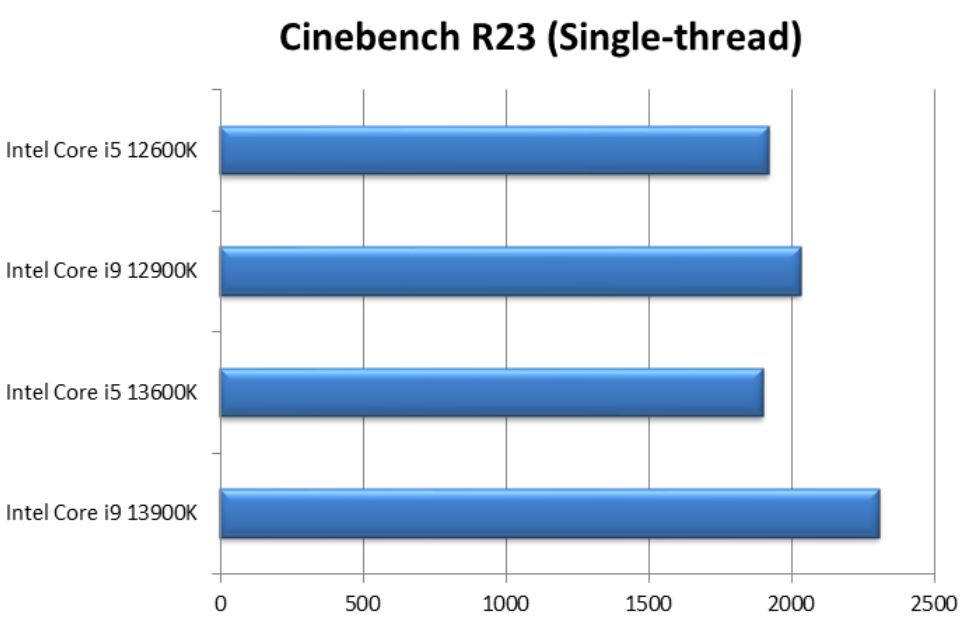 Score breakdown: Intel Core i9 13900K 32950, Intel Core i5 13600K 24201, Intel Core i9 12900K 27812 & Intel Core i5 12600K 17999
Verdict? From system benchmarks, the Intel Core i9-13900K and the ASRock Z790 PG Sonic Edition make a mean combination together.
Gaming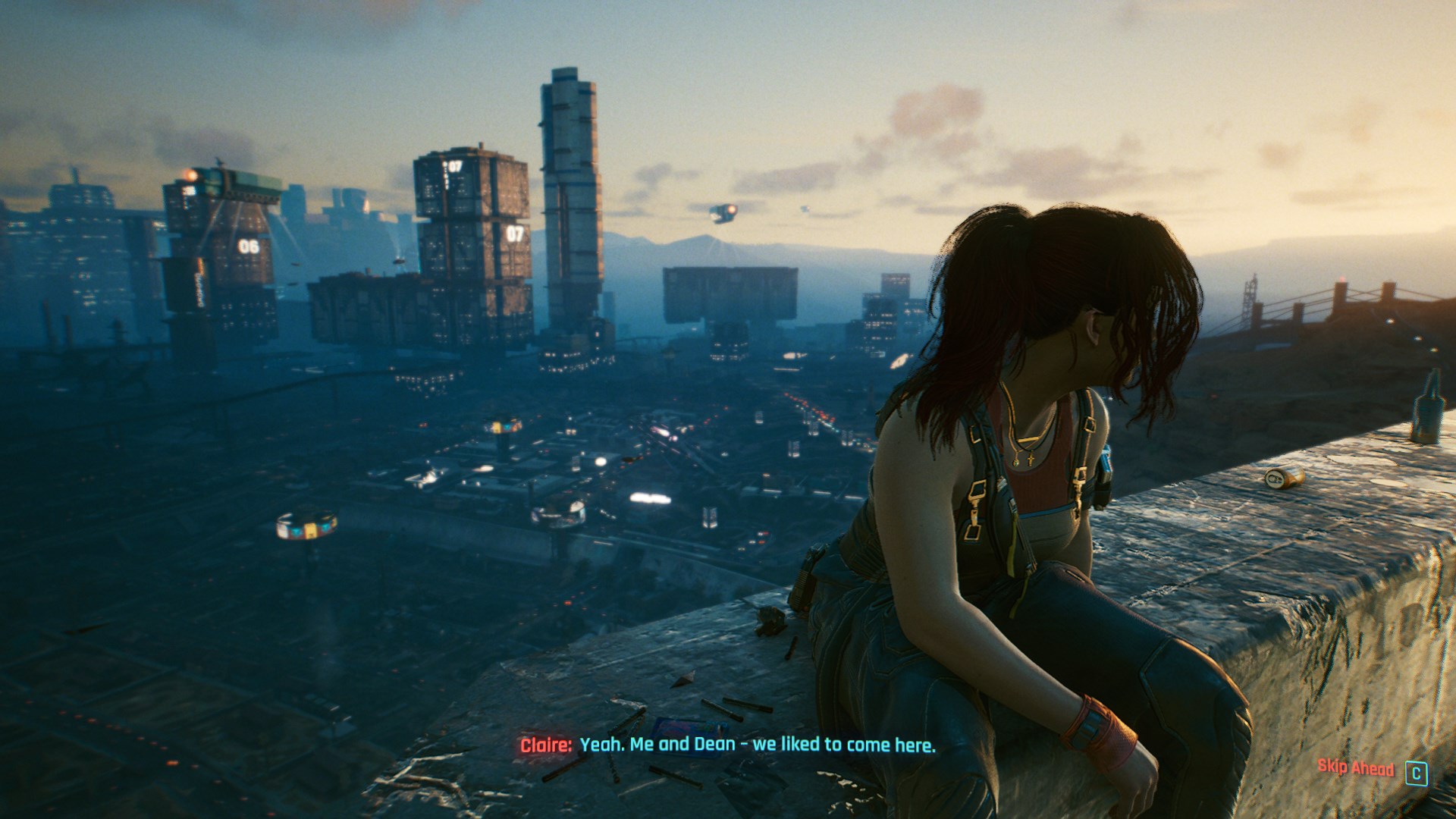 For gaming, the first title was Cyberpunk 2077, a game steeped in controversy when first launched, however very playable now. Cyberpunk 2077 is an action role-playing video game developed by CD Projekt Red and published by CD Projekt. It is an open-world, action-adventure story set in Night City, a megalopolis obsessed with power, glamour and body modification. The updated Cyberpunk 2077 looks glorious on a system that can run it at full detail.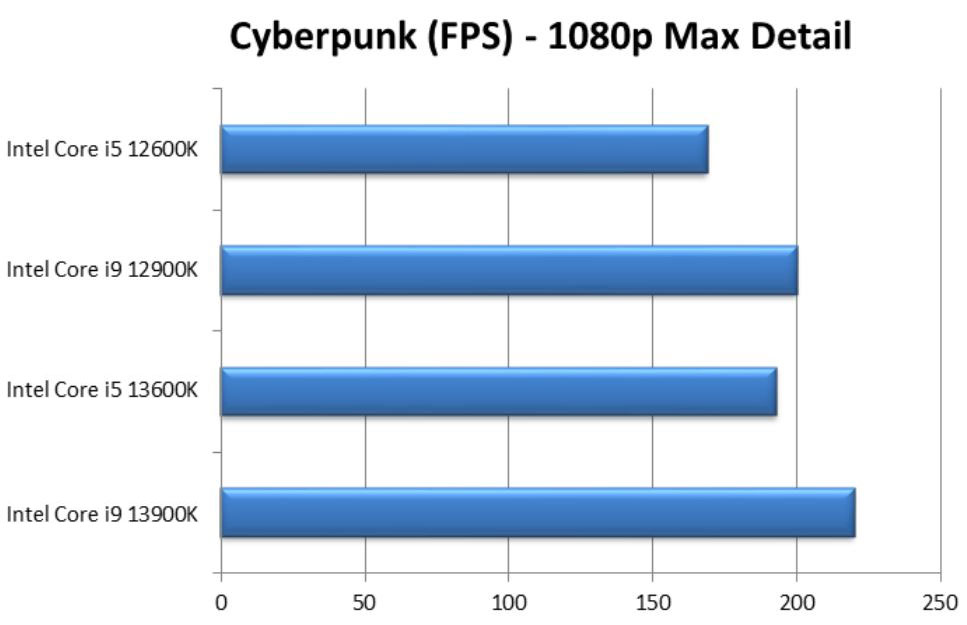 All four CPU's performed well with the Intel Core i9 13900K at scoring quite high at 221 with the ASRock Z790 PG Sonic Edition motherboard.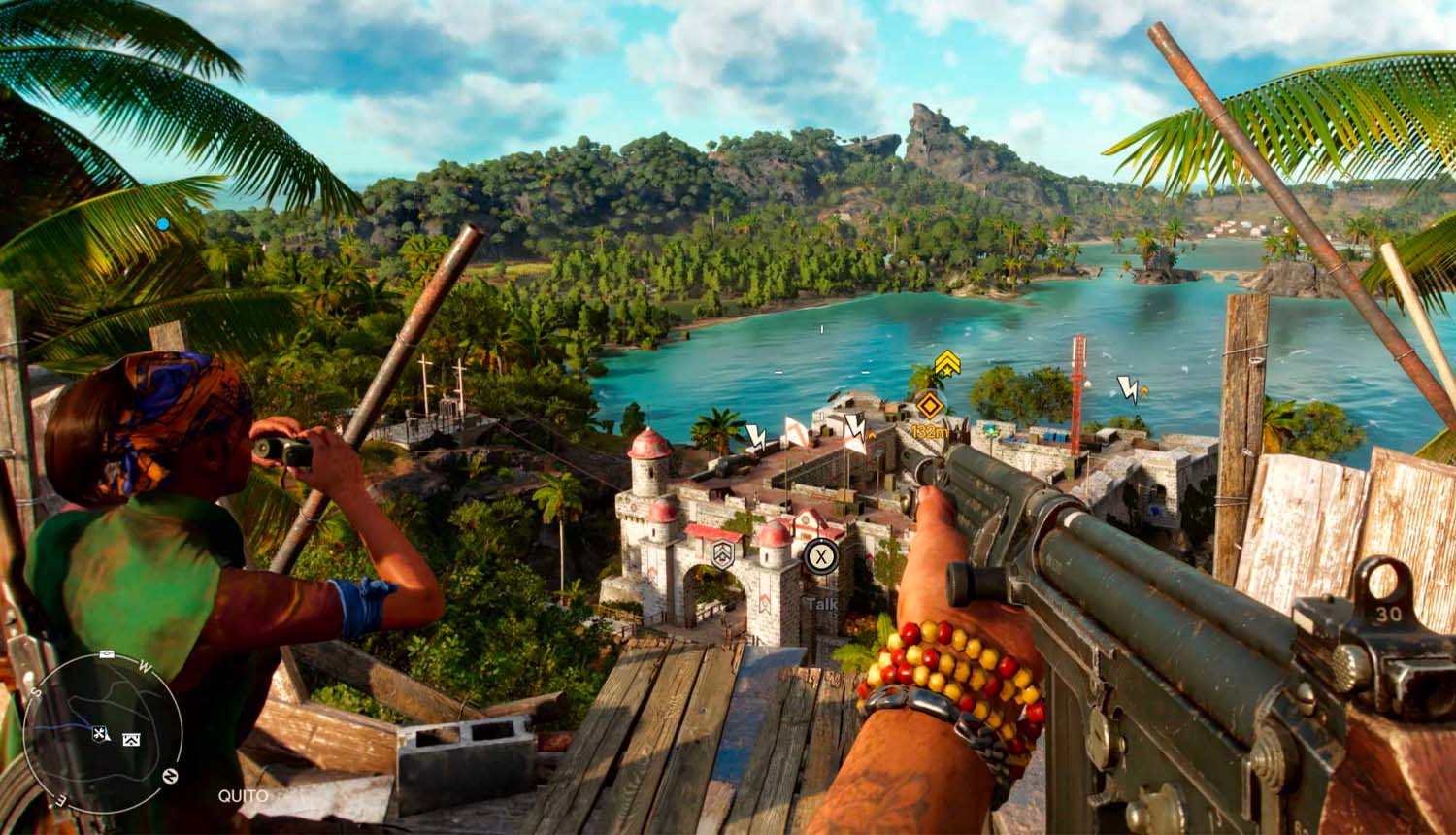 Another graphical intensive game is Far Cry 6 that is developed by Ubisoft. Far Cry 6 is a first-person shooter game, set in an open world environment that again performed admirable on motherboard with the right components.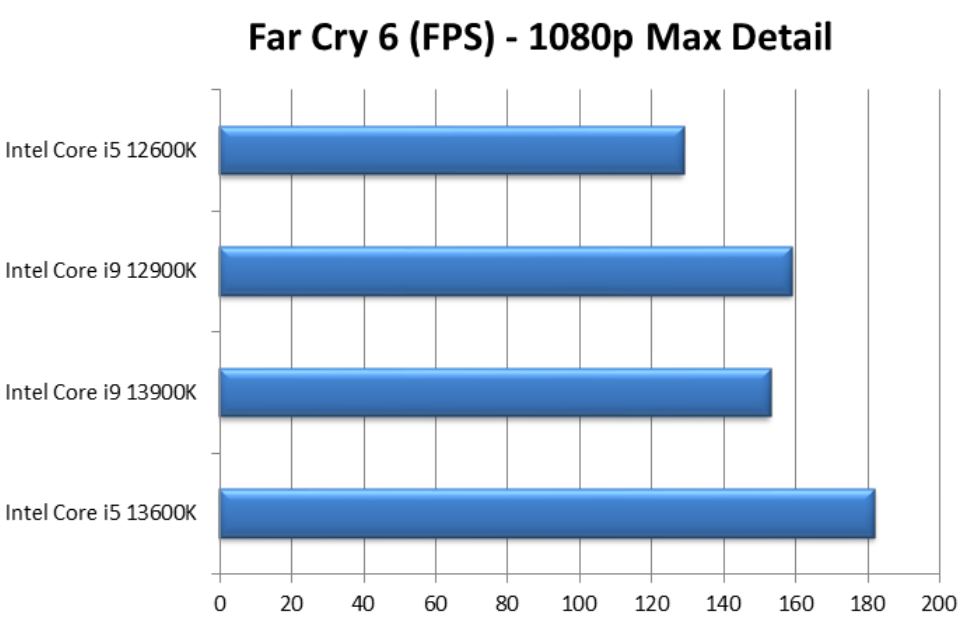 Final Thoughts?
For around $399AUD (August 2023), the ASRock Z790 PG Sonic Edition motherboard is designed for gamers that not only looks the part but more importantly, can run the latest games without missing a beat. If you're looking to upgrade or build a new gaming rig, this affordably priced motherboard from ASRock ticks all the right boxes and best of all, offers an element of future-proofing.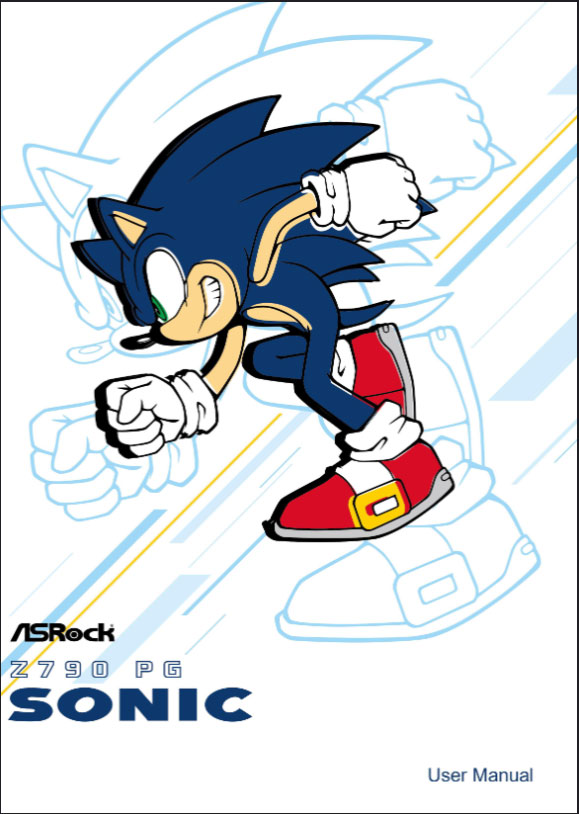 Audio
The Nahimic Audio built into the motherboard offers a wide variety of connectivity options, including rich and vibrant audio with no impact on system performance. This technology also removes interference noise and lower voice variation for improved overall quality, including Surround Sound to enhance your gaming and film experience. Needless to say, games such as Call of Duty or Star Wars Jedi Survivor sounded phenomenal, including streaming series such as Secret Invasion and The Witcher Season 3.
Final Thoughts?
The ASRock Z790 PG Sonic motherboards provides gamers with excellent value for money that not only supports the latest CPUs from Intel, including high-end memory but it boasts excellent gaming aesthetics for those that love to display their systems. If you're a fan of Sonic the Hedgehog, that alone is probably worth the admission price. Additionally the board is available globally with a recent Google search (August 2023) finding the ASRock Z790 PG Sonic averaging around $400AUD that makes it quite affordable.
So if you're looking to build a new system or upgrade an existing system, the ASRock Z790 PG Sonic motherboard offers performance, including adding future proofing to your purchase such as PCIe 5.0 and the Killer E3100 2.5 Gbps Ethernet controller. The only drawback is that the board does not offer inbuilt Wi-Fi connectivity, however a Killer Wi-FI module can be added. Nonetheless, the motherboard is an all-round gaming board with plenty of expansion and upgrade options, including a 1-year warranty with ASRock.
For more information please visit https://pg.asrock.com/mb/Intel/Z790%20PG%20SONIC/index.asp
ASRock Z790 PG Sonic Edition Specifications
Specifications
CPU Support:
Supports 12th/13th Gen Intel Core Processors,
Processor socket LGA1700)
Power Design:
CPU Power: 14-phase (50 A)
iGPU: 1-phase
VCCAUX: 1-phase
Chipset:
Intel Z790
Integrated Graphics:
Dependent on installed CPU –
1x DisplayPort 1.4 (8K 60Hz)
1x HDMI 2.1 (4K 60Hz)
Memory:
4x DDR5 memory slots, support up to 128GB
non-ECC, un-buffered memory up to 7200+(OC)
1DPC 1R Up to 7200+ MHz (OC)
1DPC 2R Up to 6000+ MHz (OC)
2DPC 1R Up to 5600+ MHz (OC)
2DPC 2R Up to 4800+ MHz (OC)
Expansion Slots:
1x PCIe 5.0 x16 slot (PCIE1)
1x PCIe 4.0 x16 (wired for x4)
1x PCIe 3.0 x1
Multi-GPU:
Supports AMD CrossFire
Storage:
8x SATA 6 Gb/s ports
4x M.2 Sockets (PCIe Gen 4 x4)
1x M.2 Socket (PCIe Gen 5 x4)*
*Gen 4 / Gen 5 share socket space
*Gen 5 will downgrade PCIE1 to x8
Networking:
1x 2.5G Intel Killer E3100G LAN
1x (WiFi installation available)
Rear Ports:
2x Antenna Mounting Points
1x HDMI Port 2.1
1x DisplayPort 1.4
2x USB 3.2 Gen 2 Type-A Ports (10 Gb/s)
1x USB 3.2 Gen 1 Type-C Port (5 Gb/s)
4x USB 3.2 Lightning Gaming Ports (5 Gb/s)
2x USB 2.0 Ports
1x RJ-45 LAN Port
HD Audio Jacks
Audio:
Realtek ALC897
7.1-Channel
Nahimic Audio
Fan Headers:
1x 4-pin CPU Fan Header (1A / 12W)
4x 4-pin Chassis / Water Fan Headers (2A / 24W)
1x 4-pin Chassis Fan Header (1A / 12W)
RGB Headers:
1x 4-pin (12V)
3x 3-pin ARGB (5V)
BIOS:
Single 128Mb BIOS Flash
UEFI AMI BIOS
Multi-language
Form Factor:
ATX Form Factor: 12.0 in x 9.6 in
30.5 cm x 24.4 cm
Unique Features:

PCIe Gen 5 (Graphics, M.2)
Dual Channel DDR5
14+1+1 Power Phase, 50A Dr.MOS for VCore+GT
2oz Copper PCB
Flexible Integrated I/O Shield
Ultrafast Connectivity
Killer 2.5G LAN
ASRock Lightning Gaming Ports
EZ Update
EZ Troubleshooter (LEDS)
ASRock PolychromeThunderbolt 4