Hardware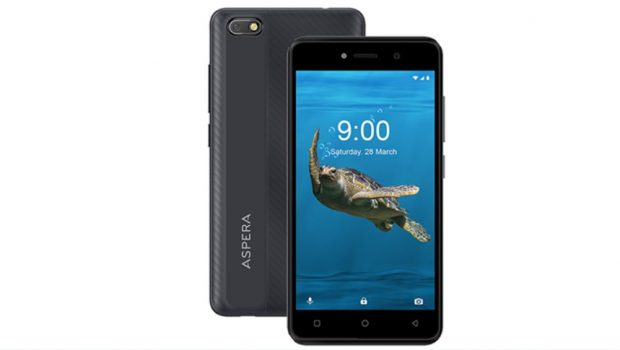 Published on July 26th, 2023 | by Adrian Gunning
Aspera Mobile launches new $99 AS5 4G smart phone
As the cost of living continues to rise and more and more people are looking for ways to lower their expenses, Australia's Aspera Mobile has celebrated its 10-year anniversary by launching a new range of low cost, full featured phones. The first smartphone to be launched in the new range is the unlocked 4G AS5 which at just $99 includes face recognition, a 5-inch display and a removable 2000mAh battery.
The new 4G AS5's main features include:
Face recognition
Octa-Core 1.6GHz CPU
2GB RAM + 32GB ROM plus up to 1GB additional virtual RAM allocated from unused ROM
5-inch FWVGA display
4G connectivity with VoLTE data calls improving voice quality
5MP rear and 5MP front camera
2000m Li-Ion removable battery
Micro USB, Bluetooth 5.0 and Wi-Fi hotspot connectivity
Dual 4G SIM slots
Android 13 (Go edition)
4G bands – 1/3/5/7/8/28a+b, 3G bands – 850/900/2100Mhz
146.5mm*74mm*9.9mm in size
Aspera Mobile MD Allan Robertson explained, "We were delighted to celebrate our tenth year as a fully Australian owned and operated business this year. To mark the occasion we are launching our new range of phones starting with the AS5 4G smartphone for just $99. For the AS5 we are offering many of the features that are included on higher priced smartphones and thus by definition redefining what is possible at this price point. For example, the AS5 offers a 1.6GHz Octa-core processor, 2GB RAM plus 1GB virtual RAM and face recognition, which we believe is the first time this combination of features have been offered in Australia in an unlocked smartphone under $100. You will pay significantly more to see all of these features in other phones."
Aspera has always tried to offer the best value for money in all of their phones. During Covid-19 the company saw increasing supply chain and logistics costs with the $99 price point for smartphones all but disappearing as a result. More recently as these cost pressures eased, the company is now once again able to offer Australian consumers a highly featured smartphone for just $99.
Robertson continued, "The AS5 and the other phones we will launch this year set us apart from our competitors. The AS5 is a compact, well featured but lower cost smartphone aimed squarely at the younger audience, the budget conscious and indeed anyone who wants the power and versatility of a smartphone at a fraction of the cost of what you will pay from many other manufacturers. It has a quality feel, two good cameras and many other features which make it terrific value at just $99."
The AS5 also brings more smarts to its memory use with its clever Octa-Core CPU and ability to re-assign any available ROM to create an additional 1GB of virtual RAM and help the OS and apps launch and run faster and more efficiently.
Robertson continued, "The AS5 is one of six new Australian designed models set to release in 2023. Our customer support centre is also based in Australia and as a result of our continued commitment to the Australian market, I'm delighted to say we recently notched up over one million phones sold and we have also continued to export products to the wider Oceanic region."
Having made it through the many challenges presented by Covid-19 and now experiencing a robust and rapid expansion, Aspera's new AS5 forms part of a wide range of products from the company which includes over 60 different models of featured, smart and rugged phones brought to market to date.
Allan Robertson concluded, "We are very proud of our 10 years of manufacturing good quality, reliable and low-cost phones. The AS5 very much embodies Aspera Mobile's value for money ethos by delivering customers a lot of functionality and performance blended with good design and without the premium price tag. The AS5 essentially redefines Aspera's value proposition at the entry level and also appeals to retailers who know their budget conscious customers want to stay well connected and have a great experience on their smartphone."
The new Aspera Mobile AS5 4G smartphone is available now and can be purchased for just $99 at retailers including Big W, Ritchies IGA, Seasons IGA, Freedom Fuels, Trinity Petroleum, Mobiciti and Personal Digital.
For more information on the new 4G AS5 go to: https://asperamobile.com/phones/smart-phones/aspera-as5/