Blu-ray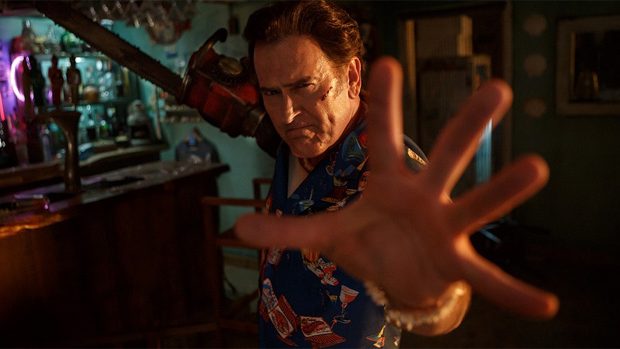 Published on October 29th, 2016 | by James Wright
Ash vs Evil Dead the Complete First Season Blu-ray Review
Summary: Ash vs Evil Dead the Complete First Season not only pays homage to the original movie but expands the franchise in a spectacular way!
The original Evil Dead movie premiered in 1981 and starred the delightful Bruce Campbell as Ashley 'Ash' J. Williams whose clichéd trip to the woods with friends turned into a true horror movie disaster. This black comedy horror was also written and directed Sam Raimi who is one of the world's most unique directors and once again returns to where it all started with Ash vs Evil Dead. This 10-episode series filmed in New Zealand and reunites Bruce Campbell to the franchise as the delightful Ash who is older, none the more wiser and boasts some awesome one-liners as he takes one the 'evil' dead or the Deadites again.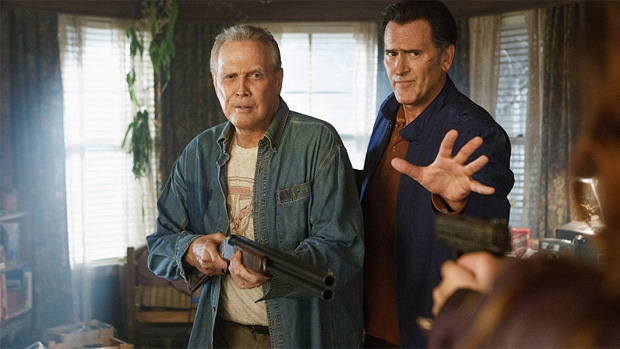 Ash also believes that he has seen the last of the Evil Dead but when he tries to impress a woman, he stupidly unleashes this evil once again by reading from the Necronomicon. As a result, the world is again in danger and it's up to Ash and the mysterious Ruby Knowby (Lucy Lawless) to put a stop to the evil that is currently plaguing the countryside. Joining Ash is fellow workmate Pablo Simon Bolivar (Ray Santiago) and another colleague, the almost emo-like Kelly Maxwell (Dana DeLorenzo) whose parents have been affected by the Evil Dead. Needless to say, things don't go according to plan, especially when the FBI and police are hunting for Ash and the strange and almost Xena-like Ruby. Things literally hit the fan!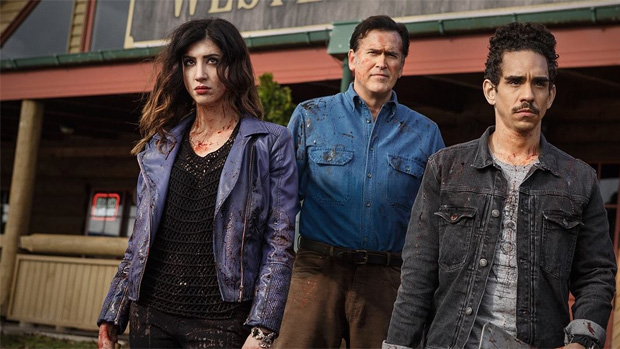 Like the original movie, this series features all the horror clichés, over the top acting and at times laughable gore that made the franchise such a cult hit, including our one-armed hero who has the ability to attach all sorts of attachments onto his arm. I also like how there's a few flashbacks to the original film which helps remind fans of what has happened previously or for newcomers, it retells the tale of Ash. So while Ash, Pablo and Kelly search for a way to reverse the spell he unleashed, our two heroes and one lovable idiot definitely have their work cut out with some very memorable at times thoroughly stupid yet entertaining episodes. Ash vs Evil Dead also ends on a fun cliff-hanger thanks to a deal made by Ash and thankfully season 2 is currently airing.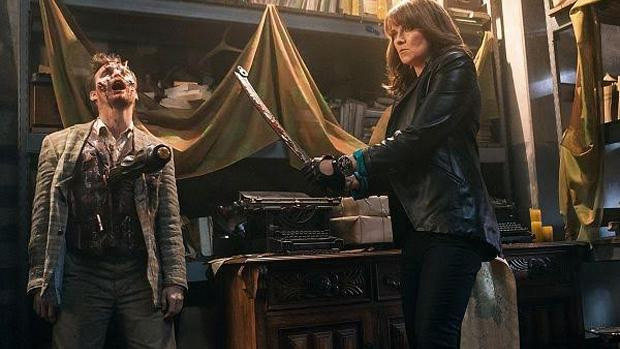 Given that this is a TV series, it's quite well presented on Blu-ray with some good image quality, including excellent audio. For a TV series, it boasts sharp images, vibrant colours (when used) and gore that literally jumps out from your high definition television. Each episode has commentary that include Executive Producers Sam and Ivan Raimi, Bruce Campbell, Dana DeLorenzo, Ray Santiago and Lucy Lawless to name a few.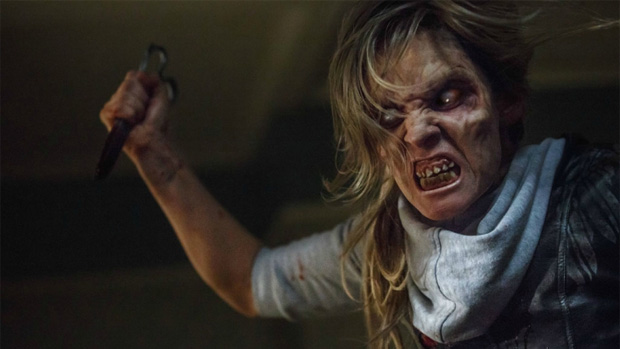 Listening to the commentary is like hearing old friends sitting around and talking about the good old days but it also explores the characters and this new series. Add in a fun documentary called Inside the World of Ash vs Evil Dead which dissects how it was all made, including the characters and you'll have a great snapshot into this crazy horror. My favourite feature is How to Kill a Deadite that is narrated by Bruce Campbell as he discusses the best ways to … well… kill a Deadite! Lastly there's a Best of Ash that highlights his best moments and one-liners from the franchise. All in all, some fun stuff here!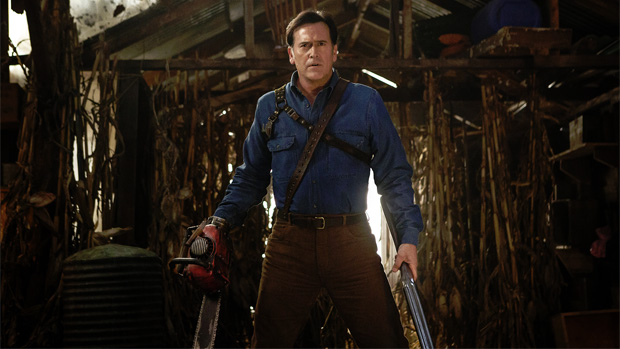 Final Thoughts?
Ash vs Evil the Complete First Season is a must watch series, especially if you're a fan of crazy comedic horror or the original Evil Dead series. Bruce Campbell really shines in this series and best of all, it's quite an interesting story, even though the clichés keep on coming like the deadites!
Recommended!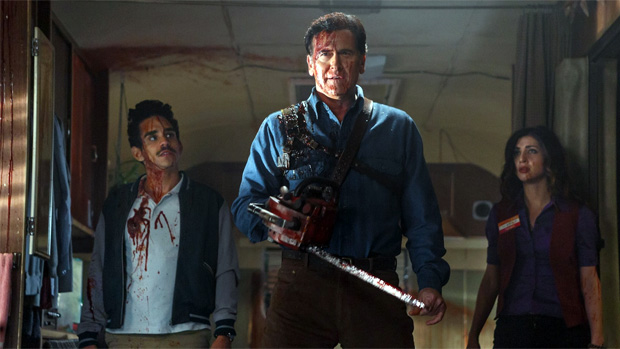 Blu-ray Details
Actors – Bruce Campbell, Ray Santiago, Dana DeLorenzo, Jill Marie Jones, Lucy Lawless
Film Genre – TV Horror
Label – 20th Century Fox
Audio – English (Dolby TrueHD 7.1)
Subtitles – English for the hearing impaired
Running Time – 270
Aspect Ratio – 1.78:1
Region Coding – B (Blu-Ray)
TV Standard – PAL
Rating – R18+
Consumer Advice – High impact horror violence, Blood and gore
Year of Release – 2015
Primary Format – Movies/TV – Blu-Ray