Comics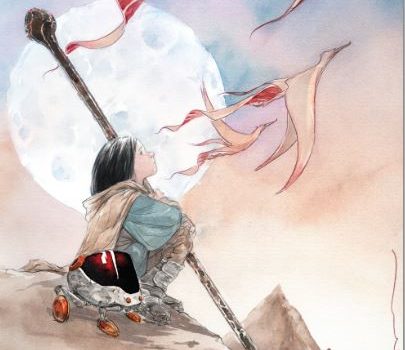 Published on April 26th, 2019 | by Admin
ASCENDER launches to high demand this week, captures DESCENDER fandom
The all-new fantasy series ASCENDER—from New York Times bestselling writer Jeff Lemire (Gideon Falls, Sweet Tooth, The Underwater Welder, Black Hammer) and artist Dustin Nguyen (Batman: Little Gotham)—is immediately being rushed back to print to keep up with customer demand.
This new adventure from the powerhouse creative team behind the bestselling, award-winning Descender, provides readers with the perfect jumping on point and requires no knowledge of the previous Descender series.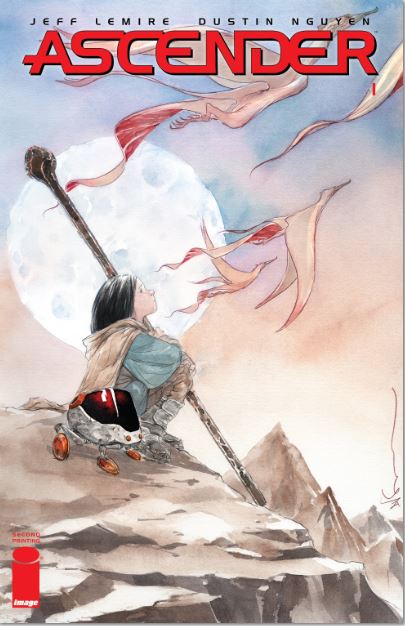 Set ten years after the conclusion of Descender, in Ascender the machines have gone away, and in their absence magic has reclaimed the universe. Now one girl must embark on an epic quest to find robotkind and its fabled boy messiah, TIM-21, before it's too late…
The Descender series launched in 2015 to massive critical acclaim. The series was recognized as an NPR "Best Book of the Year" in 2015, was listed four years in a row by the American Booksellers' Association's Young Adult Library Services Association's "Great Graphic Novels for Teens" round-up, and made Newsweek's "Best Comics Books of 2018" round-up.
Ascender #1, second printing (Diamond Code JAN199358) will be available in comic shops on Wednesday, May 22. The final order cutoff deadline for comic shop retailers is Monday, April 29.
It is also available to pre-order across many digital platforms, including the official Image Comics iOS app, Amazon Kindle, Apple Books, comiXology, and Google Play.
Select praise for the Descender series:
"Your new sci-fi obsession is here, and its name is Descender." —Entertainment Weekly
"Lemire (Essex County) smoothly doles out information while amping up the tension, and the innocent, friendly character of TIM-21 creates real heart in the midst of extreme violence. Nguyen's watercolor artwork is marvelous, using the medium's transparency to create fluid and subtly lustrous pages." —Publishers Weekly (starred review)
"The art feels light and almost whimsical. I love that. I also love the colors and the choice to make certain areas (UGC) bright so the panels pop off the page, and others (mining colony, Gnish homeworld), much darker, grittier. All of it together looks like watercolors without brushstrokes. Overall, there's a little something for everyone here in Descender." —Kirkus Reviews
"An emotional, imaginative new universe, lavishly brought to life by the great Dustin Nguyen." —Brian K. Vaughan, Saga
"Gorgeous." —Vulture/NY Magazine
"An epic sci-fi tale with a huge heart." —Scott Snyder, Wytches
"It's so beautiful." —Kelly Sue DeConnick, Bitch Planet
"Deft and delightful, running from warmth to chilling, gentle to brutal." —Greg Rucka, Lazarus
"Hauntingly beautiful sci-fi that manages to be both epic & powerfully intimate. Masterfully done." —Jason Aaron, Southern Bastards
"What a beautiful, beautiful book. Descender is worth buying for the artwork alone, so it's almost a bonus that it tells such a compelling story about the future of humanity in a universe filled with terrors." —Charles Soule, The Oracle Year, Curse Words