Games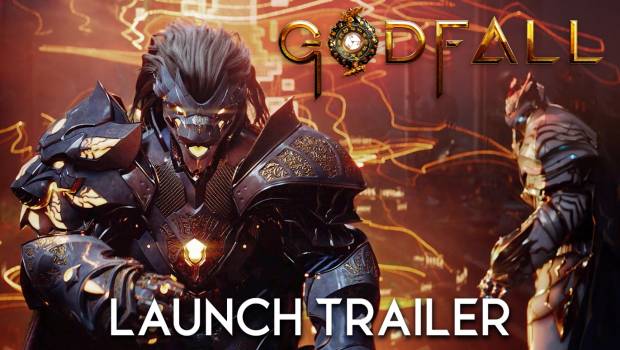 Published on November 13th, 2020 | by Admin
Ascend to glory in Godfall – Now available at Australian retailers
Godfall, a PlayStation 5 exclusive launch title, is now available on the PlayStation 5 in Australia. Developed by Counterplay Games, Godfall is a first-of-its-kind, looter-slasher, melee action-RPG.
Godfall is set in Aperion, a land on the precipice of ruin, and you are the last of the Valorian knights, god-like warriors able to equip Valorplates, legendary armour sets that transform wielders into unstoppable masters of melee combat. Tear through foes as you climb through the elemental realms and challenge the mad god, Macros, who awaits you at the top.
To get a taste of the action, watch the launch trailer here.
"Bringing a new world to life and a new IP to gamers has been a real driving force throughout the development of Godfall," said Keith Lee, CEO of Counterplay Games. "We can't wait to see how players tinker with their load-outs to allow their unique playstyles to shine as they fight through the beautiful world of Aperion."
Players who pick up Godfall this week have a lot to look forward to, including:
The many realms of Aperion await:Adventure across exotic vistas, from the above-ground reefs of the Water Realm to the subterranean crimson forests of the Earth Realm
Master breathtaking weapons: Master all five weapon classes, each with unique playstyles and a variety of Longswords, Polearms, Warhammers, Greatswords, and Dual Blades
Become unstoppable: Level up, learn new skills, and uncover legendary weapons with devastating effects on the battlefield
Unlock godlike armour: Unlock 12 Valorplates: Divine, Zodiac-inspired suits of armour that empower you to defeat every enemy between you and Macros
Vanquish worthy foes: Test your skills in the Tower of Trials and challenge yourself against the toughest foes and earn top-tier loot
Ascend together or solo: Fight solo, or alongside friends with three-player player-versus-environment online co-op play
While many reviewers are still spending time exploring Aperion, early impressions of the game have praised its stunning graphics and dynamic combat:
"It looks great on PS5. Load times are actually next-gen….with a smooth framerate to boot. Particle effects are dazzling at times, with steel scraping against each other to great effect," writes Destructoid. "The DualSense is there every step of the way, with enhanced feedback and rumble that feels fun."
"Godfallreally does look great," IGN says, "…with vibrant environments and incredible character, world and equipment designs."
"There's genuine weight to each weapon, making each hit feel slower and more impactful than a standard sword swing," says DigitalTrends. "The trade-off is that players need to think more strategically about every hit, as committing too much can lead to disaster. Each button press matters, which is rare in a hack-and-slash game."
"Combat, built from light and heavy attacks, parries and evasion, is polished to an artisan sheen, and makes every blow land with a shattering impact," writes GamesRadar+.
"Combat is satisfyingly meaty no matter which weapon type you choose. Each one feels noticeably different, too," says GameSpot. "While Godfallis relatively simple on the surface, it has a lot of hidden depth that can boost your damage output and keep combat engaging."
"The team at Counterplay Games has created something really special and fitting for the PlayStation 5's console launch with Godfall," said Gearbox Publishing President Steve Gibson. "They've achieved an experience that is so unique, visceral, and satisfying we were thrilled that they partnered with us to bring this title to players, especially if they're looking for something epic to kick-off the next generation of gaming on PS5."
Godfall is available at Australian retailers on the PlayStation 5.