Hardware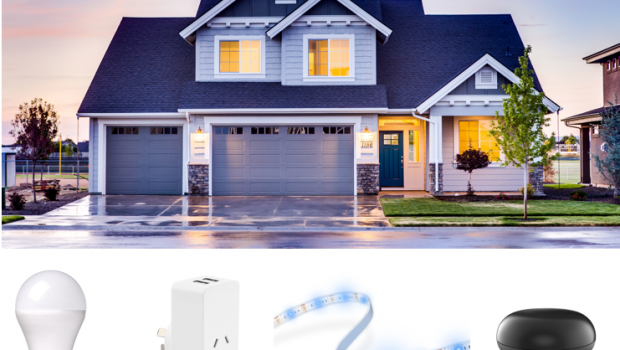 Published on April 7th, 2021 | by Adrian Gunning
As The Sun Goes Down, Affordable Home Smarts Add Safety, Warmth And Convenience This Winter
As we've seen just in the last few days, the end of daylight savings now means returning home from work in darkness, while the onset of cooler weather will also have us looking at ways to stay warm, comfortable and safe this winter.
Hopefully this also makes it a great time of year to revisit the many benefits that smart home technology can have on people's lives, with our client CONNECT SmartHome enabling a wide range of options all without breaking the bank.
Owned by Australian company LASER Corp with more than 30 years of experience in delivering affordable technology, CONNECT SmartHome has an extensive range – everything from smart lighting to smart plugs, IR remotes and much more. It means consumers can get a wide range of Smart Home products from just $10, making an effective $100 smart home more possible now than ever before.
From being able to turn on lights around your home as you come home at night, to pre-heating your electric blanket or automatically controlling your heater or television, there are many cost-effective smart home options that can make a quick but important impact on the safety, warmth, comfort and convenience of Australians this winter.
Further, the ability to automate schedules and control your lighting and appliances remotely also means more control over your energy use. The latest Power Plugs from CONNECT feature power monitoring so you can see how much energy your appliances are using, making an investment in smart home products good for your hip pocket too.
Check out some CONNECT's products below!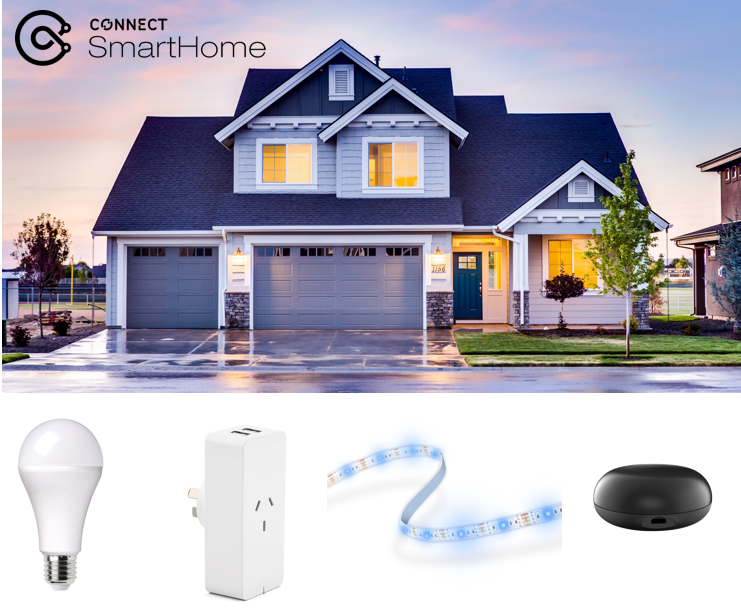 CONNECT SmartHome Daylight Savings Products
Compatible with Google Home and Amazon Alexa, users can control their home electronics via voice command or as standalone products controlled via the CONNECT SmartHome app (Android/iOS). These new additions update and expand the existing smart home range featuring water controllers, smart locks, new doorbells, expanded lighting options and more.
The range is Google-licensed, ensuring no interruptions after updates, while full compliance with Australian Standards and Regulations, replacement warranty and local customer support ensures consumers can get the best in affordable technology knowing it is fully supported and compliant locally. 
CONNECT Smart Lighting
CONNECT Smart Lighting – LED Bulbs
CONNECT SmartHome's range of everyday Smart White LED Light Bulbs offer a range of smart lighting options to cover Australian households. Available in 10W and 5W options across B22, E27 and E14 fittings, the White bulb allows you to control the warm vs cool white balance of the globe to suit the mood or occasion. The globes can be switched on/off, dimmed or scheduled using the free CONNECT SmartHome App or on any compatible smart device.
CONNECT Smart 10W B22 LED Light Bulb – RRP: $10 (WHITE), $15 (RGB)
CONNECT Smart 10W E27 LED Light Bulb – RRP: $10 (WHITE) $15 (RGB)
CONNECT Smart 5W E14 LED Bulb – RRP: $10 (WHITE), $15 (RGB)
CONNECT Smart Lighting – Fairy Lights
Perfect for adorning your home or garden, the CONNECT Smart Fairy lights come in 7m or 15m lengths and can allow the user to remotely control colour, brightness, and lighting modes. With 16.5 million colours to choose from, you will never run out of choices.
CONNECT Smart Fairy Lights 7m RGB: CSH-FAIRY7M – RRP $59.95
CONNECT Smart Fairy Lights 15m RGB: CSH-FAIRY15M – RRP $99.95

CONNECT Smart Lighting – LED Strips
For indoor or outdoor lighting needs, the new neon light strip can brighten up any occasion or be integrated into lighting displays. With 16.5 million RGB colours to choose from, 240 lumens of brightness and a lifetime of 25,000 hours, they can add a little fun. The LED smart strip lights are also vibrantly coloured to accent key spaces or liven up a room's ambiance when reacting to rhythms in music mode.
CONNECT Smart Strip LED 2m: CSH-STP2USB – RRP $29.95
CONNECT Smart Strip LED 5m: CSH-STP5LED – RRP $69
CONNECT Smart NEON LED Strip RGB 5mtr: CSH-STP5NEO – RRP $199.95
CONNECT Smart Security
CONNECT Smart Security – Outdoor Cameras
Cameras for outdoors are also easy to set up and install with CONNECT SmartHome. With the option of products combined with their own solar panel, charging is not a concern and high quality 1080p full HD video and night vision allow footage to be easily viewed and shown when needed.
CONNECT Smart Outdoor Camera with Solar Panel: CSH-SLRODCAM – RRP $199.95
CONNECT Smart Wire-free Full HD Security Camera: CSH-ODCAMS – RRP $149.95
CONNECT Smart Wireless Outdoor Camera With Adjustable Floodlight & Solar Panel: CSH-SLRFLCAMA – RRP $349.95
CONNECT Smart Security – Indoor Cameras
CONNECT's updated range of indoor cameras offer utility and convenience as well as peace of mind. Ready to set up and go, the cameras can be placed in any room and integrated through the CONNECT SmartHome app.
CONNECT Smart Indoor Security Camera – RRP $39
CONNECT Smart Indoor Camera Static V2: CSH-IPCAMB – RRP $59.95
CONNECT Smart Indoor Camera Pan/Tilt V2: CSH-360IPCB – RRP $79.95
CONNECT Smart Security – Doorbells
Giving the ability to respond to visitors anywhere and anytime, the new rendition of the Connect Smart Full HD Video Doorbell can send alerts via the free app when a visitor is at the door and also allows the user to see and communicate with them via two-way audio function.
CONNECT Smart Video Doorbell V2 White: CSH-CAMDBWB – RRP $149.95
CONNECT Smart Video Doorbell V2 Black: CSH-CAMDBBB – RRP $149.95

CONNECT Smart Security – Access
The CONNECT Smart Deadbolt with fingerprint ID keeps homes safe and protected from intruders or unauthorised entry, while also giving convenience to the homeowner. With 4 unique access methods including passcode, fingerprint, smart card and physical key, the user can also generate temporary access passcodes and access notifications. The lock can fit into 60mm standard bolts in existing holes.
CONNECT Smart Deadbolt Biometric: CSH-DEDBLTBIO – RRP $249.95
CONNECT Smart Home & Garden
CONNECT Smart Home & Garden – Watering
In order to automate gardens with ease, the CONNECT SmartHome new Wireless Water Controller can simply attach to existing water networks and be set it up in the companion app for a set and forget garden watering system. Powered by the inbuilt solar panel and connected via an included wi-fi HUB that boosts existing home Wi-Fi, this smart gadget gives the power to create watering schedules based on desired timings or even weather patterns.
CONNECT Smart Wireless Water Controller: CSH-WTRCTRLR – RRP $179.95

CONNECT Smart Home & Garden – Remote
Control all of your IR devices such as TVs and air cons from a single remote. Set scenes to automate your life such as turning on your TV and dimming the lights so you can watch movies and relax!
CONNECT Smart Indoor Security Camera – RRP $29
CONNECT Smart Home & Garden – Diffuser
Providing a simple way to create your own sanctuary at home, the Smart Diffuser allows you to freshen up your home with or without essential oils.
Smart diffuser – CSH-DIFF300 – RRP $79.95
CONNECT Smart Power
CONNECT's power options allow any appliance or device to be turned into a smart device! With the power board, each socked can be remotely and independently controlled. The new rendition of the popular smart Wi-Fi plug with dual USB ports also now comes with power monitoring and energy saving features.
CONNECT Smart Power Board 4 AC and 2 USB: CSH-4PWB2USB – RRP $49.95
CONNECT Smart Wi-Fi Plug with Dual USB and Power Monitoring: CSH-PLGUSBPM – RRP $19.95