Events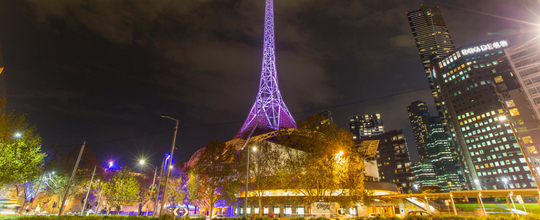 Published on October 25th, 2018 | by Admin
Arts Centre Melbourne presents Morning Melodies 2019 Program
After yet another hugely successful year of the much-loved Arts Centre Melbourne Morning Melodies concerts, the 2019 program will dazzle audiences with a stellar line-up of musical theatre, opera, jazz and dance artists. This coming year, the feel-good one hour concerts held each month at Hamer Hall will celebrate our very own Australian performers, including Rhonda Burchmore, Rachael Beck, Michael Cormick and Rohan Browne.
Opening the 2019 program in February are two of Australia's theatre icons, Rachael Beck and Michael Cormick where they reunite to celebrate the songs On Broadway. Accompanied by David Cameron on piano, they will also share career highlights, both on and off stage.
Fresh from his role as Magaldi, opposite Tina Arena in the Opera Australia, John Frost and David Ian  production of EVITA, Michael Falzon takes Centre Stage to celebrate music from some of the greatest performers and writers of the last 50 years in March.
From stage to screen, Alinta Chidzey is one of Australia's most versatile leading ladies. In April, Alinta will bring an exciting catalogue of new arrangements by the great female artists of the last century in her show, Divas – Past to Present. She will be accompanied by her band The Jazz Emperors led by jazz saxophonist and arranger Remco Keijzer.
Now a tradition amongst Morning Melodies audiences, a treat to look forward to each year is The Australian Ballet School and Victorian College of the Arts (VCA) performances. In May, celebrate the art of ballet from the sophisticated to the sublime in En Pointe, and in August the future performers of our musical theatre stages will present a vibrant program of celebrated material comprising intimate solos, entertaining duets and thrilling ensembles in their Music Theatre Showcase.
A program highlight in June will see Rhonda Burchmore and Lara Mulcahy treat audiences with their irresistible humour in ABBA-solutely Fabulous. Get ready for an explosion of laughs and lycra with your favourite Super Troupers as they sing renditions of 'Dancing Queen', 'Waterloo', 'Mamma Mia' and 'Fernando'.
Celebrate the golden era of jazz in July with a big band spectacular featuring Jacqui Hamilton and Rod Gilbert as they are joined by a 17-piece big band. They'll take audiences on a musical journey from the 1920s through to the 1950s in The Ladies and Gentlemen of Big Band Swing.
In September, famed leading operatic soprano Antoinette Halloran will ignite the stage with a sprinkling of operetta and musical theatre in Runaway Soprano. She will be joined by one of Australia's finest young tenors, James Egglestone and ready-made raconteur Patrick Lawrence.
Come October, Danielle O'Malley brings to the stage a stunning rendition of the powerhouse vocals and self-deprecating humour that made Cilla Black one of the UK's most beloved performers in The Songs of Cilla Black.
Following on from Danielle, in November will be one of musical theatre's leading men and a true triple threat, Rohan Browne, in his show-stopping theatrical piece Influences. Here, he will pay homage to the legendary artists that impacted his upbringing and helped shape his artistic future.
The 2019 Morning Melodies program will wrap up in December with the ever-adored Christmas Melodies heralding the arrival of the festive season. Audiences can sing along to a collection of classics and new favourites with a big band, choir and range of well-known artists to be announced in the spring of 2019.
Arts Centre Melbourne's acclaimed Morning Melodies started in 1985 when performer Betty Pounder and producer Sandy Graham decided it was time to make good use of the empty Playhouse Theatre on a Monday morning. They had a brainwave to break theatre tradition and invite people in during the day. More than 30 years on, Morning Melodies has presented more than 450 concerts and welcomed almost half a million audience members, making it a quintessential Melbourne experience.
Arts Centre Melbourne presents
Morning Melodies
February – December 2019 | 11am and 1:30pm
Duration: 60 minutes (per show)
Arts Centre Melbourne, Hamer Hall
Book at artscentremelbourne.com.au or 1300 182 183