Events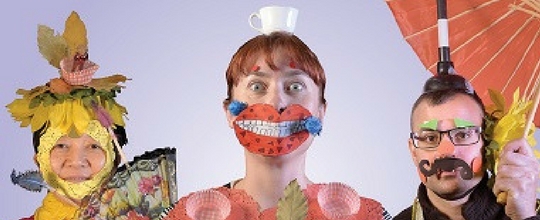 Published on December 22nd, 2017 | by Admin
Arts Centre Melbourne presents Jessica Wilson's I See You Like This
In this exuberant, interactive art experience for children I See You Like This, local artist Jessica Wilson and designer Matilda Woodroofe bestow the title of art director upon young contributors, encouraging young imaginations to flourish at Arts Centre Melbourne from 17-21 January 2018.
With the ever-growing desire to document each moment of our lives, children often become the reluctant subjects of their parent's camera. I See You Like This, in its first season since it was created at Artplay, turns the camera on parents allowing their child to view them as the subject through the lens of their own imaginings.
This unique one-on-one experience with the artists begins with the child choosing an object that best represents their adult subject. With a myriad of materials at their disposal, children are gently guided to develop a creative eye as they direct a creative portrait directly onto their parents face.
Each portrait will be captured by a professional photographer Carla Gottgens – in a celebration of the relationship between parent and child. The family keep the portrait as a record of their unique shared experience.
Recommended for Children aged 6 and beyond, I See You Like This gives voice to kids and space for parents to explore their relationship with their child.
Jessica Wilson has a strong practice in image-based theatre and participative art. She has conceived and realised a myriad of artistic ventures and her works have been commissioned and/or presented by the Sydney Opera House, Artplay, the Footscray Arts Centre, Queensland Performing Arts Trust, Sydney Children's Festival as well as numerous international presenters including The New Victory Theater in New York.
From 1999 – 2004, Jessica was Artistic Director of Terrapin Theatre (Tasmania) and since then her freelance practice has seen her create the acclaimed, Passenger on board a bus, Still Awake Still! which toured Australia and the USA, Dr Egg and the Man with No Ear which received an AWGIE for Best Children's Script and Dwelling which was nominated for a Green Room Award last year.
Credits: Created by Jessica Wilson with Matilda Woodroofe.
Photography by Carla Gottgens
Studio design by Anna Tregloan.
I See You Like This was seeded by City of Melbourne through ArtPlay's New Ideas Lab.
Arts Centre Melbourne presents Jessica Wilson's
I See You Like This
17-21 January 2018
Bombini Buzz Mezzanine, Hamer Hall, Arts Centre Melbourne
Book at artscentremelbourne.com.au
Tickets: $18 per pair. There is a service charge of up to $4.00 per transaction.
Duration: 55 minutes no interval