Events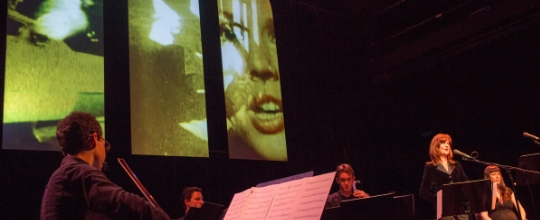 Published on September 25th, 2018 | by Admin
Arts Centre Melbourne presents Gothic
Gothic, a multidisciplinary, eerie and elegant music performance which surveys European, Australian and American expressions of 'gothic' from medieval to contemporary times will be performed at Arts Centre Melbourne's Playhouse on 25 November.
Featuring songs by The Cure, Kate Bush and Michael Jackson alongside new songs with lyrics by leading Australian writers, Gothic features stunning motion graphics by London-based artist Michaela French, projected across three 'floating' gothic-shaped screens designed by Neil Simpson.
Gothic, which premiered at Vivid NSW in 2015 to critical and audience acclaim has come from award-winning composer Andrée Greenwell. It will also feature singer Jessica O'Donoghue (Rape of Lucretia, Dark MOFO), David Trumpmanis on guitar and Melbourne-based string quartet Ad Hoc Collective.
Featured songs by Greenwell include Death at the Beach Motel about the death of Australian artist Brett Whitely (with specially commissioned lyrics by Hugo Race, founding member of the Bad Seeds); The Birds after Daphne du Maurier's short story set in Cornwall, famously adapted for cinema by Hitchcock and a 'Totentanz' or 'death-dance' inspired by the European medieval frescoes. The performance is bookended by songs created from poems by Edgar Allan Poe including Annabel Lee and The Bells and also features song lyrics by Alison Croggon, Hilary Bell, Maryanne Lynch and Felicity Plunkett.
Multi-award winning composer Andrée Greenwell established Green Room Music in 1997 to create innovative performance and screen works that are composition-led. She has worked as an independent artist with leading organisations including the Sydney Opera House, Sydney Festival, Arts House, Vivid, Bell Shakespeare Company, Riverside, Melbourne Festival, Chronology Arts Sydney Writers Festival, the ABC and Carriageworks.
Andrée's ground-breaking chamber opera Sweet Death, based upon Claude Tardat's Le Mort Sucré, in which the heroine wilfully gorges herself to death on gourmet pastries and sweets, was commissioned by Melbourne Festival, produced by Chamber Made Opera and broadcast by the ABC.
Her music theatre works The Hanging of Jean Lee – a retro-indie post-punk musical about the last woman to be hanged in Australia – and Dreaming Transportation: Voice Portraits of the First Women of White Settlement at Port Jackson, were both performed at Sydney Opera House. Andrée's short films LAQUIEM and MEDUSAHEAD: a video opera clip for decapitated soprano and 3D animated snakes collectively toured to 23 international film, music and electronic arts festivals, and were also purchased for television in France, Holland and Australia.
Arts Centre Melbourne presents
Gothic
Sunday 25 November | 5pm
Arts Centre Melbourne, Playhouse
Tickets now on sale at www.artscentremelbourne.com.au