Events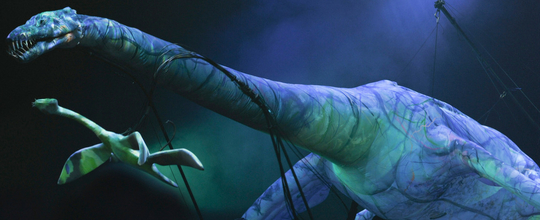 Published on July 17th, 2018 | by Admin
Arts Centre Melbourne present Erth's Prehistoric Aquarium from 8 – 9 September
From the team that brought you internationally acclaimed Dinosaur Zoo comes a show that invites children to travel to the depths of the seven seas and meet some of the world's most amazing marine reptiles. Erth's Prehistoric Aquarium is an action packed performance that will take kids on a quest to the bottom of the ocean from 8 – 9 September at Arts Centre Melbourne's Fairfax Studio.
Erth's Prehistoric Aquarium connects young audiences to the real science behind palaeontology and ask questions like what does a Plesiosaurs skin feel like? How big are Kronosaurus teeth? And do Kimberella even wear shoes? Children will be able to answer these questions by getting up close and personal in this unique and interactive theatre experience. Dive deep below the surface, submerged below time, swim with some of the world's most amazing prehistoric marine reptiles, and unlock some of nature's greatest mysteries.
Director Scott Wright is thrilled to be taking this show back on the road after last year's national tour. This time though, he's calling all adventure seekers to get ready for an expedition unlike any other.
"The ocean is where all life began; its stories are rich and many unknown. Erth's Prehistoric Aquarium is the greatest adventure we've been on yet and we're going to take you to a part of the ocean that's so deep that only three people have ever been before (and only one of them was a celebrity)," Wright said.
"The winning combination of entertainment and education makes the show perfect for children, but don't be fooled – the show is just as pleasing for the adults." Nottingham Post
"The show hits the sweet spot between spectacle and edu-tainment, without talking down to kids." Chicago Tribune
"I recommend it to dinosaur lovers, mostly five-year-olds. But I reckon older kids would like it too – like me." Time Out Sydney
"It's a rare and pleasurable work that manages technical brilliance. Cultural insights and enchantment all in one go." Sydney Morning Herald
About Erth Visual & Physical Inc.
Since its inception in 1990, the company has strived to provide audiences with eye popping visual experiences including giant puppetry, stilt-walkers, inflatable environments, aerial and flying creatures. They have built an Australia-wide and increasingly international reputation based on their exceptional work, and are in demand for events and festivals, as the company continues to inspire audiences with their unique and dynamic vision. Erth's association with museums has expanded considerably to incorporate programs that build over a number of years, exceeding expectations and breaking attendance records. Erth enhances programs with stand-alone and innovative work that is informed by close consultation with staff and specialists, dynamic design and perspective changing performances in order to continually create live theatre, and be at the forefront of new performance practice. 
Arts Centre Melbourne presents
Erth's Prehistoric Aquarium
8 – 9 September | Fairfax Studio
Book at artscentremelbourne.com.au or 1300 182 183
Performance Dates & Times
Saturday 8 September
11am, 2pm *, 4pm
Sunday 9 September
11am, 2pm +, 4pm
*Relaxed Performance
+Auslan Interpreted Performance  
Recommended for children aged 4+
Warning: Haze and strobe effects
Running Time: 50 minutes (no interval)