Events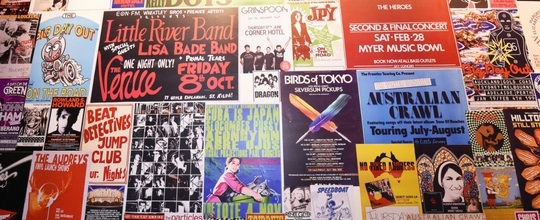 Published on December 18th, 2017 | by Admin
Arts Centre Melbourne opens the Australian Music Vault
On Tuesday 19 December, the Australian Music Vault opens its doors in celebration of Australian contemporary music.
Open daily and featuring a free permanent exhibition, digital and interactive experiences and an extensive learning program, the Australian Music Vault charts the story of contemporary Australian music from the 1950s until today. It showcases the iconic people, events and places that define Australian music in a purpose-built exhibition space within Arts Centre Melbourne's Theatres Building in St Kilda Road, Melbourne.
The Victorian Government invested $8.3 million into the creation of the Australian Music Vault as a cornerstone of its Music Works policy and commitment to strengthening the state's music industry and culture.
The four founding patrons of the Australian Music Vault, announced in December 2016, are co-founder of Mushroom Records Michael Gudinski, music legend Ian "Molly" Meldrum, songstress Kylie Minogue and Indigenous singer-songwriter Archie Roach.
Designed to be organic and evolving, displays will be refreshed regularly to provide a broad brushstroke of the Australian music story, while exploring specific rotating themes in more depth and detail. This approach ensures with each visit there is something new to explore and learn.
Artists represented in the Australian Music Vault at the time of launch include: Peter Allen; Chrissy Amphlett; Tina Arena; Bill Armstrong; Courtney Barnett; Daryl Braithwaite; Nick Cave; Johnny Chester; Jen Cloher; Judith Durham; Renee Geyer; Missy Higgins; Rowland S Howard; Dami Im; Col Joye; Marcie Jones; Paul Kelly; Jimmy Little; Little Pattie; Betty McQuade; Ian "Molly" Meldrum; Kylie Minogue; Olivia Newton-John; Ngaiire; Johnny O'Keefe; Helen Reddy; Archie Roach; Margret RoadKnight; Normie Rowe; Wendy Saddington; Billy Thorpe; Urthboy; and Ecca Vandal.
Australian bands represented include: AC/DC; The Birthday Party; Boys Next Door; Daddy Cool; Divinyls; Equal Local; The Easybeats; Goanna; The Go-Betweens; Hush; Icehouse; INXS; Laughing Clowns; Little River Band; Men At Work; Midnight Oil; Models; The Moodists; News; No Fixed Address; Radio Birdman; Redgum; The Saints; The Scientists; The Seekers; Sherbet; Skyhooks; Spiderbait; Split Enz; The Triffids; Tsk Tsk Tsk; X and Yothu Yindi.
The Australian Music Vault is not approached chronologically or by genre. Themes are broad in scope with interlinking content encouraging visitors to create and discover unexpected connections across time periods and styles.
The Real Thing explores whether or not there really is an "Australian voice" by looking at musical influences, lyric composition and the impact of performance venues on the Australian "sound". It celebrates the contribution of hit makers and heroes and highlights the contributions of lesser known but equally influential performers and industry personnel. Items featured in this area include: handwritten and photocopied lyrics for 'To her Door' by Paul Kelly; stage and performer passes for Sunbury Festival; tunic worn by Chrissy Amphlett of the Divinyls in the late 1980s and drumsticks used by Kram from Spiderbait.
Australia's music scene has been both significantly enriched by the contribution of its First Peoples and influenced by many music makers from around the globe who have made Australia their home. Two Way Traffic looks at the careers of the many performers who have helped put Australian music front and centre on the world stage. Featured items include: jacket and trousers worn by Neil Finn of Split Enz; top and skirt worn by Kylie Minogue in the In Your Eyes video; maracas purchased by Peter Allen in Rio de Janeiro in 1977; semi acoustic guitar used by Harry Vanda from The Easybeats and the school boy outfit worn by Angus Young of AC/DC.
Highlighting innovation and improvisation, from handmade instruments and recording equipment to role models and indie label stars, The Wild Ones uncovers the role of the trailblazers whose creative approaches to playing, recording, performing and distributing music have helped shape the Australian music industry. Items showcased in this area include: a performance costume worn by Jimmy Little in the mid 1970s; a hat worn by Ian 'Molly' Meldrum; Go-Set and Weekender magazines and photographs of and notebook belonging to Wendy Saddington.
Agents of Change delves into the role of music in responding to and affecting social change. Australian artists and bands have also been activists, uniters and drivers of progress, giving voice to some of the seminal issues to shape our culture, community and way of life in ways that many other civic and political leaders have been unable to capture. Featured items include: Gold Record Award for Treaty by Yothu Yindi; Grammy Award received by Helen Reddy for I am Woman in 1972; placards from the SLAM Rally; rhyme book belonging to Urthboy and badges, flyers and press release from Stop the Drop concert at the Sidney Myer Music Bowl in 1983.
Also featured is a series of displays highlighting the power of music to bring people together across socio-economic, political, gender and geographical boundaries and the notion of "musical tribes". One of the first to be presented is Punk/New Wave, coinciding with the 40th anniversary of punk. This area looks at identity, belonging and the pivotal period of Australian music between 1977–85, with a focus on performers, venues and do-it-yourself recording, distribution and publishing. Items on display include : guitar and amplifier used by Rowland S Howard; Fanzines Fast Forward, Pulp, Spurt and Oh Deadset and a costume worn by Deniz Tek of Radio Birdman.
The Australian Music Vault also features a special installation showcasing 2017 ARIA Hall of Fame Inductee Daryl Braithwaite and items from his personal collection.
Through the partnership with Spotify, the Australian Music Vault experience can be revisited and celebrated long after visitors leave the space as they are able to collate the music they encounter throughout the course of the exhibition to create a personal Mixtape playlist that they can keep. Artists involved in the exhibition will also curate their own "favourite Australian music" Spotify playlists, which fans can follow through the Australian Music Vault website.
The Australian Music Vault Learning Program invites everyone to deepen their connection with, and contribute to, the Australian music story. A key component of the exhibition, the program consists of a schools program and a public program. The schools program links with students, teachers and school communities, offering online resources, workshops and music participation programs. Schools will be supported with a variety of programs to help students find inspiration and develop creativity, whether they're able to physically visit the Australian Music Vault exhibition or not. The public program supports creatives in their artistic practise, creating an environment through discussion, meetups and workshops where they can share stories, experiences and inspirations.
Arts Centre Melbourne is a fitting home for the Australian Music Vault. Much of the exhibition's rich content is drawn from the Australian Performing Arts Collection, the nation's leading specialist collection documenting Australia's music, circus, dance, opera and theatre heritage. Established in 1975 and now formally recognised as a state collection, it consists of over 600,000 items including costumes, designs, programs, photographs, posters, personal memorabilia and archival material.
The Australian Music Vault was created in collaboration with the music industry, with its development supported by an Advisory Group of music industry leaders including: Jane Gazzo, broadcaster, journalist and author; David Anderson, Arts Centre Melbourne; Peter Bain-Hogg, RocKwiz ; Janine Barrand, Arts Centre Melbourne; Dr Lou Bennett, Indigenous language scholar and musician; Shaad D'Souza, The Push; Patrick Donovan, Music Victoria; Adam Jankie, Illusive Entertainment Group; Jan Muller, National Film and Sound Archive; Joel Ma, Multicultural Arts Victoria; Bruce Milne, In-Fidelity Records; Jenny Morris, singer/songwriter and APRA Chair OAM; Chris MacDonald, City of Melbourne; Dobe Newton, musician and lecturer OAM; Fifa Riccobono, music industry consultant; Kirsty Rivers, Creative Victoria; Dan Rosen, ARIA; Melanie Smith, Arts Centre Melbourne Executive Director, Performing Arts and Dan West, producer and instrumentalist.
Quote attributable to Founding Patron Kylie Minogue:
"It is a great honour to be one of the founding patrons of the Australian Music Vault. It couldn't have a more fitting home than Arts Centre Melbourne. I have no doubt it will inspire all musicians and music lovers and will be a place of discovery, reminiscing and pride in our country's rich musical scene and heritage."
Quote attributable to Founding Patron Archie Roach:
"Australian music has evolved through the years, developing its own identity. I am happy that there is a place like the Australian Music Vault to celebrate this evolution of our music and honoured to be one of its founding patrons. There is so much to be proud of."
Quote attributable to Founding Patron Ian "Molly" Meldrum:
"I'm so excited the Australian Music Vault has finally opened. It feels like we've been talking about this for so long. So much work has gone into making it happen. I think it's perfect that it's free – obviously that means anyone can come. I truly feel this is going to be great for tourism; we have been overdue an Australian equivalent of the Rock and Roll Hall of Fame. I'm proud to be one of the patrons, but as I always say, it's all about the music. And the Australian Music Vault will be the perfect way to see not only the history of Australian music, but a look into the future as well. Dare I say do yourself a favour and check it out?"
Quote attributable to Founding Patron Michael Gudinski:
"The Australian Music Vault, which incorporates the ARIA Hall of Fame, has been established to care, protect and store the historical artefacts of our rich and diverse Australian music heritage. Our great Australian music artists finally have a true home. In the words of one of my dearest friends and co-patron Molly Meldrum: 'Do yourself a favour' and visit the Australian Music Vault soon."
Quotes attributable to Victoria's Minister for Creative Industries, Martin Foley:
"Melbourne is now the rightful host of what is a tremendous celebration of Australian music culture."
"From the artists and songs of yesterday through to today's music heroes – the Australian Music Vault belongs to the industry and to music-lovers of all kinds."
Quote attributable to Arts Centre Melbourne CEO Claire Spencer:
"Arts Centre Melbourne has a long and proud history of presenting and hosting some of the greatest Australian artists and music acts of all time, so we are so proud to be the home of the Australian Music Vault – a place to celebrate the Australian music story. Delivering this project for the Victorian Government has provided us with important collaboration opportunities with the music industry and our partners, and I hope the result will inspire the next generation of music-makers."