Events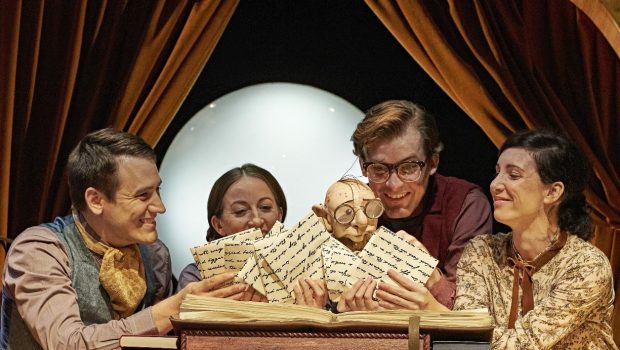 Published on November 8th, 2016 | by admin
Arts Centre Melbourne launches Arts Learning 2017 program
MELBOURNE, TUESDAY 8 NOVEMBER 2016 – Australia's largest performing arts centre, Arts Centre Melbourne has today launched its 2017 Arts Learning Program featuring the best local and international performing arts created for young people. With performances, digital learning experiences and workshops for primary and secondary students, Arts Centre Melbourne's education program is designed to facilitate quality learning and lasting engagement with the performing arts.
In 2017, highlights for primary students include the enchantingly funny puppet show The Secret Life of Suitcases by Ailie Cohen Puppet Maker and Mr Stink, the touching, twisted and hilarious stage adaptation of David Walliams' award-winning book.
The program for primary school students also includes the exquisite, award-winning tale Bambert's Book of Lost Stories by Barking Gecko Theatre Company, designed to remind audiences of the power of kindness and how stories can connect us to the world. Younger students will also enjoy The Wolf and Peter by Ireland's CoisCéim Dance Theatre which is a highly energetic new work taking a thrilling adventure of courage and imagination and re-telling it through the eyes of the wolf. The Australian tour is supported by Culture Ireland.
Secondary students can step into the Cypher, the circle where power moves, footwork and funk is the language in a raw celebration of hip hop culture – or venture into Trapper – a new slam poetry work created for teenagers asking, are we in control, or being controlled.
In Vessel, a cross-generational ensemble from Outer Urban Projects will explore what it means to give birth. Then we remember a time when the neighbourhood was a playground in JUNK, a circus adventure by the Flying Fruit Fly Circus inspired by regional childhood stories.
The works of the Melbourne Symphony Orchestra, Victorian Opera, Circus Oz, Bell Shakespeare and Bangarra Dance Theatre are also well represented in our Schools Program.
Head of Arts Learning Anna Burkey said Arts Centre Melbourne was dedicated to bringing unique learning experiences to a new generation of arts lovers.
"We're working with exceptional creators and artistic companies to bring a range of beautiful and intelligent performances, from Asian arts, opera and Shakespearean drama to astonishing and uplifting works of identity, empathy and self-expression," Ms Burkey said.
"Creative workshops promote confidence and critical thinking, providing practical opportunities to develop artistic and technical skills and our guided tours of our theatre spaces and exhibitions introduce students to the arts and uncover the history, heritage and stories of Australia's largest performing arts centre."
The Channel, Arts Centre Melbourne's learning and participation space, will host a range of workshops from music composition, sound design and video editing to script writing and digital story telling. With a focus on music and digital media, The Channel offers a world-class recording studio and vocal booth, 40 individual workstations kitted with audio visual and production tools and a flexible and intimate performance and collaboration space.
Arts Centre Melbourne is also proud to continue its support for schools through the First Call Fund, a program for Victorian primary and secondary schools facing barriers of access to live performances and events due to distance, disadvantage or special circumstance. Subsidy is awarded for 25%-100% off the full ticket price per student for any education performance, or related program as determined by selection criteria. Regional Year 9 students also have the opportunity to experience Arts Centre Melbourne's performances through ArtConnect9.
A range of accessible programs are also offered including the Accessible Music Program, relaxed performances and access-friendly shows.
Visit: artscentremelbourne.com.au/schools for the full program.