Events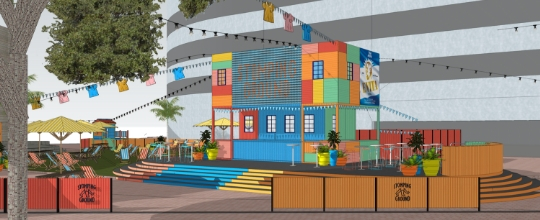 Published on September 12th, 2018 | by Admin
Arts Centre Melbourne and Stomping Ground Brewing Co present Stomping Ground La Boca
With Tim Rice and Andrew Lloyd Webber's EVITA coming to Arts Centre Melbourne this summer, Collingwood brewery  Stomping Ground Brewing Co will be celebrating the spirit, sounds, smells and tastes of Argentina by creating a colourful, engaging and fun pop-up beer garden.
Aimed at the general public and theatregoers alike, Stomping Ground La Boca will trade from Tuesday 4 December 2018 until Sunday 24 February 2019 at Arts Centre Melbourne's Forecourt.
Co-Founder of Stomping Ground Brewing Co Steve Jeffares says this is an exciting opportunity to bring the Argentinian culture to the forefront through beer and food.
"We're all about creating memorable branded experiences that truly reflect the varying cultures we have in Australia. To be able to team up with Arts Centre Melbourne and the producers of EVITA to bring our Argentinian vision to life is just amazing," he said.
Alongside a range of Stomping Ground Brewing Co's locally brewed beers, including a new Argentinian-inspired lager brewed exclusively for the beer garden, visitors will be able to enjoy a range of Argentinian wines and food delights from Asado by San Telmo.
"The San Telmo group are excited to team up with Stomping Ground Brewing Co and bring the Stomping Ground La Boca pop-up to Arts Centre Melbourne. The menu will be made up of all the Argentinian classics from empanadas to delicious street style Choripan. Melbourne, get ready for some fun nights, delicious food and live music that will transport you directly to Caminito in Buenos Aires," Renee McConnell of the San Telmo group said.
The sweet and savory delicacies on offer will pay homage to the flavours of Argentina including the aforementioned traditional beef empanadas; cheese empanadas; Choripán, an Argentinian chorizo roll with chimichurri; Lomito, an O'Connor's grass-fed steak sandwich; Ensalada, a coal roasted vegetable salad with chickpeas and ancient grains; and Papas, which are Argo style fries with chipotle. For dessert, summer lovers can indulge in dulce de leche caramel soft serve ice cream or Alfajor, an Argentinian cookie with dulce de leche.
Set to be one of the hottest musicals of the summer, opening on Wednesday 5 December, Tim Rice and Andrew Lloyd Webber's EVITA is overjoyed to be the centerpiece for an event like this.
"We are thrilled that our audiences will be able to continue their theatre experience into Stomping Ground La Boca. As EVITA is set in Argentina, and is the story of Eva Peron and the people of the country, it seems fitting that this was the inspiration for this great activation at Arts Centre Melbourne where people can enjoy an amazing theatrical event and also enjoy those hot summer days and nights in Melbourne," EVITA producers Opera Australia, John Frost and David Ian said.
The idea is to transport visitors to Argentina into a fully immersive beer garden experience through beer, food, culture, music, occasional Argentinian inspired performances, tango lessons and much more.
Director of Food & Beverage at Arts Centre Melbourne Frank Bischoff says it will be a summer pop-up like no other.
"The Stomping Ground La Boca activation will ensure that your experience starts way before the curtain rises; it starts before you even enter the Theatres building. It means that you will experience the smells, sights and tastes of Argentina before the show, and have the opportunity to continue the experience afterwards. It's the whole package," Bischoff said.
The flavours of Argentina will also be highlighted throughout Arts Centre Melbourne's dining options, ensuring a delicious food experience all summer.
Arts Centre Melbourne and Stomping Ground Brewing Co present
Stomping Ground La Boca
Tuesday 4 December 2018 until Sunday 24 February 2019 | 10am until late
Arts Centre Melbourne, Forecourt
Book at artscentremelbourne.com.au or 1300 182 183