Events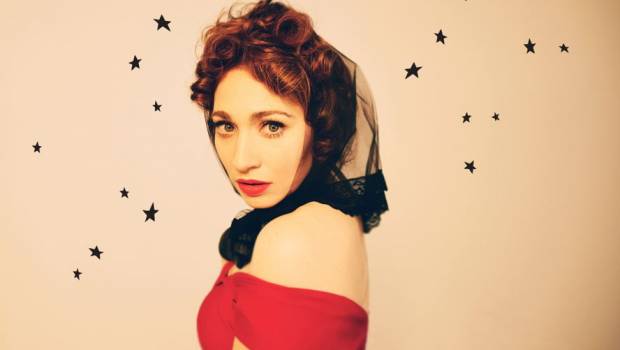 Published on May 15th, 2018 | by Admin
Arts Centre Melbourne and Chugg Entertainment present
After a long six year wait, New York's Russian born indie iconoclast Regina Spektor will return to Arts Centre Melbourne's Hamer Hall for a special solo performance for one night only on Sunday July 8 – performing songs from her entire career including her breakthrough album Begin to Hope and most recent Remember Us to Life.
Born in the Soviet Union, Regina Spektor began studying classical piano at the age of six. She continued that training after her family emigrated to New York City in 1989, eventually studying composition at the Conservatory of Music at Purchase College where she graduated with honours. She began writing pop songs in her late teens and made her recorded debut in 2001 with the self-released 11:11, a collection of songs heavily influenced by jazz and blues. Songs followed in 2002 and Soviet Kitsch in 2004. Introduced to the world by indie band The Strokes after they invited her to open for them on their 2003/2004 tour, Spektor's commercial breakthrough came in 2006 with her fourth LP, Begin to Hope. The gold-certified album included the singles "On the Radio," "Better" and "Fidelity," which climbed the Billboard Hot 100 singles chart.  Spektor released Far in 2009 and What We Saw From the Cheap Seats in 2012 – both debuting at No. 3 on the Billboard 200 albums chart.
Spektor's unique voice and songs have been heard on the radio, television and in films the world over including Orange Is The New Black (writing and performing the theme song), Grey's Anatomy, Weeds, How I Met Your Mother, Veronica Mars, The Good Wife and (500) Days of Summer. Spektor has performed for the Obamas and guests at the White House as well as joining the lineup for philanthropic campaigns for Tibet, Doctors Without Borders and many more. Her most recent tours included her first concerts in her native Russia plus sold out shows at Radio City Music Hall in New York City, The Royal Albert Hall in London and two nights at Sydney Opera House in Australia.
Spektor's most recent album, her seventh, is entitled Remember Us To Life. The album has received extensive critical praise with Rolling Stone declaring it "wraps underdog storytelling in brilliant songcraft" and Esquire described Regina as "our generation's Joni Mitchell" adding "( Spektor) has long made a habit of spinning fictional, winding tales into songs that utilize humor and absurdity for the purpose of pointed social commentary. Her new LP is no different. "
Following the Arts Centre Melbourne performance, Spektor will be performing for one night only at the Sydney Opera House on Monday July 9.
Do not miss this unique opportunity to join Regina Spektor in her whimsical world in a night of fan favourites, rarities and perhaps even a few surprises.
"All hail a songwriter of substance" The Guardian
Arts Centre Melbourne and Chugg Entertainment present
Regina Spektor
A very special solo performance
Tickets on sale Thursday May 17 2018
Sunday July 8 2018
8:00pm
Arts Centre Melbourne, Hamer Hall
Bookings www.artscentremelbourne.com.au and phone 1300 182 183