Books
Published on November 13th, 2016 | by James Wright
The Art and Making of The Flash Review
Summary: The Art and Making of The Flash is filled with some very insightful 'Flash Facts' plus stunning photography
The Flash is produced by the CW Network in the US and is one of the best superhero TV series around that focuses on Barry Allen (Grant Gustin), a man who was given extraordinary powers that allowed him to combat evil in Central City. Joining Barry Allen is 'Team Flash', his allies in his fight against crime as the viewer is taken on a super speed journey filled with action, drama and even a touch of criminal investigation in the world of superheroes and metahumans, those empowered by extraordinary abilities. The introduction from the start of The Flash sums up Barry Allen's motivation perfectly…
My name is Barry Allen and I'm the fastest man alive. When I was a child, I saw my mother killed by something impossible. My father went to prison for her murder. Then an accident made me the impossible. To the outside world, I'm just an ordinary forensic scientist, but secretly with the help of my friends I use my speed to fight crime and find others like me, and one day I'll find who killed my mother and get justice for my father. I am The Flash. (Season 1 Introduction)
This book also comes out at the right time with The Flash Season 3 just being aired as Barry purposely affected the timeline in the previous season to save his parents that had devastating consequences. So what better way is there to explore this franchise then The Art and Making of The Flash which takes the viewer behind the creation of this series, including information about the characters, locations and amazing gadgets of 'Team Flash' that help Barry fight the super villains that plague Central City both from his Earth and beyond. The book is also littered with exclusive production art, interviews and behind the scenes photography which really makes this the perfect guide to any fan of the TV series.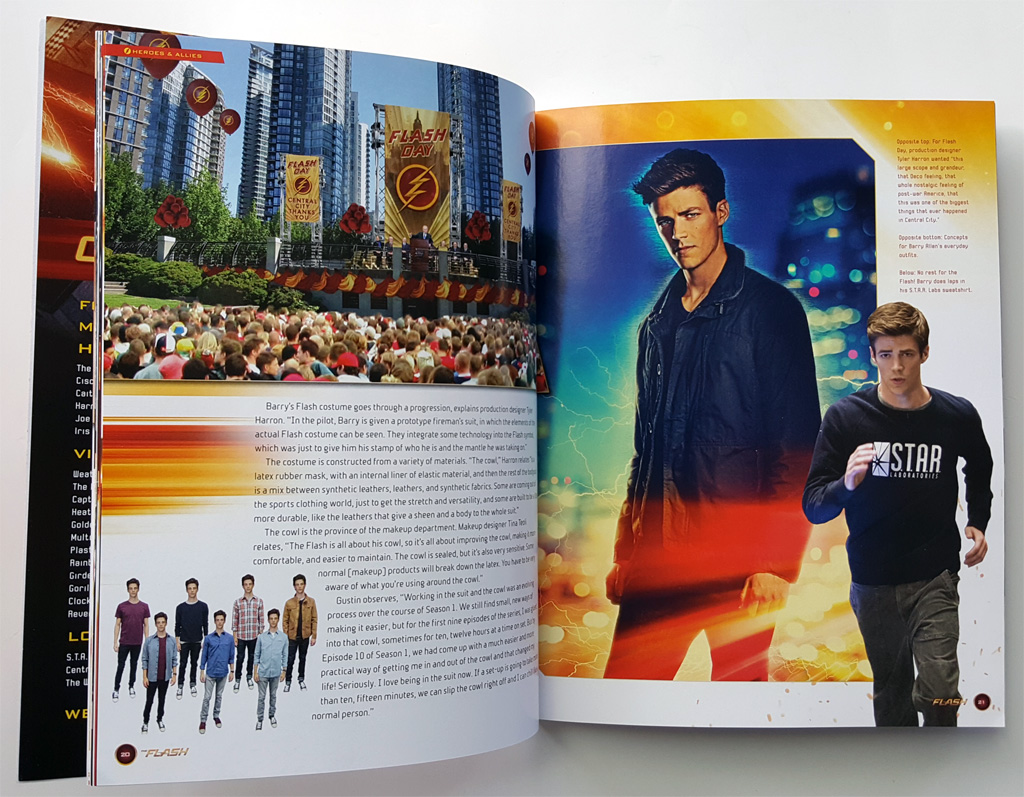 Abbie Bernstein is main writer behind The Art and Making of The Flash who not only makes the information quite accessible but easy to read and very informative. Obviously she is a fan of the series because of the amount of care gone into the text and of course stunning images and photography to accompany this information. Furthermore, the forward of the book is by Greg Berlanti, a film and television writer, producer and director who is also responsible for this TV series.
Berlanti not only thanks the reader for their support but how be became a fan of not just The Flash (aka Barry Allen) but also the diverse universe of DC Comics. He explains how he became involved in The Flash as co-creator and executive producer, including the production process, searching for the cast and filming the really fun pilot. Needless to say, Berlanti's Flash was a success, not just from the writing and special effects but also the extremely talented cast who made the show what it is today.

Add in a section on The Making of the Flash and it gives you a unique look at how this series is made, however where this book shines is through the four sections that include;
Heroes and Allies
Villains
Locations
Weapons, Gadgets and Vehicles
However before The Flash, there was another superhero TV show called Arrow and both these shows share an affinity because they take place in the same 'universe'. This also means that both shows occasionally crossover and thankfully 'Team Arrow' gets a great mention in this book which although doesn't explore this relationship per se but it does give a great bio on each of the main characters. This even includes characters from the spin-off series, DC's Legend's of Tomorrow.
The first character to feature in the Heroes and Allies section is of course Barry Allen, however as there were three 'Flashes' in the DC Universe that include Jay Garrick, Barry Allen and Wally West, they discuss how the secret identity was chosen with interviews from key people such as Geoff Johns and Greg Berlanti. It even goes into the explanation of the special effects and of course, the costume which has changed considerable since season one.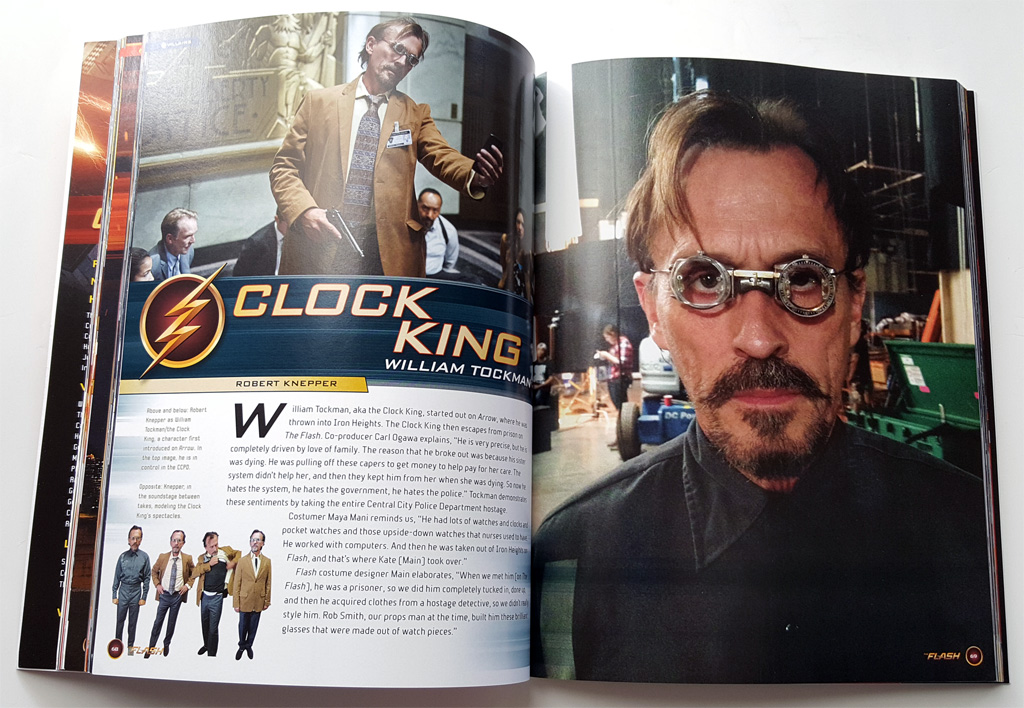 Other characters include Cisco Ramon and Caitlin Snow, two of Barry Allen's closest allies and their bios describe how these actors brought these characters to life and of course the chemistry they share. There's also a great section on Jay Garrick, the Golden Age Flash and his link in the world of The Flash. For villains, you see staples such as Captain Cold played by Wentworth Miller and what I like about his section is how they chose Heat Wave who is played by Dominic Purcell but as they previously worked on Prison Break, they brought this almost family aspect to their characters. Add in some information about special effects and Captain Cold's costume and it's quite an insightful look into this super villain.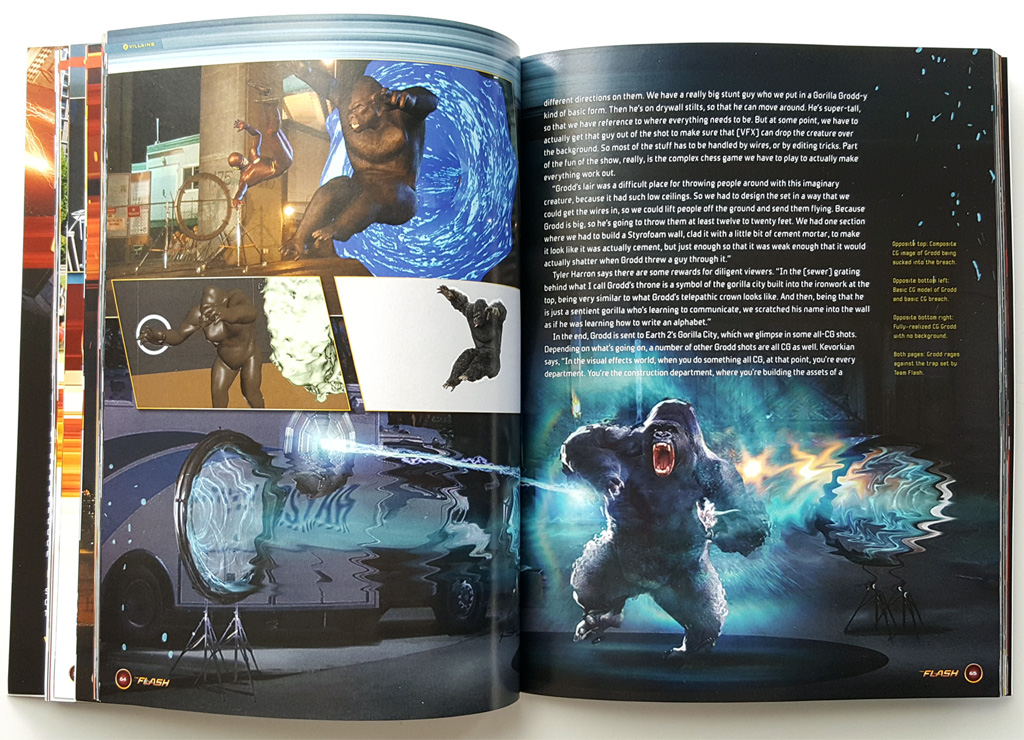 One of my favourite super villains was Gorilla Grodd who is a classic Flash villain and the only way they could bring this 8-foot character to life was through CGI and of course Hollywood special effects with smoke, mirrors and gorilla costumes. Nonetheless, the process was quite impressive for a TV series and the end result was a chilling rendition of Gorilla Grodd as our hero attempted to thwart this super villain. Given that it is a TV series, I was actually surprised as to the amount of work that went into creating this gorilla. However the most deadliest of villains facing our hero is Zoom (Teddy Sears), a speedster from the parallel world of Earth 2 who wants to rule the speed force.  Seeing the early images of Zoom and his evolution to what he became today once again verges on Hollywood quality of costume designs. I found it also a little amusing that a stunt double was dressed as Zoom while actor Teddy Sears done the dialogue.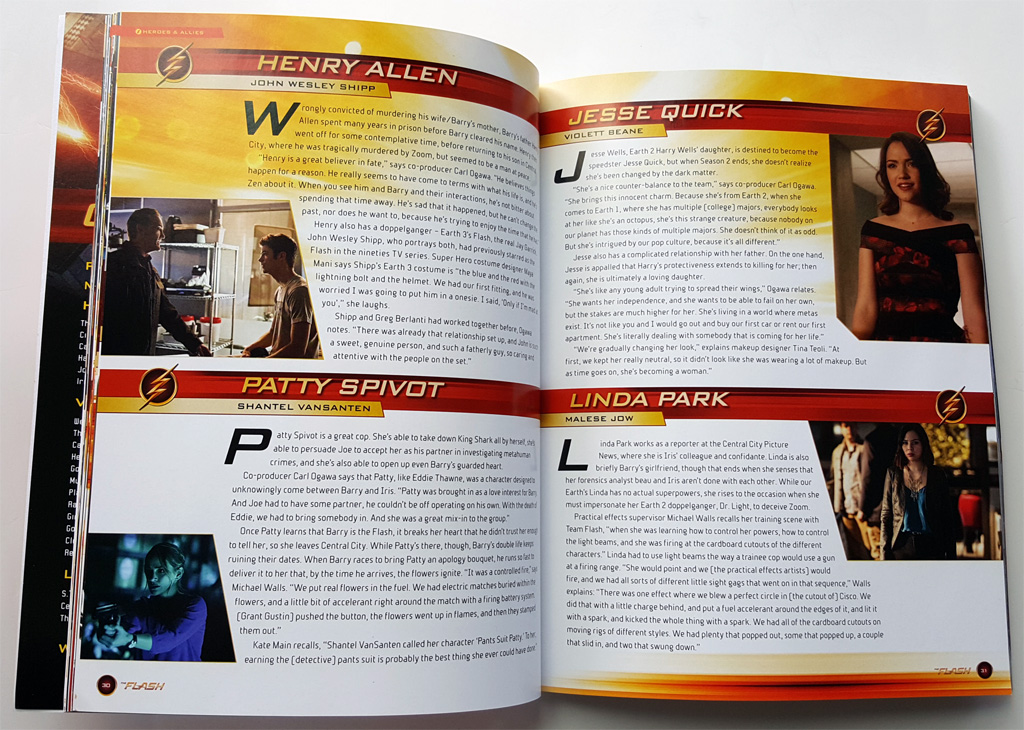 For locations, the highlight is S.T.A.R. Labs which is where 'Team Flash' reside that include all sorts of items such as the 'cosmic' treadmill, computers for Cisco and Caitlin plus the jails that hold these metahumans. The Earth 2 section also shows the diversity between both 'universes' with Earth 2 channeling a 40's vibe yet as equally as advanced as The Flash's Earth. Lastly you have all the wonderful gadgets of this TV series like Firestorm's harness and matrix to Captain Cold's powerful gun that fires ice. This section is highlighted by some high quality photography of these items that almost jump out of the page which is a standout element in this book.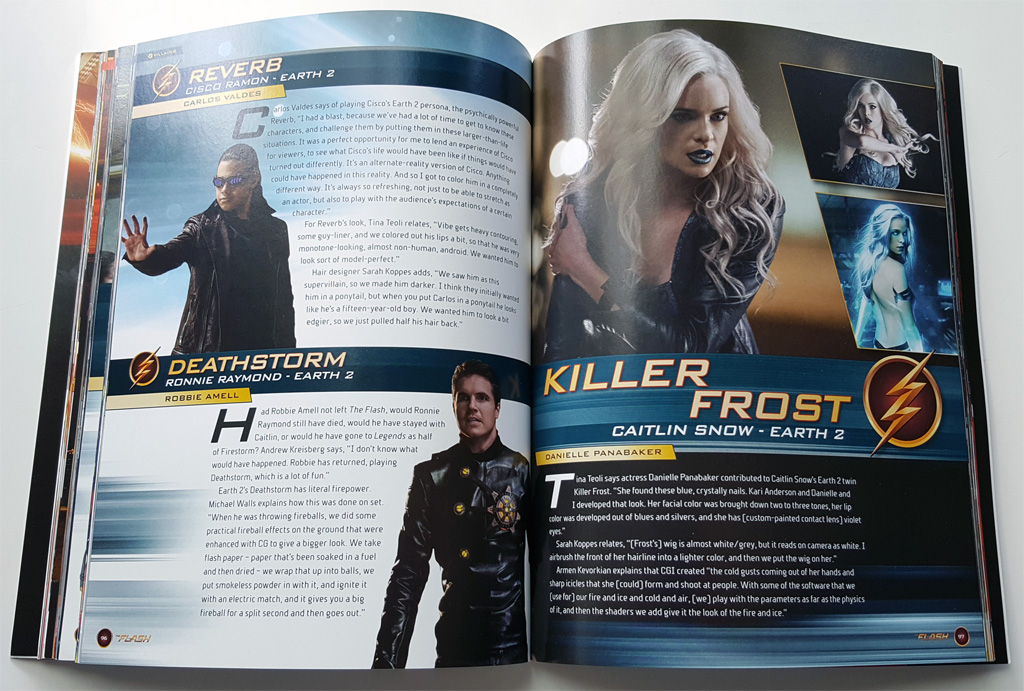 Final Thoughts?
The Art and Making of The Flash is a beautifully presented book that is packed with some stunning imagery and exceptional photos. Although it goes into the making of this TV show, it doesn't inundated you with too much information but nicely gets to the point that is accompanied with some great quotes from those involved. So if you're a fan of the TV series The Flash, this book is the perfect present for you and really goes behind the scenes of this fun superhero television show.
Recommended!
Book Details
ISBN: 9781785651267
Dimensions: 276 x 215 mm
Paperback: 160pp
Publisher: Titan Books
Distributor: New South Books
Publication date: 21 October 2016