Events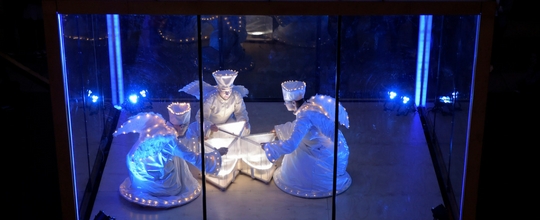 Published on February 24th, 2018 | by admin
Art Centre Melbourne presents Born In a Taxi's "Enlighten"
Nightly from 9 – 12 March, esteemed Melbourne physical theatre company Born in a Taxi will shroud Arts Centre Melbourne's forecourt with Enlighten – an enchanting, interactive performance connecting audiences through a sense of wonder and play.
A giant illuminated cube becomes home to three angels, who unify the audience of strangers through interactive events in the spirit of celebration and hope.
Integrating dance, comedy and participatory theatre with a beautiful soundscape and sophisticated interactive lighting projections, Enlighten seeks to illuminate what is important to us and our search for the divine within all. The work swings between the profound, kitsch and joyful.
The performance runs for two hours with the audience invited to stay for as long as they like and either observe from afar, have a blessing bestowed upon them or be chosen to cross over briefly into the heavenly realm.
Born in a Taxi Co- Artistic Directors, Penny Baron and Carolyn Hanna along with founding company artist Nick Pappas are the angels inviting audiences to slow down, take a breath and reflect on how we engage with each other.
The CUBE, which is a purpose built indoor venue intended for the outdoors by Melbourne sculptor and designer David Murphy, is a visually stunning beacon of hope that houses the Angels. Amplifying the experience are the sonic musings of Michael Havir and the exquisite lighting projections of Bruce Ramus, former U2 Lighting Director and now luminous artist whose practice spans city precincts, architectural facades and live events.
Over the weekend during the day and into the late evening, The CUBE becomes a mesmerising space that invites you into the creative process with a program of visual and participatory activities for all ages. Come along and be enchanted by what you discover in The CUBE.
"Enlighten by Born in a Taxi proved a delightfully different spectacle …about unity and acceptance …. and fantastic audience interaction."  The Age
'..beguiling performance that incorporates the signature, non-verbal, improvisational style and captivating audience engagement that distinguishes the award-winning Born In A Taxi.' Herald Sun
'the physical ensemble improvisation felt like a surfeit of riches… The ability of the performers to almost telepathically fragment and re-cohere always followed a mysterious boundary line between order and chaos.' Real Time
Credits:
Concept: Carolyn Hanna
Performers/Devisers: Nick Papas, Penny Baron, Carolyn Hanna
Lighting: RAMUS Illumination
Music: Michael Havir
Venue Designer: David Murphy
Arts Centre Melbourne presents Born In a Taxi's
Enlighten & The CUBE
9-12 March 2018
Forecourt, Arts Centre Melbourne
Tickets: FREE
Time: Enlighten 7.30pm to 9.30pm
Time: The CUBE various daily surprises
Duration: Stay for as little or as long as you like