News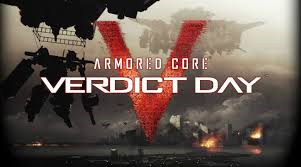 Published on September 30th, 2013 | by Admin
ARMORED CORE™: VERDICT DAY™ available In stores today
-To Secure Peace You Must Prepare for War-
Sydney, Australia – 30th September 2013 – NAMCO BANDAI Games Europe today announced that ARMORED CORE™: VERDICT DAY™ for PlayStation®3 computer entertainment system and Xbox 360® video game and entertainment system from Microsoft is available across Australia and New Zealand. The world has been thrown into chaos. Natural resources needed for the survival of competing factions are scavenged and fought across the world with deadly Armored Core mechs.
The renowned ARMORED CORE™ series from the famous Japanese studio FromSoftware returns to its origins with a nervous mecha-packed action new game. In VERDICT DAY™; players will command a squadron of advanced mechas in 7 battle-ravaged continents. To win those strategic and tough battles, players will be able to form teams of up to 20 members and represent the faction they prefer.
This game comes in with plenty of new features: a new matching system in order to avoid waiting queues and find teammates & opponents for more fun, Implementation of new parts for ACVD mechas such as "Weapon Arm" and much more, World mode & Story mode with brand new missions and for the fans' biggest pleasure; a "Hardcore" mode to outbloom all players' expectations! On top of those new features, NAMCO BANDAI Games Europe and FromSoftware brought back the "Operator mode" from the acclaimed ARMORED CORE™ V. Real Time Strategy will reach a new high point with this mode where players will fully command entire squadrons of Mechas.
For those wanting to experience a full ARMORED CORE™ experience, NAMCO BANDAI Games Europe prepared a special pack, the "C03 Pack": it will feature the full-game, the original soundtrack of the game, an Artwork compilation of more than 270 pages coming directly out of the developers' brilliant minds and last but not least: a completely articulated mecha-action figurine inspired from ARMORED CORE™: VERDICT DAY™!
Starting October 1st, this full-experience will reach an even higher point with the new ACVD Portal Link; this brand new connected website will be released shortly after the game. It will allow players to extend their Armored Core experience far beyond their playing-time and will let them keep an eye on the battlefield! The Portal Link will feature data management options to let players update their personal profiles, their team profiles and analyze lots of statistics from the ravaged battlefields. This new website will also allow players to follow-up their rankings through the real-time rankings. Last but not least, players will be able to track all of the online ACVD world activities with the "Verdict War" feature.
ARMORED CORE™: VERDICT DAY™ is now available at retail and download for the PlayStation®3 computer entertainment system and Xbox 360® games and entertainment system.
For more information regarding ARMORED CORE™: VERDICT DAY™ please visit; www.armoredcoregame.com and http://www.namcobandaigames.eu.
Experience a deeper ACVD experience with the new Portal Link website: http://link.armoredcoregame.com/p/acop/acvdlink/