Games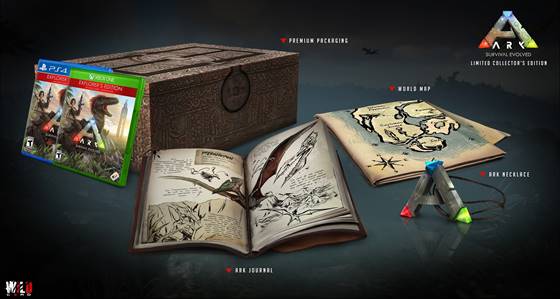 Published on August 1st, 2017 | by Admin
ARK: SURVIVAL EVOLVED APPROVED FOR GOLD MASTER, PRE-ORDERS EXTENDED AS RELEASE DATE MOVES TO 29th AUGUST
Sydney, AUSTRALIA – August 1, 2017 –  Studio Wildcard announced that it has passed full certification for its dinosaur survival-adventure game ARK: Survival Evolved and will be shipping its full release on 29th August.
"The evolution of ARK has taken a 2-year journey through early access, and the full version will demonstrate that the extra time in development was put to good use," said Doug Kennedy, CEO and Co-Founder Studio Wildcard. "We spent the extra time squashing bugs, improving performance, enhancing the single player experience and delivering the end-game content that will reveal the full story of ARK. We're excited to finally get it into the hands of survivors everywhere!"
Pre-orders for ARK: Survival Evolved have been extended, which gives superfans a chance to order the base game, or the content-and-bonus-packed special editions. To get their hands on a copy of the game, Australian customers should visit EB Games or JB Hi-Fi.
ARK: Survival Evolved Physical Disc Release Details
In Australia, there are three ways to get your dino-fix with ARK: Survival Evolved, all of which are now available to pre-order for PlayStation 4, Xbox One, and PC platforms.
ARK: Survival Evolved (PS4, XB1- $99.95 AUD, PC- $ 89.95 AUD)
This base game includes everything a burgeoning Jurassic adventurer needs to get started in the world of ARK. It's the core game, and all free content released up to this point, offering up hundreds of hours of gameplay to players.
ARK: Survival Evolved – Explorer's Edition ARK: (PS4, XB1- $169.95 AUD, PC- $ 159.95 AUD) 
The Explorer's Edition takes the base game, and adds even MORE – introducing a Season Pass that will grant access to all expansion packs, starting with Scorched Earth (available now) and including more packs launching later this year and into 2018.
ARK: Survival Evolved – Limited Collector's Edition ($269.95 AUD)
Exclusive to EB Games Australia ARK fans will be able to pre-order the "ARK: Survival Evolved Limited Collector's Edition" for $269.95 AUD. The ultimate ARK fan's dream, the Limited Collector's Edition is a collectible faux-wooden chest box that contains the ARK Explorer's Edition (base game + Season Pass) along with…
A handcrafted leather-bound Explorer's Notebook, featuring the Dossiers of every in-game creature
An official ARK necklace
A cloth map of the ARK island
A poster of the Studio Wildcard development team
The official ARK: Survival Evolved soundtrack, recorded live by the Philharmonia Orchestra
Feel like riding a dinosaur? Join the ARK growing band of survivors in the community forums HERE: https://survivetheark.com/forums/
ARK: Survival Evolved will launch worldwide in retail stores on 29th August, for PlayStation®4, Xbox One and PC. ARK: Survival Evolved is rated MA 15+ Strong themes and violence, online interactivity.