Films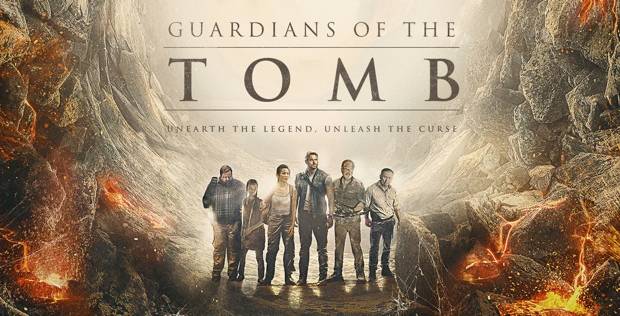 Published on January 19th, 2018 | by Admin
ARCLIGHT FILMS' LATEST ACTION ADVENTURE 'GUARDIANS OF THE TOMB' RELEASED NATIONALLY ON FEBRUARY 1ST, 2018
Arclight Films' action adventure Guardians of the Tomb, will be released Nationally on February 1st, 2018 in Sydney, Adelaide, Brisbane, Melbourne and Perth.
The film will open in China this weekend  on approx. 6,000 screens – this is the biggest and widest opening for an Australian film in any , according to Producer Gary Hamilton.
Directed by Kimble Rendall, whose debut feature, Bait 3D, became one of the highest grossing Australian films in the history of Chinese cinema, the film stars an international cast including Li Bingbing (Transformers: Age of Extinction, Resident Evil: Retribution), Kellan Lutz (Twilight series, Tarzan), Kelsey Grammer (Toy Story 2, The Expendables 3, Transformers: Age of Extinction), Shane Jacobson (Kenny, The Dressmaker), Stef Dawson (The Hunger  Games) and Chinese popstar and actor Wu Chun (14 Blades, Magic to Win).
Written by Kimble Rendall and Paul Staheli (Triple Threat, Pressure) adventure follows a team of scientists who innocently stumble upon a well-preserved mummified Emperor from 200 BC China – unearthing a 2000-year-old nightmare. After losing a colleague in the ancient labyrinth, the group must battle their way through a swarm of deadly, man-eating funnel web spiders and discover the secret behind the insects' power and unusual intelligence.
Guardians of the Tomb is produced by Deng Shuo, Gary Hamilton (First Reformed, Jungle, Hotel Mumbai), Ying Ye (Bait 3D, Triple Threat) and Mark Lazarus (Jungle, The Loved Ones). Production companies on the film were Nest Holdings and Sleeping Otters Productions.
Guardian of the Tomb tells the story of a Scientist who disappears in the desert while investigating a potential scientific breakthrough in medicine, an international team of colleagues embarks on a search and rescue mission. Once in the wild a flash fire forces the search party into an abandoned building where they find themselves where they find themselves besieged by an even more terrifying threat driven to the surface by the heat…..swarms of flesh eating funnel web spiders, which also hold a venom they believe will be the next miracle drug that can make them millions.
"GUARDIANS OF THE TOMB" – PREMIERE AUSTRALIAN RELEASE DATES:
SYDNEY – FEBRUARY 1ST, 2018
EVENT CINEMAS, WESTFIELD BURWOOD
EVENT CINEMAS, GEORGE STREET CITY
EVENT CINEMAS, HURSTVILLE
EVENT CINEMAS, WESTFIELD LIVERPOOL
EVENT CINEMAS, MACQUARIE PARK
PERTH – FEBRUARY 1ST, 2018
HOYTS CINEMAS, WESTFIELD CAROUSEL, CANNINGTON
ADELAIDE – FEBRUARY 1ST, 2018
HOYTS CINEMAS, PARADE CENTRAL, NORWOOD
MELBOURNE – FEBRUARY 1ST, 2018
HOYTS CINEMAS, CHADSTONE SHOPPING CENTRE
HOYTS CINEMAS, MELBOURNE CENTRAL
VILLAGE CENTURY CINEMAS, MELBOURNE CITY
BRISBANE – FEBRUARY 1ST, 2018
EVENT CINEMAS, GARDEN CITY, MT GRAVATT
EVENT CINEMAS, SUNNYBANK