Games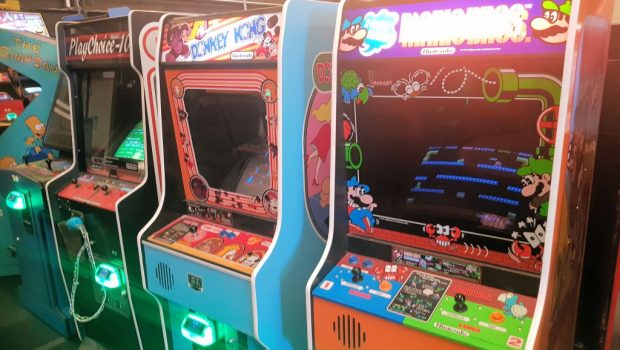 Published on February 5th, 2022 | by Tim Chuma
Arcade Garage Northcote Review
Summary: An ideal day out for a group or just visiting if you are in the area. Remember to put "SEX" in the high score table.
I had heard about this a couple of weeks ago but only last week put a message on their Facebook and the owner got in touch so I thought I would go down the next weekend. I had planned to have someone with me to test out the games but maybe another time.
The owner Simon explained his other business is restoring arcade machines for people and prior to this his stock was stored all over in bars, at friend's places and in storage. The name comes from him opening up his garage to the local kids for special events and they had a lot of fun.
As he explained these are all the original machines and boards which are getting harder to get these days with the electronics not being designed to last as long as they have. Also some boards have a battery that makes the board stop working if it fails (there is a technical explanation you can get from Simon on how to fix this).
Although Simon was busy working on the machines (he put in the 1942 machine while I was there), he is happy to talk about the machines and says there are going to be more events there in the future and hopefully retro get-togethers.
The games are playable via stored value card where you can either get $30 for an hour play or a certain amount on the card and come back later.
I didn't end up playing everything as I said I was hoping to have someone to play against so the 2 player games I didn't get to try. The multiplayer Pac Man challenge game was one of only 300 in the world and looks like it would be fun to play in a group.
The bar and food is out in the main venue and you can bring drinks in, just rest them on the barrels near the machines, not on the cabinets themselves.
I didn't end up staying as long as I wanted to as I had sat out in the sun having lunch out the front and it was getting hot inside (air conditioning coming second week of February 2022). I would come back if I was in the area or going to a show at the Croxton or Thornbury Theatre up the road.
Details:
Price:  $1 per credit from stored value card for most games, some $2 per credit
Location: Inside Welcome to Thornbury out the back at 520 High St, Northcote
Phone: (03) 9020 7940
Opening hours: Wed-Fri: 5pm-late, Sat-Sun: 12pm-late (ring to check)
Website: https://www.facebook.com/Arcade-Garage-Northcote-107672695129380
Games list:
| | | |
| --- | --- | --- |
| Stern TMNT Premium | Mortal Kombat | Final Fight |
| Stern Jurassic Park Pro | Mortal Kombat 2 | Killer Instinct |
| Stern Mandalorian (Coming Soon) | Super Street Fighter 2 Turbo | Raiden Fighters |
| Stern Ghostbusters | Marvel Vs Capcom | Golden Tee |
| Point Blank | Xmen Vs Street Fighter | Silver Strike |
| Buck Hunter World | Neo Geo 6 Slot | Bags / Lawn Darts |
| Lethal Enforcers | Space Invaders | Dance Dance Revolution |
| Silent Scope 2 | Mario Bros | The Claw Small (2) |
| Terminator 2 | Centipede | The Claw Large (2) |
| Time Crisis 2 | Donkey Kong | Table Top |
| Razing Storm | Galaga | Fast Track 2 Player |
| House of the Dead 2 DX | Pacman | Fast Track 4 Player |
| Daytona USA | Nintendo Play Choice 10 | Pool Table (2) |
| Sega Rally Championship | Ghouls N Ghosts | Ice Ball (4) |
| Crazy Taxi : High Roller | Golden Axe | NBA Hoops (3) |
| The Simpsons | Double Dragon | Ice Cold Beer |
| TMNT | Wonderboy | Raceway Skill Tester |
| NBA Jam | 1942 | Angry Penguins Punching Machine |
| Street Fighter 2 Champions Edition | Ninja Gaiden | |
| Super Street Fighter 4 AE | Street Fighter 2 : World Warrior | |
Games coming soon:
Operation Wolf
Ninja Assault
Frogger
Moon Patrol
Virtua Fighter 2
Final Furlong 2
WWF Superstars
Tekken 3
Ultimate Mortal Kombat 3
Gallery