Comics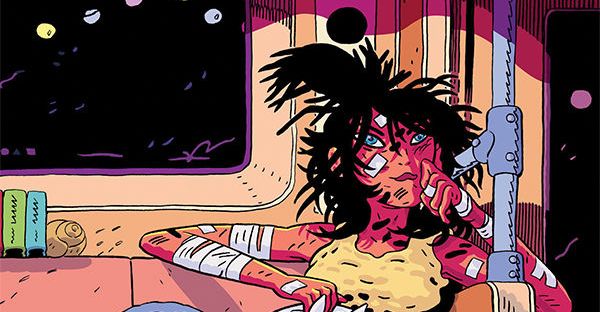 Published on February 11th, 2020 | by Tim Chuma
Apocalyptigirl: An Aria for the End Times (Second Edition)
Summary: Aria and her cat Jelly Beans explore a ruined city on a secret mission, all the time fending off attacks from savages and wildlife.
Aria and her cat Jelly Beans have adventures through a ruined city whilst she is on the 6th year of her mission to track down a limitless source of power hidden somewhere in the city. The reason the Earth is currently ruined is due to a war fought over this relic and she has been assigned to find it for the alien civilisation that gifted it to the planet.
This was quite a lot of story to pack into such a small volume. You would think it would be enough given the number of pages, but similar stories in text form would go to thousands of pages and you would find out about all the characters and settings involved.
It did remind me of some of the work of Myazaki in particular Nausicaä of the Valley of the Wind for the end of the world setting and Laputa Castle in the Sky for the giant destroyed robot. There is quite a bit more violence in this film than those stories though.
I did enjoy the character designs and Jelly Beans who was draw quite simply but had a lot of character. The different tribes of humans were still recognisable as such but where different enough to stand out.
The alien civilisation rationale for destroying the planet it dumb though. Why even give a planet something you know they will use to destroy themselves if you can see how they are? They just wanted an excuse to destroy planets they do not like.
It does seem like this was a starting point for a new adventure with this character, but I would be happy just have this story even if they did not do anything else. I would like to see more stories from the perspectives of the human factions if anything.
I would recommend this one to anyone who is a fan of post apocalypse or science fiction stories and who likes a lot of action to go along with the plot. Not really for kids due to the violence but good for older teens.
Comic details:
Writer: Andrew MacLean
Artist: Andrew MacLean
Cover Artist: Andrew MacLean
Genre: Science-Fiction, Action/Adventure
Publication Date: March 04, 2020