Games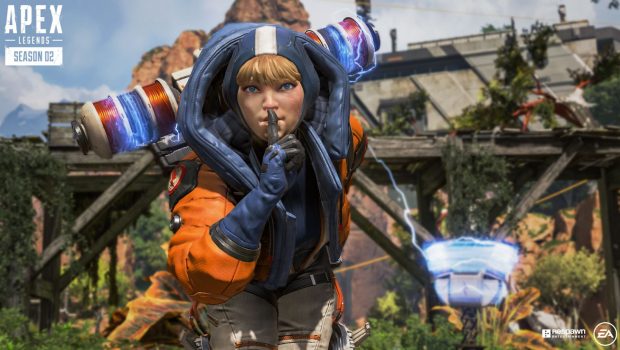 Published on December 14th, 2019 | by Adrian Gunning
Apex Legends Gets Festive with Mirage's Holo-Day Bash
Announced at The Game Awards by none-other than dashing duplicator, Mirage, Apex Legends is getting into the holiday spirit with its new limited-time event, Mirage's Holo-Day Bash, available now, December 12, and running through January 7.
The Outlands' massive holiday celebration invites players to compete in new challenges, earn limited-time cosmetics and experience a side of Mirage they never knew. Hop aboard Mirage's party boat or battle it out on the decked out train with new Holo-day season themed scenery and a limited time mode.
Below is a quick recap of all the limited-time Holo-Day Bash activities planned:
Limited Time Mode: Winter Express – Three squads compete to capture the World's Edge train, decked out in its holiday best, as it moves from station to station. With custom pre-determined loadouts, players can skip the looting and get to shooting, as the first squad to successfully achieve three captures wins the match.
The Mirage Voyage Town Takeover – Hop aboard The Mirage Voyage party boat for the holiday event of the 28th century! This town takeover invites Legends, and their favorite firearm, to take a dip in the hot tub or go for a spin around the dance floor. Turn the party up even more by pressing a special button aboard the vessel that will trigger fireworks, a slew of dancing Mirage's and more. Be the first to set off the celebrations and earn a free Legendary G7 skin.
Pathfinder Heirloom and Limited-Time Cosmetics – The Holo-Day Bash Collection Event introduces a set of 24 themed, limited-time holiday inspired cosmetics available through direct purchase for Apex Coins, direct unlock with Crafting Metals or with event Apex Packs. Unlock all 24 Holo-Day Bash Collection Pack Items and receive the Pathfinder Heirloom set for free.
Double XP Weekend – From 5am AEDT on Saturday, December 14 to 5am PT on Tuesday, December 17, players will earn double XP on all XP (excluding Battle Pass challenge Star rewards).
Mirage was brought to life on stage at The Game Awards through the use of real-time motion capture for the first time at a live event in the U.S., allowing a virtual character to interact with host Geoff Keighley in real-time during the segment about Apex Legend's upcoming Winter Event.