Hardware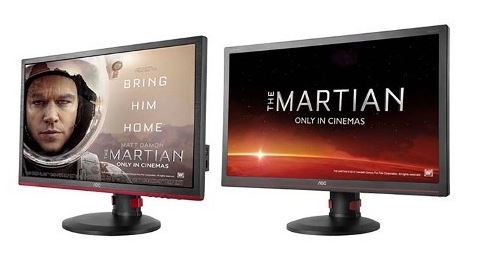 Published on September 29th, 2015 | by admin
AOC unveils two new gaming monitors to celebrate the theatrical release of The Martian
SYDNEY, Australia – 29 September 2015 – AOC, a global-leader in display technology, has partnered with a powerhouse in the global entertainment industry – Twentieth Century Fox. With the company's first product placement in a major Hollywood film, AOC has become the official monitor partner of "The Martian", the highly-anticipated sci-fi adventure from master director Ridley Scott, in cinemas globally starting September 30.
In line with the themes of "The Martian", AOC supports the spirit of technological discovery and exploration. To celebrate the movie release, AOC has unveiled two new gaming monitors featuring cutting edge technology, the 24″ AOC G2460PF and the 27" AOC 2770PF gaming displays.
Smooth visuals with reduced motion blur
Immersing in totally new, interactive worlds is part of the joy of gaming. But gamers need to enjoy it without distractions. When playing games with rapid movement, such as racing or first person shooter games, conventional 60Hz displays show distracting motion blur.
But not these displays. The AOC G2460PF and AOC 2770PF feature 144Hz Refresh Rates and 1ms Screen Response times, which ensures all movement is displayed clearly. Both displays also feature AMD FreeSync technology, which synchronises the GPU and the monitor. This removes tearing or stuttering. AMD FreeSync is an easily-implemented, affordable technology solution based on industry standards. It includes Gaming, Video and Power Saving modes.
Adjustment options for user convenience
For a more personalised viewer experience, both displays feature a 4-way adjustment stand. Users can change the monitor height by 130mm, swivel left and right, tilt the screen angle, and pivot 90 degrees.
The displays are also equipped with a SuperSpeed USB hub for USB 3.0 compatibility, useful for all kinds of gaming peripherals. The displays are also compatible with digital inputs such as HDMI 1.4, DisplayPort, DVI and MHL.
Healthy viewing with Flicker Free
AOC Flicker Free technology protects the eyes and reduces fatigue by using Direct Current (DC) dimming over the more common Pulse Width Modulation (PWM). In simpler terms, PWM turns the backlight on and off rapidly, while the rarer DC dimming method constantly powers the backlight to eliminate flicker. No flicker in the screen, healthier eyes.
Availability
The AOC G2460PF and AOC G2770PF displays are expected to be available in Australia starting from November 2015 through AOC partners. Kindly contact your local AOC distributor for more details.
Suggested Retail Price:
| | | |
| --- | --- | --- |
| Product | Screen Size | Suggested Retail Price |
| AOC G2460PF | 24″ | $419 |
| AOC G2770PF | 27″ | $519 |