Hardware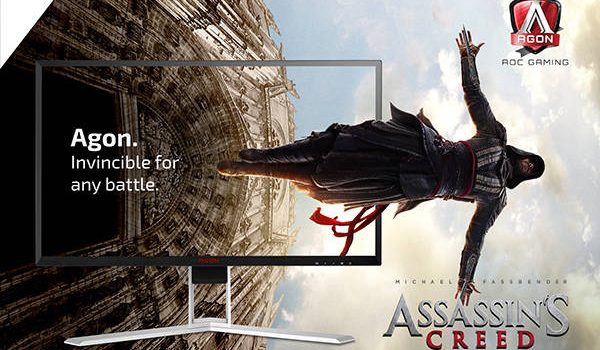 Published on December 12th, 2016 | by admin
AOC AGON to be a Promotional Partner for Asia Pacific Release of "Assassin's Creed" The Movie
SYDNEY, Australia – 12 December 2016 – AOC, a global leader in display technology, will be a promotional partner for the release of "Assassin's Creed" The Movie in Australia. The AOC and "Assassin's Creed" collaborative campaign will feature two recently-launched AGON Gaming Monitors: AG241QG and AG241QX. These brand-new 24-inch gaming monitors with QHD resolution will satisfy any computer gamer's urge to win.
Latest additions to the growing AGON range of gaming monitors, the AG241QG and AG241QX both feature an ultra-fast display panel with 1ms response time and Quad HD resolution of 2560 x 1440 pixels. The AG241QG sports a blisteringly fast screen refresh rate of 165Hz, with NVIDIA G-Sync Technology and NVIDIA ULMB (Ultra Low Motion Blur). The AG241QG has super-rapid 144Hz screen refresh and Adaptive-Sync Technology. Both monitors are designed to boost the performance of dedicated gamers, providing a compelling competitive edge by eliminating stutter, screen tearing and monitor blur.
"Assassin's Creed The Movie will be full of breathtaking action, adventure and stunning visuals.' Said Ms. Recky Yu, AOC APMEA Marketing Manager. "We are very excited to be a promotional partner for this film and look forward to providing more opportunities for interaction with our many fans across the Asia Pacific."
"Assassin's Creed" The Movie is distributed by Twentieth Century Fox (FOX), the global entertainment industry powerhouse. AOC and FOX have collaborated on regional movie releases at least once per year starting with "X-Men: First Class" in 2011. In 2016, AOC and FOX collaborated on the release of "Independence Day: Resurgence".
The partnership will include an interactive social media campaign to be held throughout the region with multiple prizes to be won.
Details of the campaign, prizes and participation methods will currently in the process of being revealed on the AOC Monitors Facebook page.
Product availability
AG241QX and AG241QG are available in Australia through AOC partners now