Hardware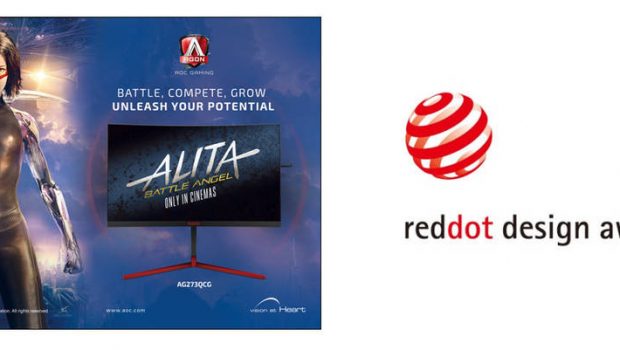 Published on January 17th, 2019 | by Admin
AOC AGON Partners with Twentieth Century Fox to Introduce the AGON III Series Monitors
AGON's newest line of gaming monitors takes home the prestigious Red Dot Design Award.

Sydney, 17 January 2019: AGON, the line of premium gaming monitors from AOC, has unveiled its latest award-winning range of AGON III series displays and is set to be promoted by a range of interactive regional activities through a partnership with global entertainment powerhouse, Twentieth Century Fox Films. Having launched with two models, the AG273QCX and AG273QCG, the series has taken home the prestigious Red Dot Design Award by incorporating an innovative monitor design with top tier visual performance and user-friendly features. Set to become the official monitor partner of Alita: Battle Angel, an epic gaming adventure from the producers of Titanic and Avatar, the partnership with Fox will involve various cross-promotional activities across the region such as social media contests and a simple web-based game.
The AGON III displays are equipped with the latest framerate synchronization technology, AMD FreeSync2 or NVIDIA G-SYNC, to deliver smooth gaming graphics without stuttering or tearing. In addition to this, motion blur and input lag is further reduced by 1ms screen response time and a fast refresh rate of 144Hz or 165Hz. Exhibiting high standards for gaming performance, these displays are primed for all levels of gaming competition, including world-class e-sports. Inspiring new levels of clarity, AMD's FreeSync2 is certified to meet the trusted official VESA DisplayHDR 400 standard, meaning that users get superior realism with better contrast, brighter lights, darker shadows and more vivid colours.
For those seeking out a more immersive gaming experience, the monitors are equipped with Light FX, which emits ambient light during gameplay. This allows hardcore gamers and professionals to customise the technology to match their team colour at e-sports events and LAN parties. Additionally, music enthusiasts can also benefit from the program, which syncs to audio and emits a spectrum of changing colours that can pulse to a rhythm.
Mr. Hawk Chang, head of AOC APMEA regional product marketing said, "We are proud to present our newest line of AGON gaming displays, the AGON III series. These displays build on the success of past AGON models while introducing new refinements to the gaming experience with physical design elements and performance enhancements. We understand that gaming and competition is about constant evolution and striving to be the best. In this spirit, we will always be fully committed to pushing ourselves to innovate, serving our customers worldwide and empowering them to be the best they can be."
Other Product Highlights
• Eye Protection: Low Blue Mode and Flicker-Free technology match industry standards for eye health, to help protect against eye strain and damage, even after long hours of gaming.
• Curved Design: Curved screens make it easier for users to track movement on screen, because the curvature is more suited to human vision.
• Frame Counter: Keep track of game speed with Frame Counter, which displays the synchronized framerate in a corner of the screen.
• Dial Point: A fixed, custom crosshair is displayed at the center of the screen to help with accuracy and focus, especially useful for first person shooting (FPS) games.
• AOC Game Colour: Adjust colour saturation and grey levels across 200 levels of detail for a better game experience with more vivid scenes.
• AOC Shadow Control: Fast contrast adjustment of the in-game image can automatically improve areas of the screen that are too dark or washed out without affecting the rest of the screen.
• DTS Audio: With DTS audio technology, gamers can enjoy a theatre-like audio experience from the monitor without extra speakers or headphones.
• Low Input Lag (AG273QCX): Low Input Lag streamlines the user-to-monitor input process for faster motion delivery.
• ULMB (AG273QCG): NVIDIA Ultra Low Motion Blur (ULMB) eliminates annoying blurring and ghosting from fast movements in videos, games or animations, ensuring gamers can enjoy every moment.
• AGON Game Pad (AG273QCX): A redesigned remote controller gives quick access to customized settings for on-the-fly display adjustments to suit gameplay.
Product Summary
Product Name: AGON AG273QCX / AG273QCG
Screen Size: 27"
Resolution: 2560 x 1440 – DisplayHDR 400
RRP: AG273QCX $729 / AG273QCG $949
Availability: Now, through AOC partners.
Product Link: https://agon.aocmonitorap.com/au/product_ag273qcx.php https://agon.aocmonitorap.com/au/product_ag273qcg.php
High Resolution Images: https://www.dropbox.com/sh/8gmhi1wvwes3vc8/AAAQ5PCu42mHOyNwEMWC19kPa?dl=0