Events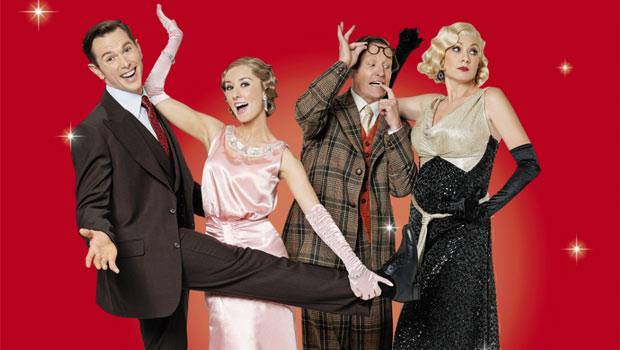 Published on June 1st, 2015 | by admin
Anything Goes Review (Melbourne 2015)
The classic musical comedy, Anything Goes has sailed its way to Melbourne for another spectacular season starring Caroline O'Connor (Reno Sweeney), Todd McKenney (Lord Evelyn Okaleigh), Alex Rathgeber (Billy Crocker), Claire Lyon (Hope Harcourt), Carmen Duncan (Angeline Harcourt), Gerry Connolly/Alan Jones (The Captain) and Wayne Scott Kermond (Moonface Martin). Needles to say, it's a stellar cast and they successfully reimagine this outlandish 1930's production with its sometimes politically incorrect humour and wild characters that actually still dates well today.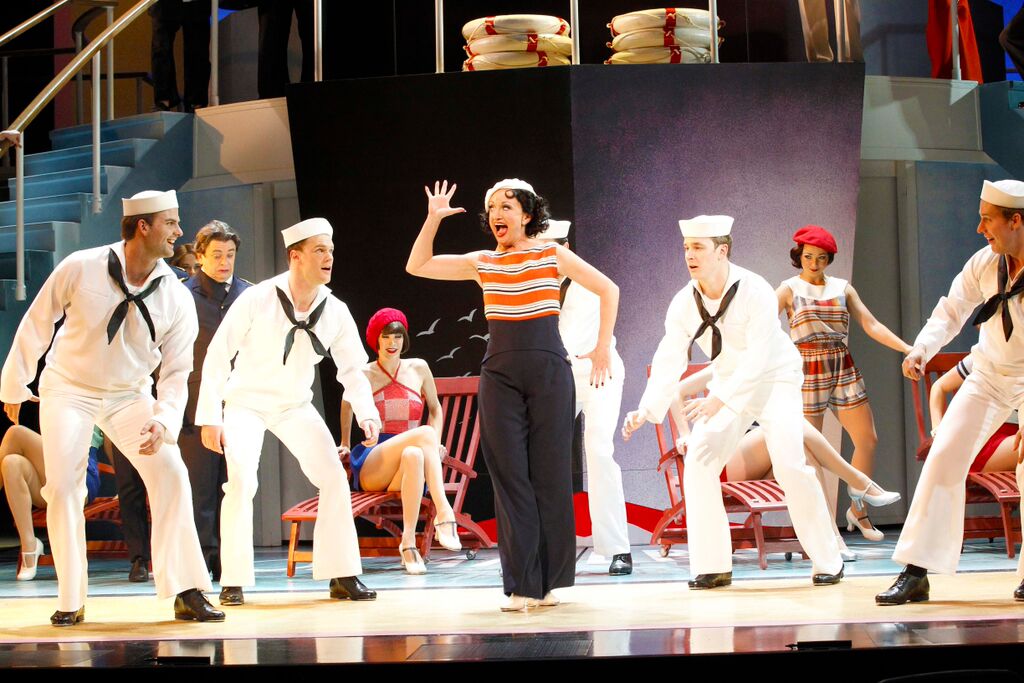 Winner of three Tony Awards, Anthing Goes tells the romantic story of Billy Crocker who stows aboard the cruise ship, the SS American in order to win the love of heiress Hope Harcourt as they shared a summer night together. Unfortunately for Billy, he discovers that Hope is engaged to the whacky and outrageous Lord Evelyn Okaleigh with his amusing Americanisms. In order to win back Hope, he asks for the help of Public Enemy #13 Moonface Martin and nightclub singer Reno Sweeney as all sorts of hijinks ensues on the SS American which is comedy, music, dance, drama and an awesome tap number to the hit-song Anything Goes.
Masterfully directed by Dean Bryant and choreographed by Andrew Hallsworth, Anything Goes successfully compliments the original musicals and Broadway productions, especially when they channel their inner Golden Age of Hollywood with songs such as You're the Top or I Get a Kick Out of You which really drew the entire audience in. Even though this current incarnation pays homage to the classics, Bryant has added a few modern twists and turns to make this version our generation of Anything Goes with a touch of cheekiness thrown into the mix. Add in the authentic costumes and a very impressive set that mimics the SS American, the excitement of the entire cast is quite infectious which really draws the audience in as some of the laughs had the entire Princess Theatre in hysterics. Sure, it's over the top, clichéd and a little glam but what other show from this era isn't?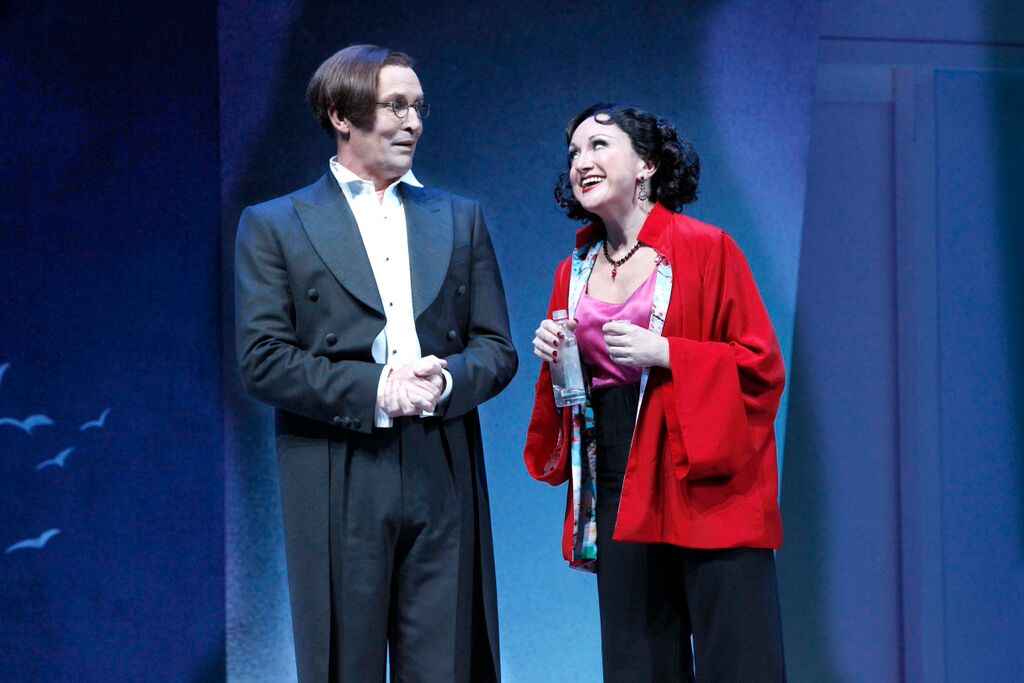 With so many talented performers and cast in Anything Goes, it is definitely quite hard to pick a favourite, however Caroline O'Connor is easily the queen of the show who creates one of the best versions of Reno Sweeney to date. Her performance is a highlight of the show, especially her witty humour, perfect singing voice and excellent tap dancing routine with the song Anything Goes that led to a "wow" moment in the show. Then you have Wayne Scott Kermond as Moonface Martin who brought another unique comedic aspect into the production as this gangster with a heart of gold.
Debora Krizak also plays Erma, one of Moonface Martin's gangster molls who creates this perfect clichéd gangster girl from the 30's with not just her attitude but also her Hollywood-like appearance with a touch of naughtiness thrown into the mix. So while all this glitzy theatre fun occurs, you have Alex Rathgeber as Billy Crocker and Claire Lyon as Hope Harcourt who bring another layer of emotion to this production as these two soul mates that normalise the production. Both performers create these two very touching characters while Todd McKenney successfully plays the goofball Lord Evelyn Okaleigh in a really great performance. Given that, there are a few hiccups in the show and some elements don't flow together too well but overall, it was a great experience.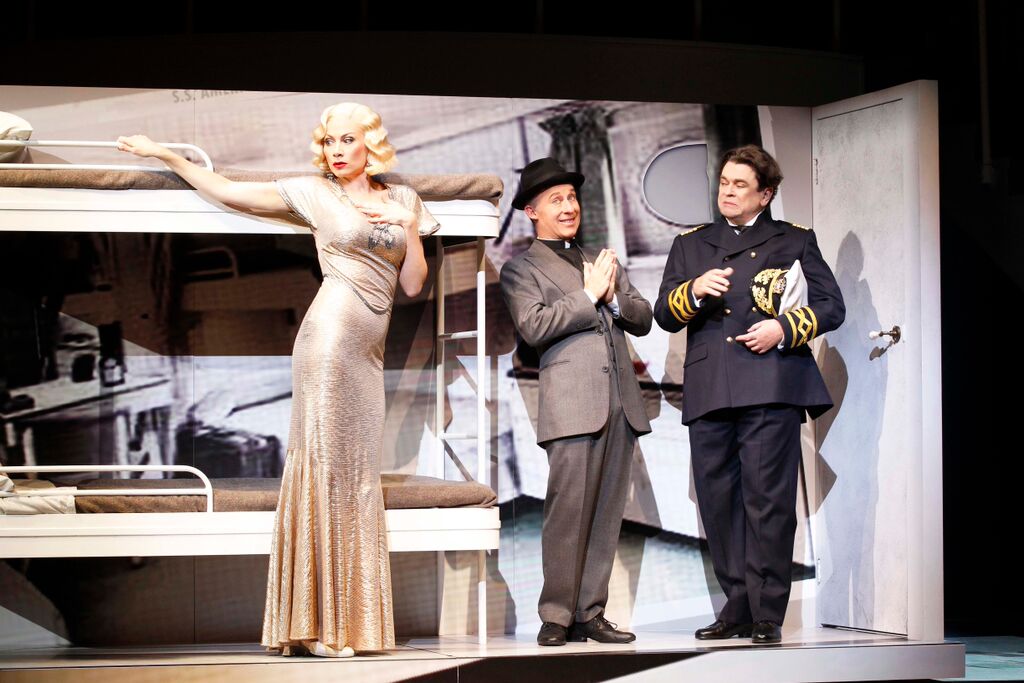 Furthermore, Musical Director Peter Casey should be commended on creating the music for this production with his 16 musicians based on the top of the SS American. As the band belt out these amazing classical numbers such as Buddy Beware, 'Blow, Gabriel, Blow' or I Get a Kick out of You, the main cast and the ensemble such as Bridget Hancock or Samantha Leigh really perfect the performance thanks to their fantastic voices that go hand in hand with the story, dancing and realistic set. So as we follow this crazy cast of characters, including a Mandarin adaption of Anything Goes thanks to Nicholas Kong and Aljin Abella, this version really caters for the fans or for those that love stage shows.
Final Thoughts?
Anything Goes is quirky, outrageous and a touch naughty that at the end of the night created this very entertaining production from start to finish with some standout numbers thanks to Caroline O'Connor, Claire Lyon and Wayne Scott Kermond. Kudos to everyone involved for creating a great interpretation of this Hollywood and Broadway classic and indeed… anything goes in this production!
www.anythinggoesmusical.com.au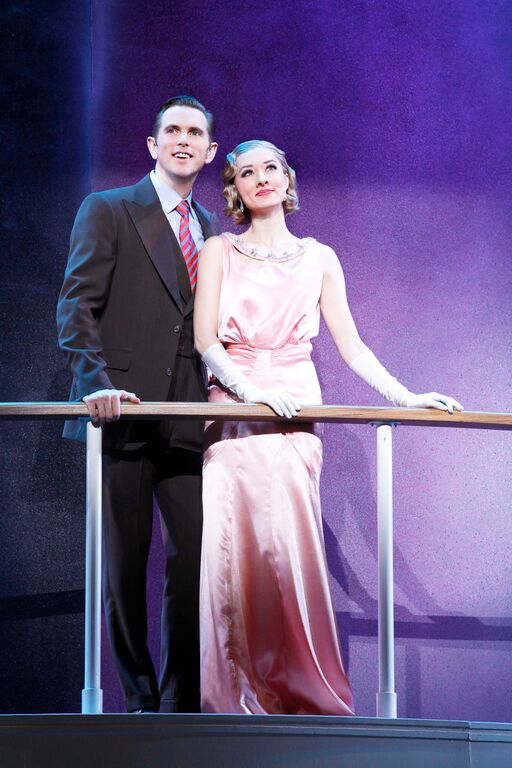 Photos – Jeff Bubsy