Films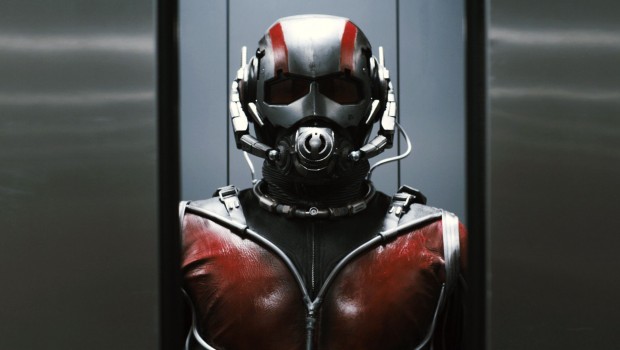 Published on July 24th, 2015 | by Damien Straker
Ant-Man (IMAX – 3D) – Film Review
Reviewed by Damien Straker on July 24th 2015
Disney presents a film by Peyton Reed
Produced by Kevin Feige
Screenplay by Edgar Wright, Joe Cornish, Adam McKay and Paul Rudd, based on 'Ant-Man' by Stan Lee, Larry Lieber and Jack Kirby
Starring: Paul Rudd, Michael Douglas, Evangeline Lilly, Corey Stoll, Bobby Cannavale, Michael Peña and Judy Greer
Music by Christophe Beck
Cinematography: Russell Carpenter
Edited by Dan Lebental and Colby Parker, Jr.
Running Time: 117 minutes
Rating: PG
Release Date: July 16th 2015
Marvel loves a fight. From their track record with stars and directors, they've regularly clashed with personnel over their comic book films. Patty Jenkins was fired from Thor: The Dark World, Joss Whedon said Avengers: Age of Ulton almost killed him and actors like Mickey Rourke and Terrence Howard have been in conflict with the studio. Edgar Wright, the popular British director who made the Three Flavours Cornetto trilogy (Hot Fuzz, Shaun of the Dead and The World's End), was originally hired to direct Ant-Man. He left the project after eight years due to creative differences. His replacement Peyton Reed hasn't worked with many big budget films and has made largely comedies like Bring it On (2000) and Yes Man (2008). As film critic Kenneth Turan argued though: who directs these films anymore is largely irrelevant given how inseparable they've become from one another. Marvel is the architect of modern blueprint filmmaking and also desperate to bury auteurship. They believe a director who might veer from the formula could affect their box office takings. Less experienced directors, eager to make their mark, are hired because they're more likely to conform to the studio's dogmatic blueprint. While continually making sizable dents in the box office, Marvel isn't on par yet with the imagination and risk of a mainstream studio like Pixar.
Ant-Man opens with Dr. Hank Pym (Michael Douglas), a scientist who once developed a dangerous formula for shrinking himself but refused to use it as a weapon. The shrinking formula cost him his wife while they were on a mission together. A former assistant of Pym is Darren Cross (Corey Stoll), who became obsessed with the formula and in the present day he now wants to develop his own variation for shrinking, which he plans to sell to the evil Hydra organisation. Pym is also now using his daughter Hope (Evangeline Lilly) to spy on Darren. Meanwhile, a former thief named Scott Lang (Paul Rudd) has been released from prison. His criminal buddies, including Luis (a fast-talking Michael Pena), are urging him to take on a new job. But he's reluctant because he wants to live a clean new life and win back the respect of his young daughter, who now lives with her mother Maggie (Judy Greer) and her partner Paxton (Bobby Cannavale). Pym tests Scott's thieving and infiltration skills and after being impressed by his abilities he rewards him with the Ant-Man suit. The suit allows him not only to shrink to the size of an ant but to communicate to an army of ants. Pym plans for Scott to break into Darren's lab and disrupt his plans for his own shrinking technology.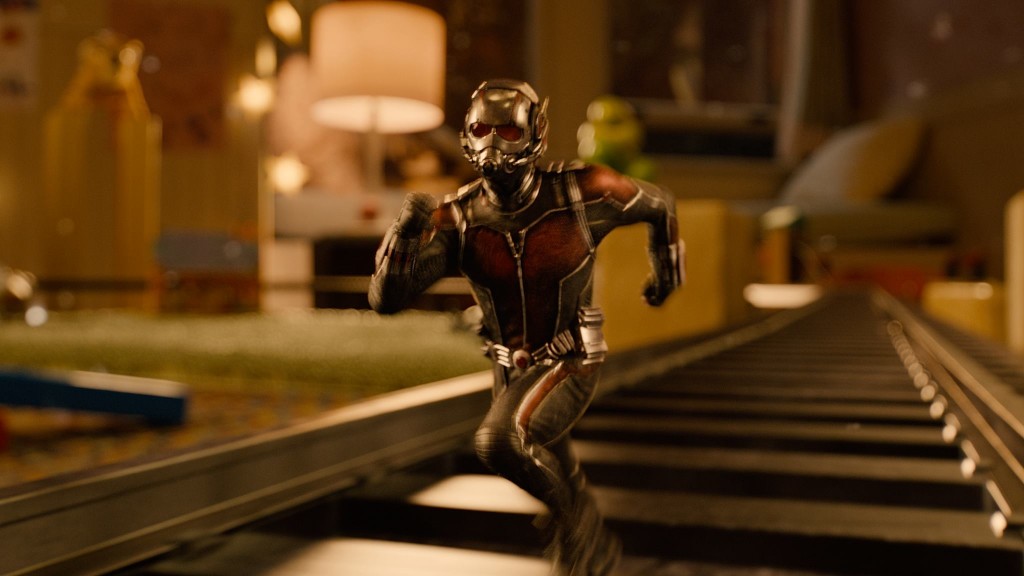 Like the heroes of both Marvel and DC, including Tony Stark, Captain America, Bruce Banner and Batman, the character Ant-Man symbolises American accomplishment. It is about people transcending the physical limitations of the human body and it is also a comedy variation on the political idea that the smallest person can change the world. Ant-Man also continues a Christian thematic line about how much a person will do to restore their family unit because Pym and Scott are both detached from their daughters. It would have been more engaging if these themes were addressed with a greater sense of danger to make the size factor more than a gimmick. Instead, Scott in his tiny form bounces around like an invincible pinball down a drainpipe and underneath the heels of a dance floor but with little physical risk attached. Likewise, both the dialogue ("It's not about saving our world, it's about saving theirs") and individual scenes are overly derivative of other superhero origins films, particularly the training montage with its obvious comedy and a scene where Pym visits Scott in prison to give him another chance. Didn't we see the exact same setup in Kingsman: The Secret Service earlier this year? Too many familiar parts and archetypes define the rest of the plot, like a bald villain who wants to use technology to bring anarchy to the world, the loss of a wife, the mentor figure, a pointless romance, a red countdown bomb and so on. It's not terrible or obnoxious as this genre has been in the past, just not very surprising.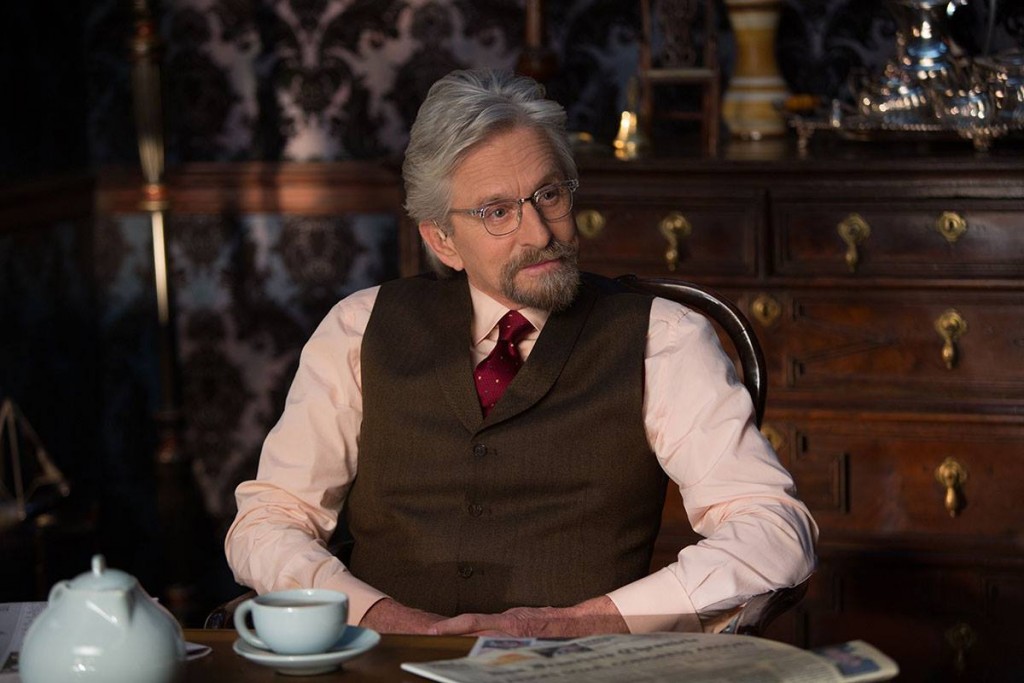 Paul Rudd's effortlessly humorous quips are fine, an enjoyable edition to the formula, like when he hilariously interrupts a family moment between Pym and his daughter. The comedy though distracts you from Rudd's limited emotional range and the general lack of reactions characters in this world have to the most ridiculous occurrences. It is also disappointing Marvel still isn't more inclusive to females and minorities. Judy Greer and Evangeline Lilly have so little do in the film, even though the end credit scene hints at the latter having a more active role in an inevitable sequel. But why hasn't anyone in Hollywood capitalised yet on how good Greer was in The Descendants (2011)? Michael Pena is drawing big laughs for his side role but the way his character and his African American friends are so broadly drawn as idiotic criminals, just shy of having gold teeth, is grating. After watching Ant-Man, which some have rightly argued isn't as overblown as some of Marvel's most exhausting features, I'm now interested in watching The Incredible Shrinking Man (1957) and also reading the novel from which it is based. It is one way to remain stimulated after seeing the latest Marvel film, once the laughs have faded, and while we wait for this studio to be a little more challenging towards its audience.
Summary: Ant-Man symbolises American accomplishment. It is about people transcending the physical limitations of the human body and it is also a comedy variation on the political idea that the smallest person can change the world.