Games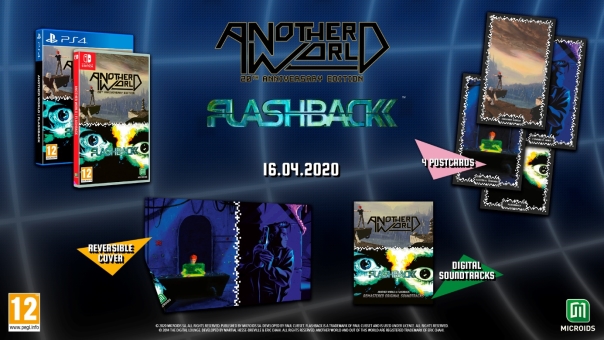 Published on March 13th, 2020 | by Andrew Bistak
Another World/Flashback – The compilation will be available on April 16th, 2020!
Today's players will be able to enjoy 2 classics action-adventure games on Nintendo Switch and PlayStation 4: the legendary Flashback, created by Paul Cuisset, and the pioneering Another World, developed by Eric Chahi!
Available on April 16th 2020 in Europe, this special edition will contain:
Digital OST of both games
2 postcards of Another World and 2 postcards of Flashback
Reversible cover
FLASHBACK
Flashback story:
Often ranked in the top 100 games of all time, one of the world's greatest action adventure game is back!
After fleeing in a spaceship, the young scientist Conrad B. Hart wakes up with amnesia on Titan, a colonized satellite of Saturn. His enemies and kidnappers are hot on his heels and he must find his way back to Earth, all while defending himself from various dangers and preventing aliens from destroying the planet.
Features:
For the first time, play the Director's Cut version (2 exclusive cut scenes)
White or pink? Choose one of the two historic colors of Conrad's T-shirt
Play any level you've completed during the adventure in "training" mode
Replay the cut scenes you have watched during the adventure
Jukebox: enjoy the game's music on demand
Street Art Gallery: earn points during the adventure to unlock images
Post-FX graphic filters
Completely remastered sound and music
A brand new "Rewind" function, variable according to the level difficulty
Tutorials for those who need a boost!