Games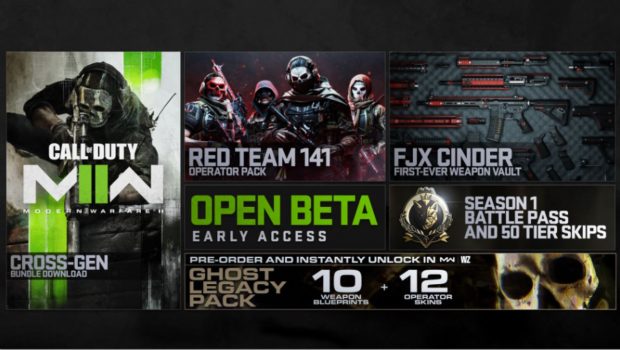 Published on August 8th, 2022 | by Adrian Gunning
Announcing Call of Duty: Next, the franchise showcase event, and Open Beta dates for Call of Duty: Modern Warfare II.
Activision Blizzard has announced the forthcoming Call of Duty: Next. What's Next? This is an era-defining franchise event showcasing the immediate future of Call of Duty, being broadcast on 16 September AEST/NZST. Presented by Infinity Ward and featuring robust information drops detailing innovations, live gameplay, and a whole lot more, expect to learn the following:
What the imminent future of Call of Duty will look like, including many more details regarding Modern Warfare II; information on the next Call of Duty: Warzone; and more on the mobile version of Call of Duty: Warzone (also known as Project Aurora)
A full Modern Warfare II Multiplayer reveal
Global fan-favourite streamers playing the game in real-time
And more!
But that's just the beginning. Players worldwide will be able to experience the future of Call of Duty Multiplayer combat before the launch of Modern Warfare II on 28 October. The Modern Warfare II Open Beta will be free across all platforms, with players who pre-ordered digitally, at retail, or received Beta codes gaining early access.
Over two busy weekends, the Beta is set to drop in instalments. Learn what to expect each weekend below, and attached:
Beta weekend 1:
Available on PlayStation 4 and PlayStation 5 only. Scheduled to run from Saturday 17 Sept. 3 AM AEST to Tuesday 20 Sept. (You can access the Beta without requiring a PlayStation Plus subscription
PlayStation Early Access: Saturday 17 Sept. at 3 AM AEST. For those who pre-ordered the game on PlayStation 4 or PlayStation 5 or received a Beta code
Beta weekend 2:
Available on all console platforms and PC, scheduled to run from Friday, 23 Sept. at 3 AM AEST to Monday, 26 Sept. Cross-play will be active, allowing you to party up with friends and the greater community, no matter what hardware they play on
Whether you preordered the game or not, weekend 2 is free Open Beta for all PlayStation 4 and 5 owners
Those who preordered the game for Xbox One, Xbox Series X|S, or pre-purchased for PC via Blizzard Battle.net or Steam, can begin playing the Beta on Friday, 23 Sept. at 3 AM AEST. Xbox Live Gold is required for Xbox players, and PC players are required to have a Battle.net or Steam account
Xbox and PC Open Beta is available to all, regardless of pre-order status, from Sunday, 25 Sept. at 3 AM AEST to Monday, 26 Sept.
Modern Warfare II Beta: What to Expect
A robust multiplayer experience going beyond the Core 6v6 with a variety of meticulously designed maps of various sizes
A flythrough of Marina Bay Grand Prix, where combat occurs within the main infield of an urban race circuit
Modern Warfare II lead developer Infinity Ward is set to pull back the curtain on aspects of developing the game, giving players unprecedented behind-the-scenes access to the innovations coming to the game. These intel drops will appear on IW's studio channels with the first episode coming soon. Be sure to follow Infinity Ward on Twitter, and check the Call of Duty Blog and Infinity Ward blog for more information.
Looking to jump in early? Pre-order to gain:
Access to the full game and Open Beta Early Access
Immediate access to the Legendary "Deathknell" Operator Skin and the Legendary "Bloodthirsty" Weapon Blueprint for use in Call of Duty: Vanguard and Warzone
Pre-order the Vault Edition of Modern Warfare II to receive:
All previously listed rewards
Red Team 141: Four playable Multiplayer Operators — Ghost, Farah, Price, and Soap — each wearing a special masked outfit, which will be available during the Open Beta
FJX Cinder Weapon Vault: We plan to share more details on this and the new Gunsmith at Call of Duty: Next, which will also be available during the Open Beta
Season One Battle Pass and 50 Tier Skips: If you purchase the Vault Edition after Season One, the free Battle Pass and Tier Skips apply to the current season
Ghost Legacy Pack: 20+ free items celebrating the Task Force 141 icon, for Modern Warfare (2019) and Warzone, unlocked upon pre-purchase