Games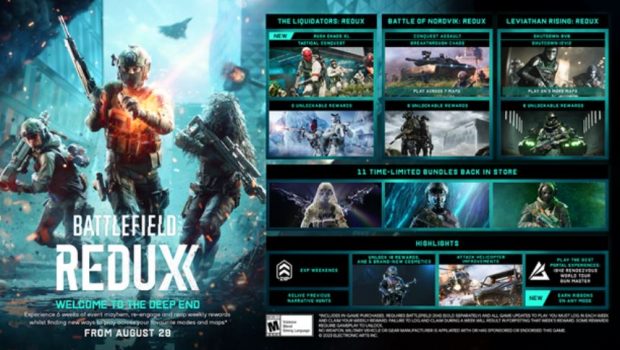 Published on August 16th, 2023 | by Adrian Gunning
Announcing Battlefield 2042: Redux
Today, the Battlefield 2042 team released the latest Development Update detailing all the exciting content in store for the shooter.
Hosted by DICE Community Manager Tom Straatman and Producer Bruce Brodie, the video dives into a first look at Season 6 – coming in October 2023 – and its new map, as well as an introduction to Redux, where players can experience their favorite Battlefield 2042 gameplay moments between the end of Season 5 and the start of Season 6.
Starting August 29, and running for six weeks, Battlefield 2042: Redux will give players the opportunity to re-engage and reap weekly rewards. Players will find new ways to play across their favorite maps and modes, including Rush Chaos XL, Tactical Conquest, Breakthrough Chaos, Conquest Assault and Shutdown – as well as plenty of chaos in true Battlefield style.
The rewards in Redux range from new content such as character, vehicle and weapon skins, to previous Store content that now becomes earnable. Alongside updated modes and rewards, players can anticipate Quality of Life enhancements, including a new Codex for those wanting to learn more about the World of 2042.
For a full breakdown of Redux, check out the latest Development Update on the Battlefield blog here.