Games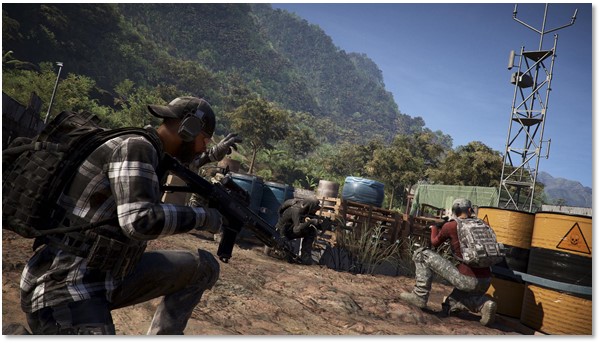 Published on October 10th, 2017 | by admin
ANNOUNCEMENT: PLAY TOM CLANCY'S GHOST RECON® WILDLANDS FOR FREE FROM OCTOBER 12-16 ON CONSOLE AND PC
Enter the Wildlands and Experience New PvP Mode When Ghost War Launches Today as a Free Update
Sydney, Australia — October 10, 2017 — Today, Ubisoft® announced that Tom Clancy's Ghost Recon® Wildlands will offer a free weekend on PlayStation®4 computer entertainment system, Xbox One and Windows PC from October 12–16. In addition to having full access to the base game's content, new players will get the chance to experience Ghost War, the new free PvP update for Tom Clancy's Ghost Recon Wildlands, which will be available as a free update on all available platforms starting tonight at 5pm AEDT, and will be playable from October 11, 3am AEDT.New players will be able to pre-load the game starting today on Uplay PC. In conjunction with this free weekend, there will be 50% discount on all editions of the game on the Ubisoft Store. Players who purchase the full game will see all their progress carry over from the free weekend. Please visit the UbiBlog to pre-load the game on PC and get all detailed information about the free weekend.
Ghost War is a 4-versus-4 team deathmatch experience that builds on the tactical squad play from the main game, where strategy is equally as important as skill. Using one of the 12 distinct classes, each with their own varied characteristics, weapons, perks and customization options, players will engage with enemies across eight unique maps. Ghost War also integrates new PvP mechanics, including suppressing fire and sound markers, to create a strategic and intense team-based multiplayer mode.
Additionally, the development team is planning to expand the PvP experience by adding new classes, new maps and new modes over the next few months, while continuously working on balancing and quality of life updates. All new maps and modes will be free for all players. All new classes will be unlocked with Prestige Credits gained through progression and available free with a one-week early access for all Tom Clancy's Ghost Recon Wildlands Season Pass owners.
Developed by Ubisoft Paris*, Tom Clancy's Ghost Recon Wildlands is a military shooter entirely playable in up to 4-player co-op or single-player from beginning to the end. Players have total freedom of choice to accomplish their missions how they want and watch as the world reacts to their actions. Players can choose to move quietly in the night, go in hot at dawn, or work together to execute a sync shot that takes out enemies in one fell swoop. Each choice has a consequence, and players must improvise or adapt their plans to ensure the completion and success of each mission.
For more information about Tom Clancy's Ghost Recon Wildlands and the latest beta news, please visit www.ghostrecon.com, follow us on www.twitter.com/ghostrecon or www.facebook.com/ghostrecon, and join the conversation by using #GhostRecon.
For the latest on Tom Clancy's Ghost Recon Wildlands and all of Ubisoft's games, please visit www.ubiblog.com.