Games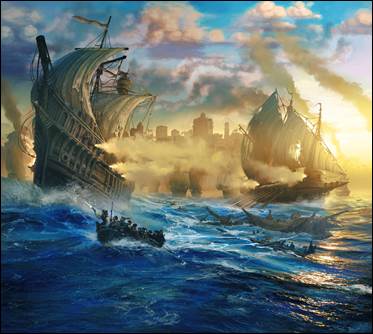 Published on October 8th, 2014 | by admin
ANNOUNCEMENT: PIRATES AND WARSHIPS SPOTTED IN ANNO® ONLINE
Sydney, Australia – October 8, 2014 – Today, Ubisoft® and Blue Byte® launched the biggest update in the history of ANNO® Online introducing a player versus environment battle system and a new 3D graphics engine.
Pirates have entered the waters in ANNO Online and to defend their island players can now raise an armada of warships to counterstrike a pirate invasion. The new PvE battle system comes with three different warships for players to select from, the Brig, Galley or Caravel as well as new buildings to populate their island including the Repair Crane. Players will receive quests to face-off against pirates at sea, and will need to find the smartest route to stealthily face their foes or choose to go for the full combat experience, fighting additional enemy ships at sea in order to reach the island boss and defeat him. Battles are fought on a turn-based system, challenging players' strategic skills to defeat all hostile forces while keeping their own units alive. If players are successful they will be rewarded with items such as a new island slot or rare resources.
In addition to the PvE mode, the new 3D graphics engine brings updates including new water effects and a revamp of all ship models that includes new visible levels of destruction for each war ship during combat. The integration of PvE and the 3D graphics is just the start of many new updated to come in ANNO Online. A PvP feature, which will enhance battles even further is already in the works.
The latest version of ANNO Online is available at www.anno-online.com.