Games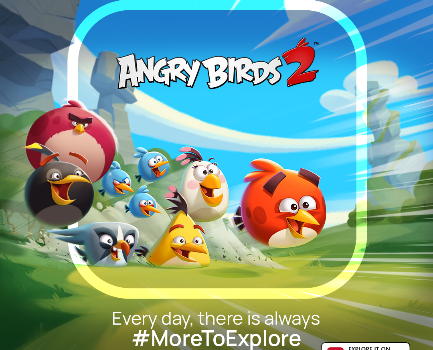 Published on June 28th, 2021 | by Adrian Gunning
Angry Birds 2 Arrives on AppGallery to Bring Feathery Fun Challenges and Offers to Huawei Users
Angry Birds, the phenomenally successful mobile game, which has been downloaded over 4.5 billion times across the world, is flying onto AppGallery to bring its unique brand of pig-popping slingshot gameplay to Huawei's expanding global audience.
Debuting on AppGallery with Angry Birds 2, game developer Rovio is inviting Huawei gamers to build the ultimate flock to defeat their piggy enemies and retrieve their eggs. They can train their skills by mastering the slingshot, which will accelerate them up the leader-board, increase their scoring power by recruiting birds with feathers and compete in new events to collect seasonal hats.  
While Angry Birds is widely acknowledged as the game that established mobile as a viable gaming platform, it is Angry Birds 2 that drove the popularity of the brand, delivering classic action and true next level Angry Birds experience.
While Angry Birds 2 is the first Rovio game to be listed on AppGallery, the Angry Birds movie is already available on HUAWEI Video¹, the company's platform for video content. On top of that, Huawei users will soon also be able to customise their phones using HUAWEI Themes to display dedicated Angry Birds 2 themes, while customers with Huawei smartwatches and bands will be able to download Angry Birds 2 watch faces. 
Huawei is supporting the launch of the game with unique ways of helping users experience and interact with the Angry Birds brand outside of the app store, making it easier to get in the spirit of the game across multiple channels and devices. In addition, players in Europe will be able to claim 50% cash back on the first in-game transaction, and 20% on other transactions between 1st and 14th July.
"We are very excited that Angry Birds 2 will now be available to millions more gamers around the world through our partnership with AppGallery" says Miikka Lindgren, VP of Business Development at Rovio. "Rovio's mission is to create joy, and we are always happy when our games and the joy we create reach new audiences. I hope lots of new players get into some serious pig popping fun with our Angry Birds and their porky enemies, using all the fantastic gameplay options that we are putting at their disposal."
"Everyone loves Angry Birds, everyone's played it at some point, it's arguably one of the most iconic games around. We're delighted for Huawei users and pleased to see top games arriving on AppGallery. We're also humbled to work with Rovio, and grateful for their trust and support. We are committed to supporting and working with app publishers to bring the games our users want to play", said Derek Yu, President of Huawei CEE & Nordic, and Canada, at Huawei Consumer Business Group.
As one of the world's fastest-growing app marketplaces, AppGallery strives to partner with leading brands and gaming developers, like Rovio, whose titles attract the biggest global audiences. This is allowing the platform to list a constant stream of exciting, challenging and entertaining content, connecting users with the games they most want to play and developers with a new and previously untapped customer-base.
The gaming category is at the forefront of apps expansion on AppGallery with over 500% more games now available on the platform compared to a year ago. The company has also created a separate tab dedicated to gaming on AppGallery's home page, which was launched along with the new-look app store design earlier this year. The feature allows users to easily find games and content specific to their interests quickly and easily.
As part of its ecosystem development, Huawei is working closely with over 4 million registered developers to constantly bring new content to the platform, with over 134,000 applications now integrated with HMS, Huawei's proprietary mobile services platform.
Angry Birds 2 is now available to download from AppGallery worldwide at https://appgallery.huawei.com/#/app/C104391333