Interviews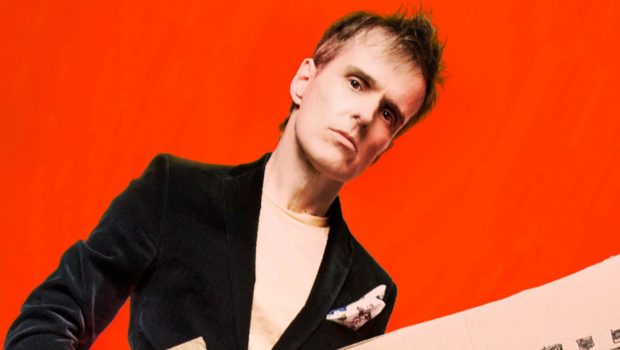 Published on March 9th, 2023 | by Andrew Bistak
Andrew Hansen Is Cheap Interview
We catch-up with the delightful Andrew Hansen who is currently in self-imposed exile in the City of Churches at Adelaide Fringe Festival where he is performing his new show… Andrew Hansen Is Cheap!
Welcome back to Impulse Gamer Andrew! So what's it like being back on stage again?
Everyone is happy again and it's nice to have a laugh with the crowd. It's really nice!
You're currently performing at the Adelaide Fringe Festival. So how is this festival different to the Melbourne International Comedy Festival?
The festival in Adelaide is one of the most fun ones around because it's like being in a fairground. There are carnival rides, fairy floss and donuts right outside the little wooden theatres where you see the shows. It's a lot different than Melbourne as it's a bit like a theme park there!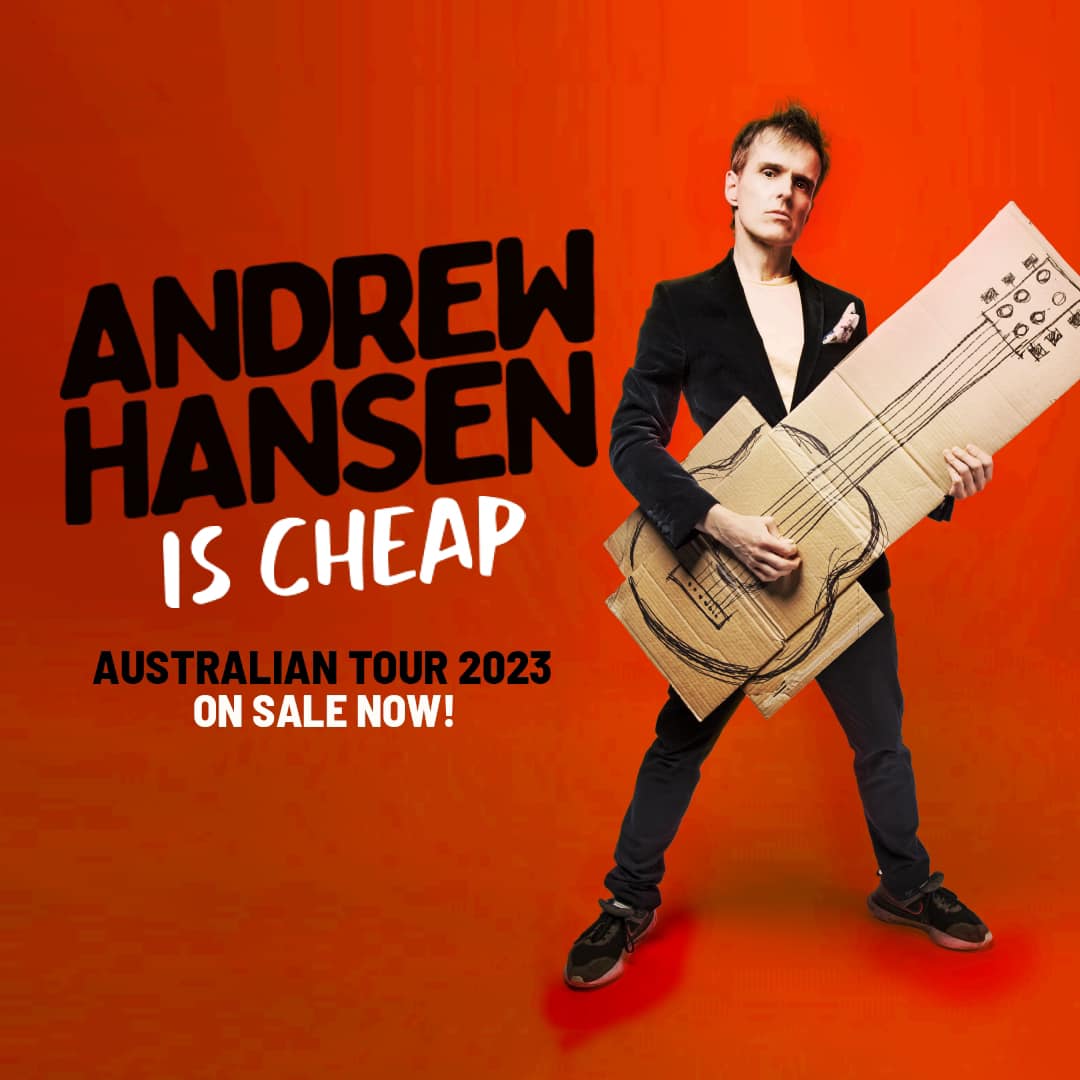 Is this the first time that you're performing your new show, Andrew Hansen is Cheap?
I actually tried it out fist in a little cupboard at the Melbourne Fringe Festival last October (2022). My manager insisted that if you're going to write a new comedy show, you should try it a few times with a small audience. I thought… okay, they know what they're talking about. I then discovered that after asking a few other artists managed the same people "if you're writing a new show, were you asked to practice in front of a few people in a small room" and they said "No! I wasn't told to do that". Hmm… I don't know, am I on the outskirts here? Or was it the worrying title that put the alarm bells on?
You've been given the thumbs up from your management, was Adelaide a proving ground?
There's an old cliché about comedy touring in Australia which is that people use the Adelaide Fringe Festival to take their shows there to get it ready. The poor people of Adelaide are expected to put up with this kind of work in progress. However the people of Adelaide have been very generous sitting there and watching me figure the show out and now it's in good nick. I think it's nice and polished now so I can inflict it on the people of Melbourne next, then the rest of Australia.
So when you're performing live, what's the secret of delivering a good show when you're not feeling up to it?
Yeah, it's tricky. I wish I knew the answer but I found that drinking enormous amounts of water helps. That's about the best I can do if I'm feeling rat shit or in a bad mood. I was chatting to Tom Gleason in Adelaide and I've been friends with him for a long time, since before he was a successfully comedian. He said to me, one of the things about this job is you've got to be in a good mood to do it, You have to trick yourself into being in at least an acceptable mood before you go on and you have no choice do you? I usually find that the environment just snaps you out of whatever is going on in your life which cures all the problems that you might have had five minutes before.
So how would you describe your new show?
Well, it's an essential guide to saving money really. It's more my money saving tips and if you don't see the show, you're to be broke at the idea. I'm sort of harnessing all that controlled chaos from the Chasers TV shows and putting it on stage. It's a very fast salad of different types of comedy with sketches, characters and silliness as I'm mucking about on stage with a guitar, piano and lots of audio cues,  It's a pretty frenetic sort of show and not just stand-up as I've put value into it. I thought gosh… I better use the fact that I can play these instruments and put them into the show. I've also been trying to find a new way of doing musical comedy that is not only fun but has me flapping about the stage all over the place.
Care to expand on the flapping part?
I do sketches about everything really… like the problems of ordering online groceries. For example, the vegetables that you get are so large such as the size of the broccoli that got delivered to me one day. This broccoli could have been in the Guinness Book of Records for its size and I know they're charging by weight. If you pay for it online, you have no choice and this broccoli was blocking out the sun it was so big. I thought it was going to be added to the list of Australian big things like the Big Pineapple or the Big Koala!
Come visit Andrew Hansen's big broccoli that should be on the bloody cover of The Lonely Planet!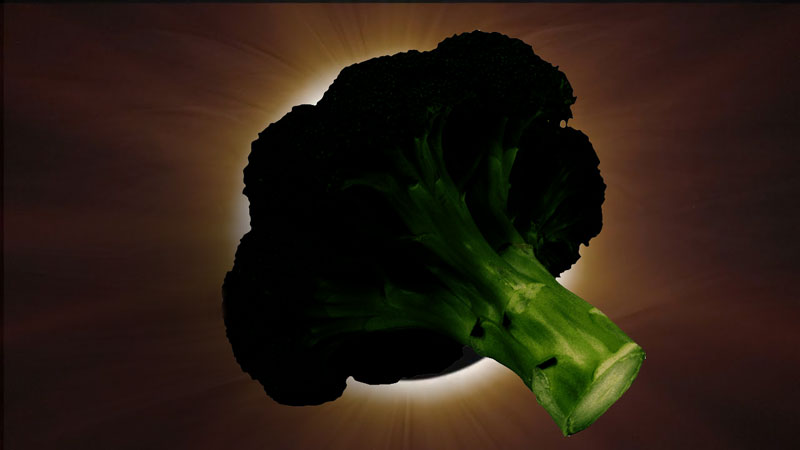 And that thing just made me think, gosh, we're all being ripped by the tycoons, all in the name of business. As I got older, I realised that business really just means swindling and trickery to bully people out of their money. This was where the idea came from that maybe I should do a comedy show full of tips for people on how to avoid these traps.
So how mow much can we save by seeing your show?
Millions of dollars. It would be so much money that you would fall into that new category of superannuation funds that are getting taxed heavily by the government. If you see my show, you could easily end up three or four million dollars richer in your superfund just by using some of my techniques of avoiding large grocery items.
With your show, will there be any crossover to television or perhaps getting the Chasers together again?

My live show is very much its own thing and is in the same style as the Chasers TV shows. That's really the only place now, I think, where people can get that kind of comedy if they want it, coming to see my live shows because the other guys (The Chasers) aren't doing anything interesting are they? I think I'm the only one but I did write a TV show recently with Chris Taylor and it's called Stories from Oz.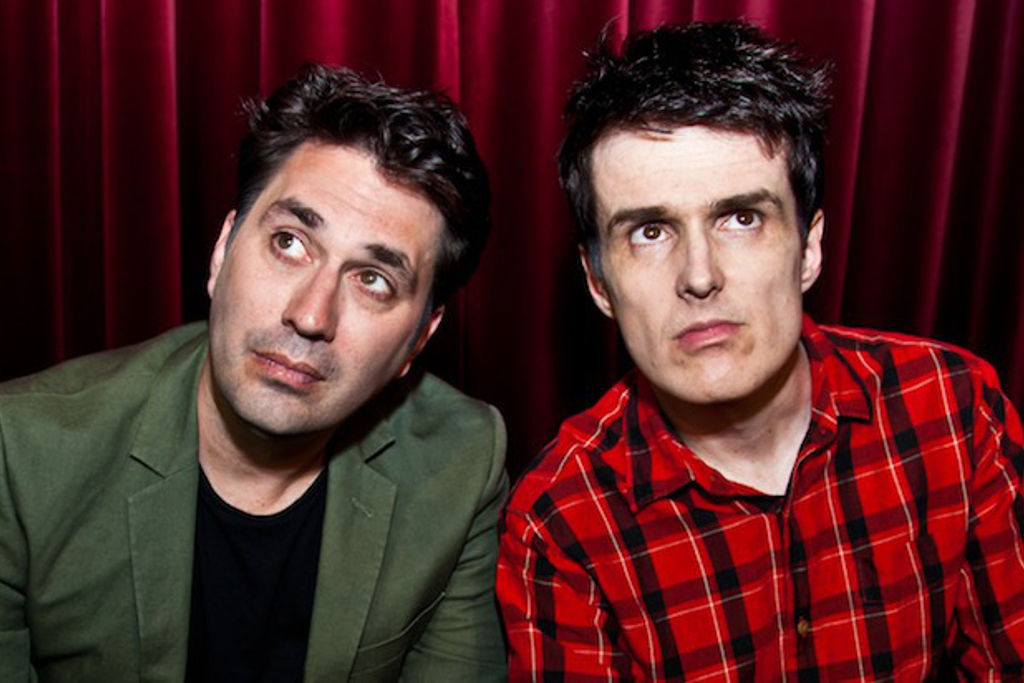 It's a show that takes true stories from Australia's recent history… very serious, important stories and we turn them into musicals. For instance, we've done the story of Schapelle Corby as musical and we retold the story of Steven Bradbury, the ice skater who won a gold medal when everybody else fell over. This is a TV show that presents these stories as half documentary and half musical. We present really interesting information and often new information that we've dug up on these stories that become silly musical numbers with lots of razzle and dazzle, including spectacular costumes and beautiful locations. We've also written 36 songs for the series that will come with album when it is released, however for now it is sitting with the network which is the ABC.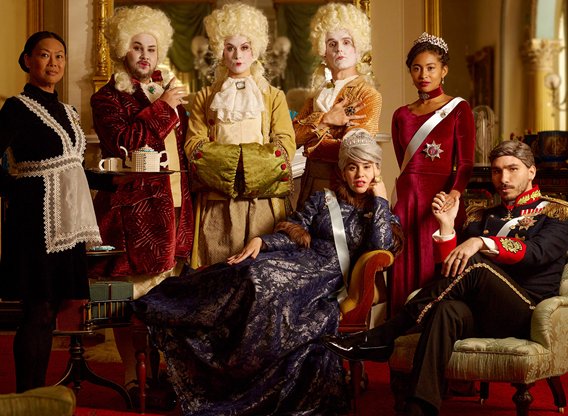 Do you star in Stories from Oz or are you more behind the scenes?
Yes, a bit of both as Chris and I are the writers and producers. I'm the composer of the music but we're an ensemble cast and haven't really cast ourselves as the stars. It's a group really and Chris and I have always loved comedy teams, probably because we grew up watching groups like Monty Python or The Goodies and more recently, I love what Aunty Donna is doing.
We both really like the idea of a group where everybody has an equal presence on the screen. The show has a cast of seven, including Chris and I plus five people who are all brilliant music theatre performers. While Chris doesn't see himself as a musical performer and he's only on screen a little bit, I can assure you that his bits are passingly funny. I have trouble acting alongside Chris because he just makes me laugh.
But the show has comedian Michelle Brasier in it and Amy Lepalmer who's one of Australia's best music theatre stars. It has Fiona Choi, another great musical theatre star, including Sammy Afuni who has been in the recent production of Hamilton in Australia and Nicholas Kong, Phoenix Jackson Mendoza who are not only brilliant but they were a joy to work with. As I've only worked with two bit comics, it was fun to write stuff for people who can sing and dance. I couldn't dace to save my life and the poor choreographer in the show had to work with my terrible pipe cleaner legs that have no coordination. I also discovered that I didn't even know how to walk properly as a result!
It sounds like a Broadway production?
That's what we aimed for here and a lot of the numbers do look like Broadway musicals, although we were more conscious that it was a musical for the screen. So we looked at a lot of movie musicals, including some of the great ones from the silver screen area, MGM musicals from many decades ago and used them as an inspiration. The end result looks great and we had a brilliant director of photography, Sherwin Akbarzadeh who came in to shoot it on these beautiful anamorphic lenses that are used in Hollywood movies to give it a nice shine and make it look more expensive than it really was. The director was Max Miller who has directed all of Aunty Donna's TV stuff and as Chris and I love Aunty Donna, we thought that if we could bring in their director, it would be a nice marriage of the Chasers and Aunty Donna.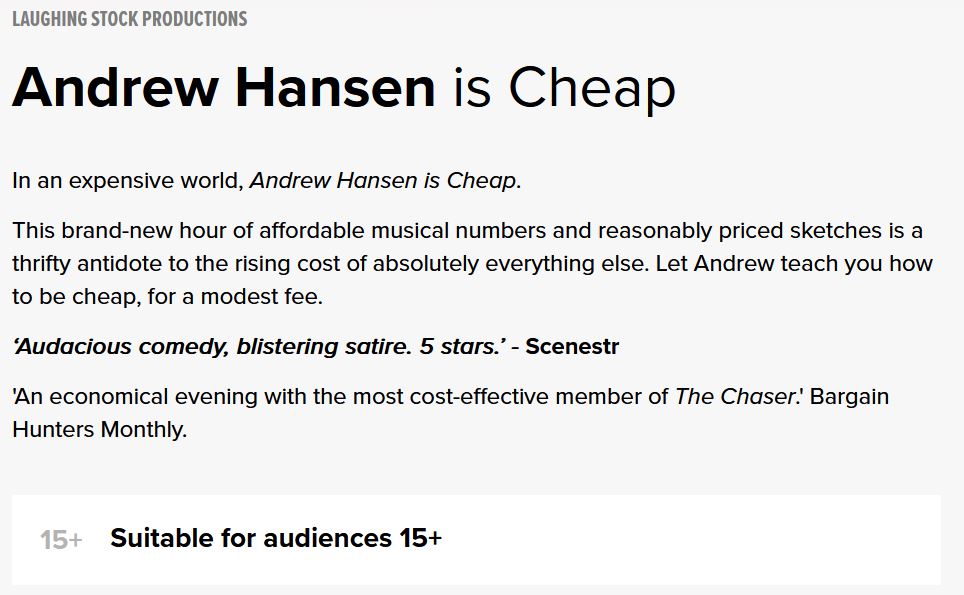 Check out Andrew on Twitter at https://twitter.com/andrewjhansen and of course his comedic tour of Australia – https://adelaidefringe.com.au/fringetix/andrew-hansen-is-cheap-af2023 / https://www.comedyfestival.com.au/2023/shows/andrew-hansen-is-cheap and all things Andrew Hansen at https://bio.to/AndrewHansen