Comics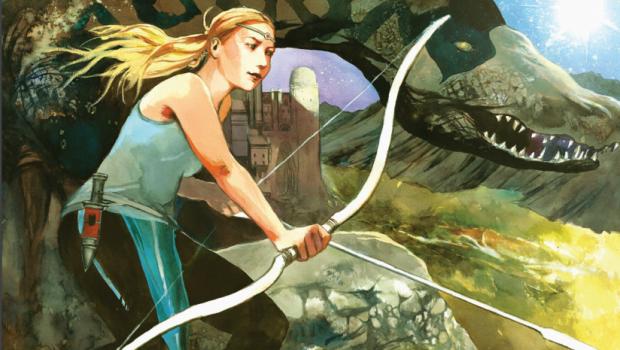 Published on October 20th, 2017 | by Dana Folkard
ANCIENT ASTRONAUTS REVIEW
Summary: An interesting blend of science fiction and fantasy.
Ancient Astronauts is a science fiction graphic novel, entirely hand painted in watercolour by Vincent Pompetti. It explores ideas and concepts focusing around the power of positive and negative thoughts and how these energies can be harnessed. We follow one girl's journey, as she battles her inner demons and questions who she really is, as she tries to fight an enemy that exists only through fear.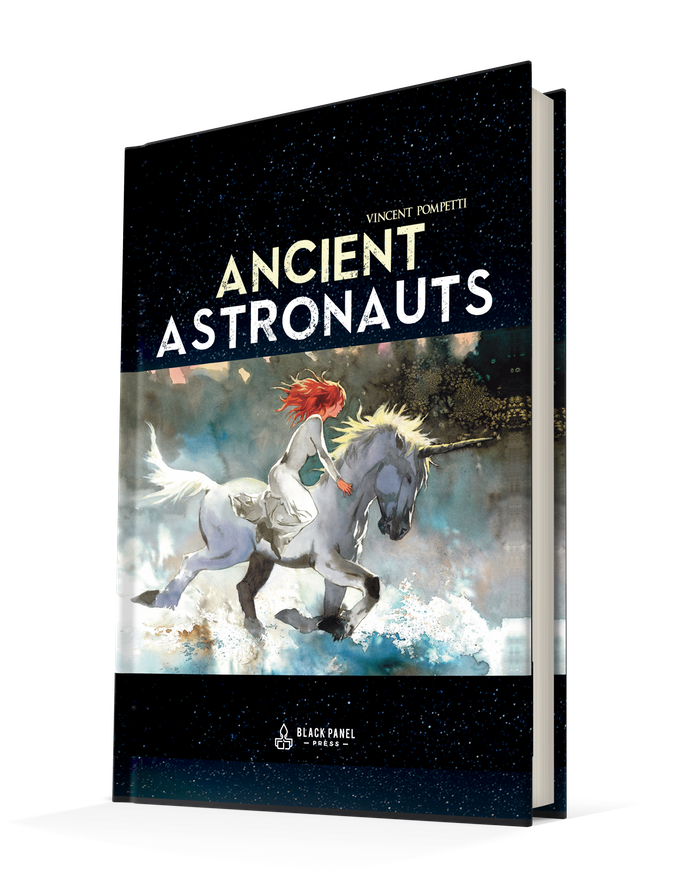 The story begins on the planet of Plaine, a highly developed society that is known for its scientific advancements. A young girl, named Onys Di Cheti awakens from a nightmare that feels both real and familiar. Troubled, she heads downstairs were she talks to her sister about the dream, and the empty feeling she has been trying to grapple with since leaving her home planet. Suddenly three men arrive, and without uttering a word brutally attack and kill Onys' sister, Allie. Her and her brother-in-law narrowly escape, and with the help of officers manages to capture one of them. A young and ambitious captain, named Mark, decides to take on the case, and begins to questions Onys about why she would have been targeted. It is then revealed that she is in fact from one of the oldest and most distinguished families from a planet called Omande. She fled to Plaine after her father tried to force her into a political marriage. Whilst being questioned, a woman with fiery red hair arrives, and by using a magical saber, she overpowers the one surviving suspect who had begun to transform into a hideous beast. This mysterious woman, named Yulunga, reveals that this man was possessed by a dangerous creature called "The Tracker" who feeds on base instincts of hate and fear. This encounter with Yulunga takes Onys down a dangerous path where she is forced to face this mysterious force, battle her inner conflict, whilst trying to save her home planet from destroying itself.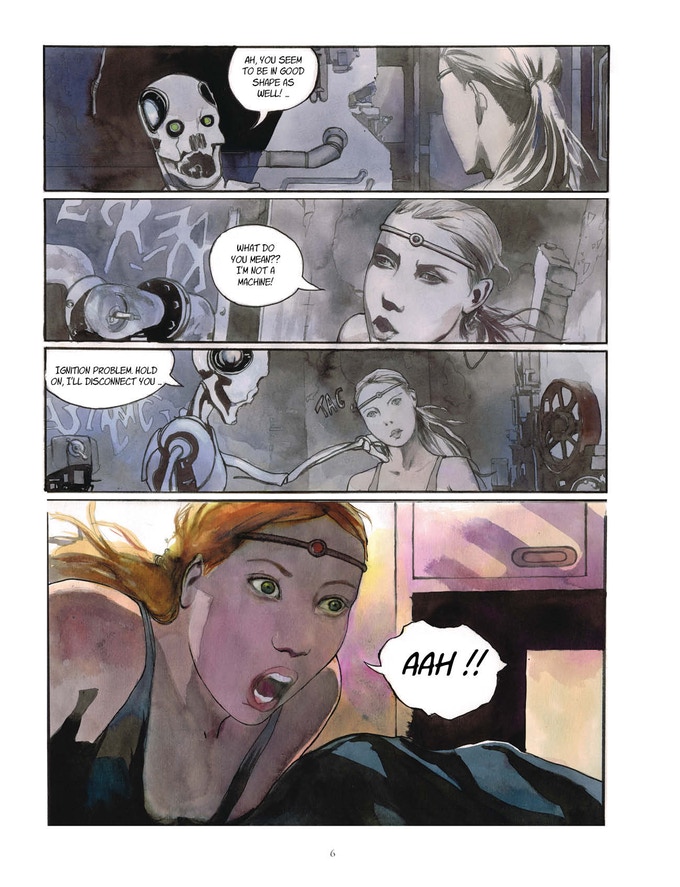 Vincent Pompetti has created a highly detailed story, that is filled with a a lot of culture and history. There is a hefty amount of lore to get through, and at times it can be a little confusing. I found myself sometimes going back and re-reading previous sections again, so as to remind myself of particular details and concepts. There is also a very complex political story within the narrative as well, revealing the motivations of Onys' father and the larger complications occurring on Omande. Once you do get your head around the lore, it is a satisfying and enjoyable read that has some intriguing plot devices. We also see an interesting growth within the lead character Onys, as she goes through some dramatic changes. The main enemy in this story is the Tracker, who I found to be a compelling and terrifying foe. I rather liked the idea of how this beast feeds on the base instincts of people, meaning it can manifest in anyone, anywhere. There is also a dramatic and somewhat jarring shift in the story when they arrive on Omande. The pace slows, as we see the main characters trying to put a halt to the warring tribes, and restore some kind of equilibrium through positive acts, which will ultimately weaken the Tracker. It's a bit of a convoluted plan but it allowed for the reader to see and experience the variety of different creatures and tribes that inhabit Omande. The most interesting character for me was Yulunga, and I rather liked how she adopted the role of teacher for Onys, speaking to her in a philosophical and wise way.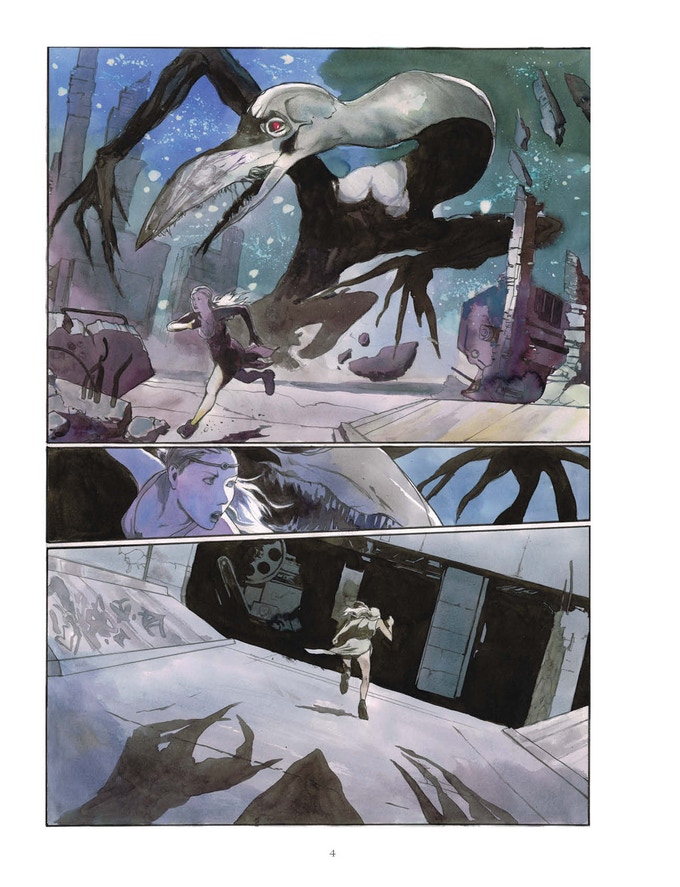 Vincent Pompetti also hand painted this graphic novel, filling it with emotive watercolours. I enjoyed the softness of his art, which gave everything a moving and poignant feeling, mirroring the emotional tone of the story. It was nice to see this complex world imagined in such a vivid and colourful way. I found his art to be great at capturing the distorted and warped faces of the victims of the Tracker, as they possess a tormented mask of pain. When the beast is fully manifested, it looks like some kind of Mephisto-like character that towers over everyone. These scenes stood out to me, and found them to be very effective in achieving a sense of fear. I also like seeing the Ancient Astronauts riding forth on their mounts as they rode into battle.  There were times, however, when some of the characters appeared a little stiff or frozen in their movements.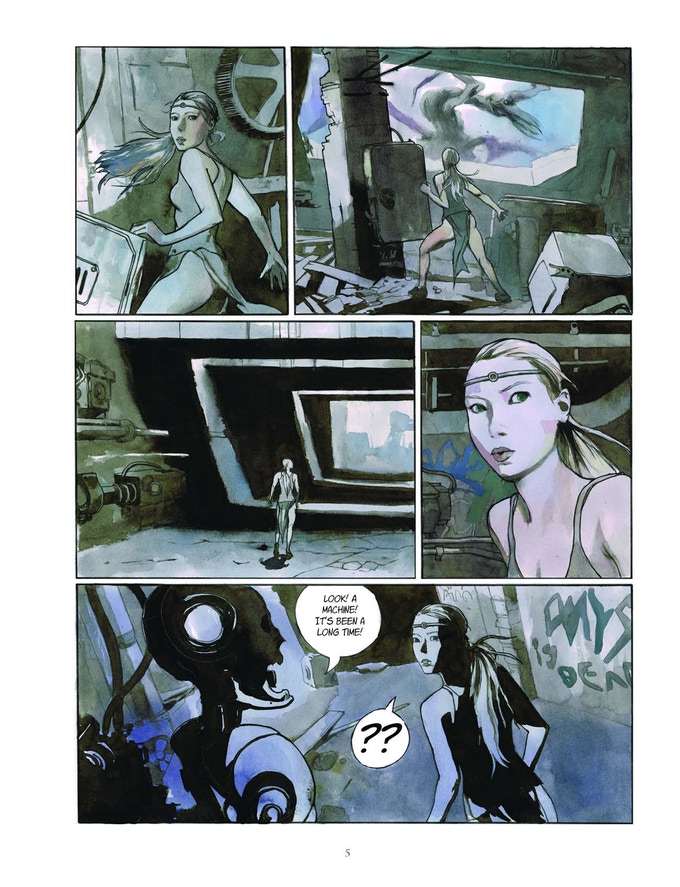 Overall, I found Ancient Astronauts to be a complex read that is filled with a lot of detailed lore and concepts. This is a story that will appeal to fans of science fiction with a deep philosophical twist. If you're looking for something a little different, that will get those metal juices flowing then this is the story for you.
I'm giving this graphic novel 3.8 out of 5 stars!
---
DETAILS
CREATIVE TEAM: Vincent Pompetti
PUBLISHER: Black Panel Press (www.blackpanelpress.com)
REVIEWER: Dana Folkard