Blu-ray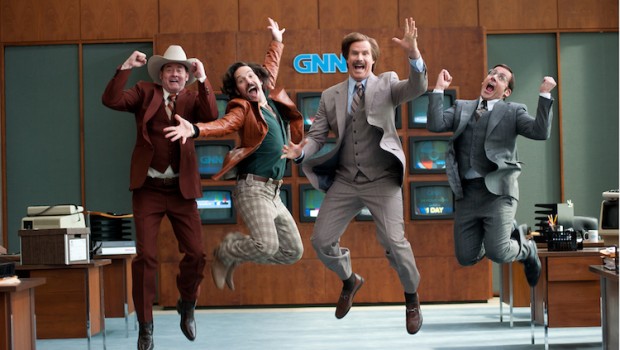 Published on April 6th, 2014 | by admin
Anchorman 2 The Legend Continues Blu-ray Review
Summary: Anchorman Ron Burgundy is back with hair as stylish as ever! And now he's on a mission to reinvent the news
Anchorman 2: The Legend Continues
Distributor: Paramount
Format: Blu-ray
Genre: Comedy
Running Time: 143 Minutes
Rating: MA15+
Reviewer: Scott Romeyn
Ron Burgundy is everyone's favourite Anchorman, and the long anticipated sequel is as classy as ever as the world's most dysfunctional news team reunites for a newsworthy movie.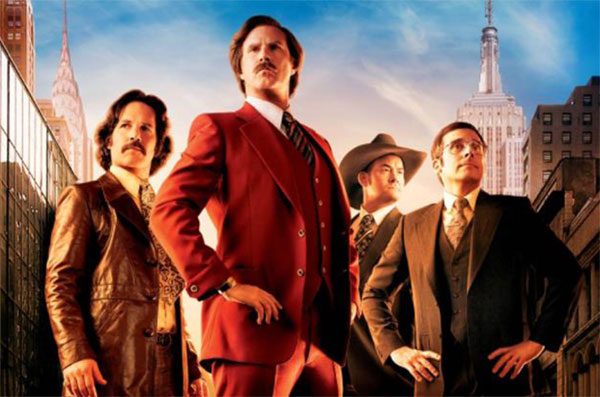 After spending several years as an anchor in New York, Ron Burgundy (Will Ferrell) finds himself jobless and washed up back in his home town of San Diego. His marriage with ex-co-anchor Veronica Corningstone (Christina Applegate) has reached its end after she was promoted in exchange for Ron being fired for the ridiculous incompetence that fueled the plot for the first film.
Luckily for Ron he is offered a job for a the Global News Network, a new 24-hour news channel and so he decides to reunite with the old Channel 4 News Team, Champ Kind (David Koechner), Brick Tamland (Steve Carell) and Brian Fantana (Paul Rudd) to take on national television for the first time. And what is their goal? To reinvent what is considered news!
Unlike the first movie, in which Ron and his pals were already at the top of the ratings, this film puts them back in the mud with the team having to work their way back up to the top. This creates hardship between the colourful entourage, which means more stupid laughs to enjoy.
Those sensitive to particularly offensive comedies should steer clear from this one, but for those who enjoy a little bit of politically incorrect humour, Anchorman 2 is filled with all sorts of bizarre jokes that rivals Family Guy and South Park in their abundance of unnecessary and inappropriate comedy.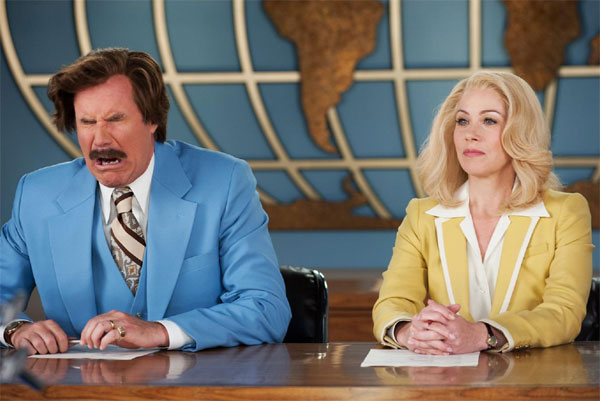 Just like the original film there is a pinch of slapstick comedy and childish jokes which are still just as funny as an adult. But while Anchorman 2 is still a comedy at its core it has more emphasis on the plot and characters than any typical comedy.
Audio and Visual

The music in this film is a bit disappointing. There is very little use of sound to express emotion with a majority of the film either absent of background audio, or just going unnoticed by the viewer- granted that this is a tongue-in-cheek "let's have some laughs" comedy, but the first film used typical news show compositions to enhance the comedy, while Anchorman 2 does not. There is however a very notable musical scene which will be remembered.
For a movie that was filmed in High-Definition, Anchorman 2 doesn't do anything to show off the extra visual details, but that's exactly how it should be. While the picture is always as clear as a bell, the filmmakers have not forgotten that the quality of a film lies in what it contains rather than how it's presented.
Special Features
The Blu-ray release of Anchorman 2 includes an alternate extended version with a total of 24 extra minutes of footage (And 763 new jokes!). While this version is packed with more jokes and news-worthy shenanigans, it can take its toll on your attention span.
Both discs in the Blu-Ray pack contain their own special features with just as much content as the film. There are Gag Reels, alternate takes, extended or deleted scenes, along with several Behind the Scenes featurettes. The standard version of the film also has commentary by the main cast and director.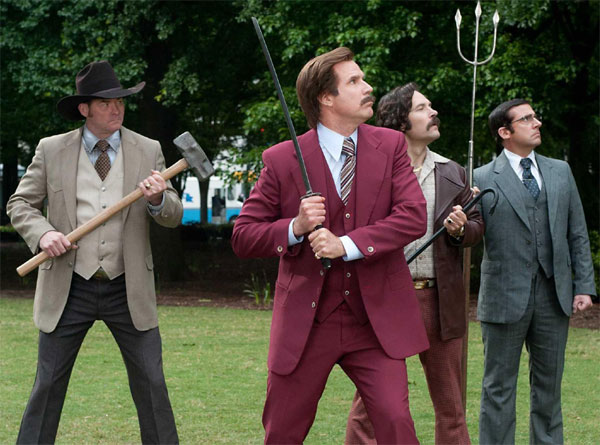 Final Thoughts

Personally for me, this film isn't as great as the first film (What sequel ever is?). But if you want to see more of the cocky, dense Ron Burgundy as he tries to pronounce the word "ambulance", or another death battle between rival news teams, or more of mentally-challenged Brick's nonsensical misadventures then Anchorman 2: The Legend Continues still delivers.