Comics
Published on June 14th, 2021 | by Tim Chuma
Among the Living (2021) Review
Summary: Well worth a look even if you have only heard of Anthrax and are not a big fan. Great stories and interesting artwork just stop reading before the Rob Zombie section.
4
Rob Zombie ruins everything
An anthology of stories based around Anthrax's 1987 album "Among the Living" and a new story about their mascot "Not Man". The band has always leaned heavily into the horror element of their work and a lot of the stories have a twist in them or some kind of morality tale.
Some very impressive work here in art and storytelling right up to when Rob Zombie gets involved and ruins everything. I am perplexed to why he was asked to contribute at all. His story seems out of step with the rest of the stories and if I got this I would not bother to read his section more than once.
The rest of the book is not boring and it has a lot of talent in the storytelling and artwork. Judge Dredd makes a welcome return in a story especially for this book. I am vaguely aware of the link between Anthrax and Judge Dredd from the 1980s even when I wasn't that into music.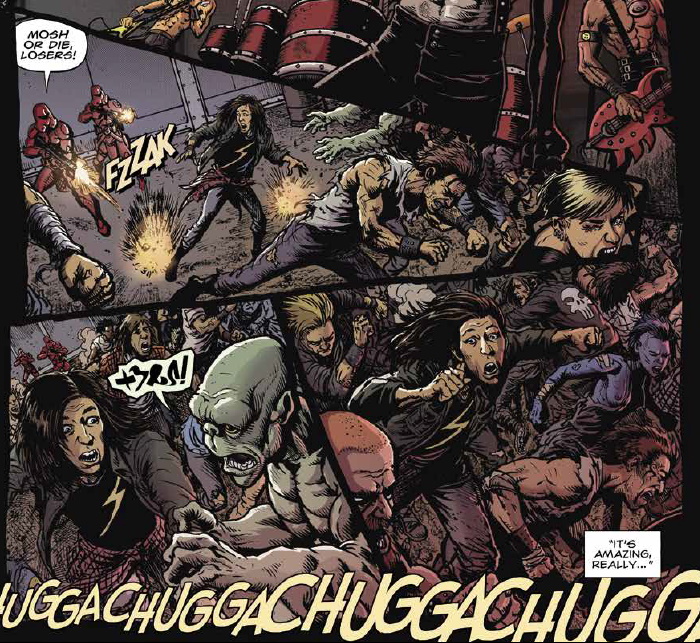 The Armageddon theme from a lot of stories  was also shared by bands like Megadeth and a lot of 1980s metal bands when the cold war was at its height. There is a sense of impending doom to a lot of the stories the captures the spirit of the times.
I would have no trouble recommending this if you are a fan of the band and there are plenty of special editions including a hardcover and ones with extra bits and pieces.
For the more casual fan or who have only heard of them and would be interested in the people involved I would still recommend it, just stop before the Rob Zombie story and everything should be fine.
I am the Law
Comic details:
Written by: Scott Ian, Corey Taylor, Rob Zombie, Gerard Way, Mikey Way, Grant Morrison, Brian Posehn, Jimmy Palmiotti, Brian Azzarello, Rick Remender, Joe Trohman and more…
Illustrated by: Charlie Benante, J.G. Jones, Eric Powell, Darick Robertson, Scott Koblish, Erik Rodriguez, Maan House, Roland Boschi, Steve Chanks, Dave Johnson and more…
Edited by Ian Sattler
Additional Design by Tyler Boss, Josh Bernstein
Publisher: Z2 Comics
Release Date: April 20th, 2021