Comics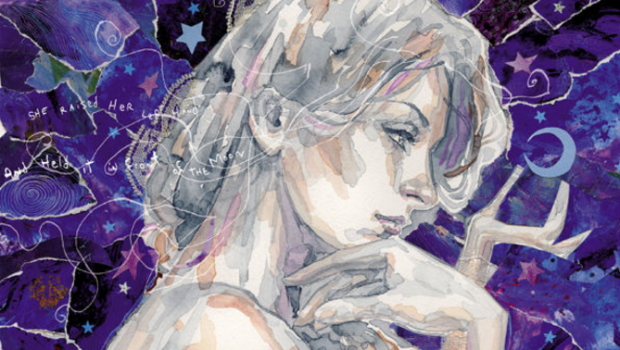 Published on June 12th, 2017 | by Dana Folkard
AMERICAN GODS: SHADOWS #4 REVIEW
Summary: An engaging and compelling issue that delves deeper into the world of the gods.
After a fateful game of checkers with Czernobog, Shadow is uneasy and troubled, and finds solace talking to the third Zorya sister: Zorya Polunochnaya. After some wise words of wisdom and an unusual gift, Shadow tries to come to terms with the strange world that he is now a part of. A world with its own sense of logic, where anything is possible and the rules no longer exist.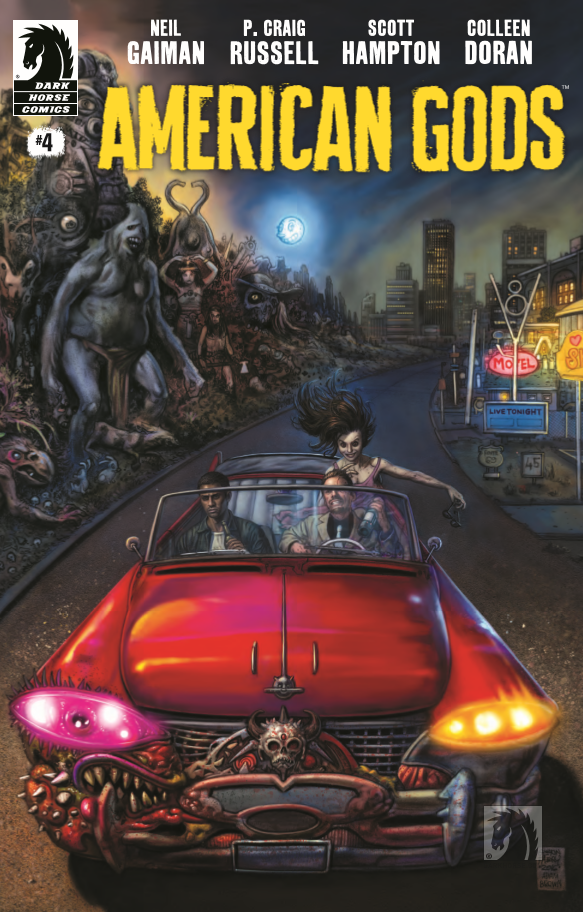 This issue begins with Shadow sitting down to play a game of checkers with Czernobog. A game that Shadow would dream about, recounting the moves and moments leading up to the end of the game. A fateful wager is made, where if Czernobog loses, he is to join Mr. Wednesday and help him with his plans, but if Shadow loses he is to allow Czernobog to smash his brains out a single blow of a sledgehammer. Both men agree and the game is set. Shadow loses one round and Czernobog loses the next, a predicament they both have to unwillingly accept. After an unpleasant meal, Shadow retires, falling into a deep and troubled sleep where he dreams of running through a minefield, with explosions ringing all round him. Shadow suddenly wakes to find the third Zorya sister, Zorya Polunochnaya, a.k.a. the Midnight Sister, is awake and standing in his room. After some wise words of advice, she gifts Shadow with the moon, warning him not to give this gift away, as it will protect him in the future. At the end of the issue we also have the side-story, Coming to America – 1721, by Colleen Doran. This beautifully illustrated story explores the case of Essie Tregowan, a woman from Cornwall who has a knack for getting into trouble and who believes in the piskies, magical folk who are mischievous by nature and can grant you good luck.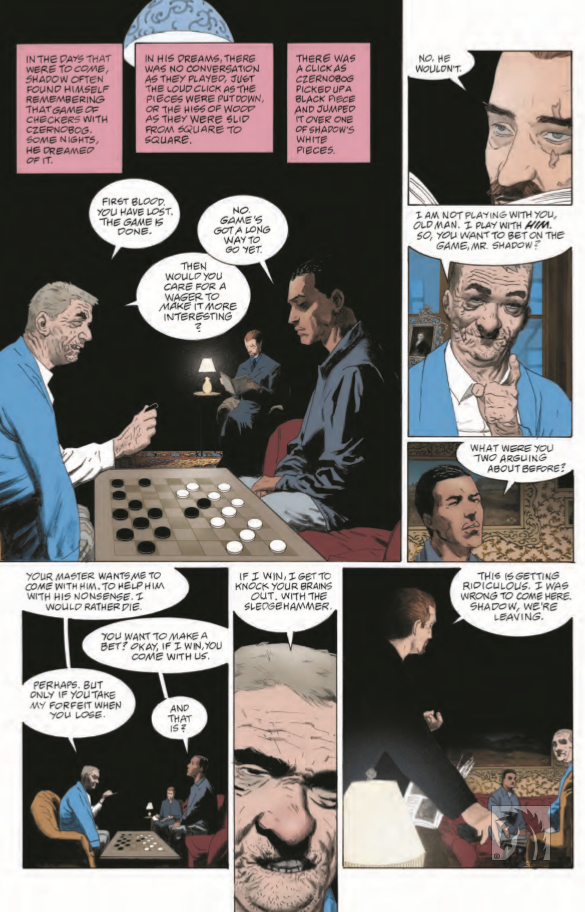 This issue is steeped in tension and a lot of it stemming from the game of checkers that Shadow play with Czernobog. Wagering his life and losing, is not something to scoff at, especially when you lose to a god of death who is rather fond of crushing skulls. Anxious and on edge, it's only natural for Shadow to feel troubled from the decisions he's made. For the first time, we see Shadow remark on the strange and unexplained things that have been happening around him since he left prison. Prior to this, he has been silent and stoic, never revealing much as to how he is feeling. The world of the gods is mysterious and dangerous and he is finally beginning to understand this. P. Craig Russell has done a wonderful job of adapting Neil Gaiman's novel, condensing it down, so as to fit into a comic format, without sacrificing the story. He is staying true to the original source material, which will please many of the already existing fans of the novel.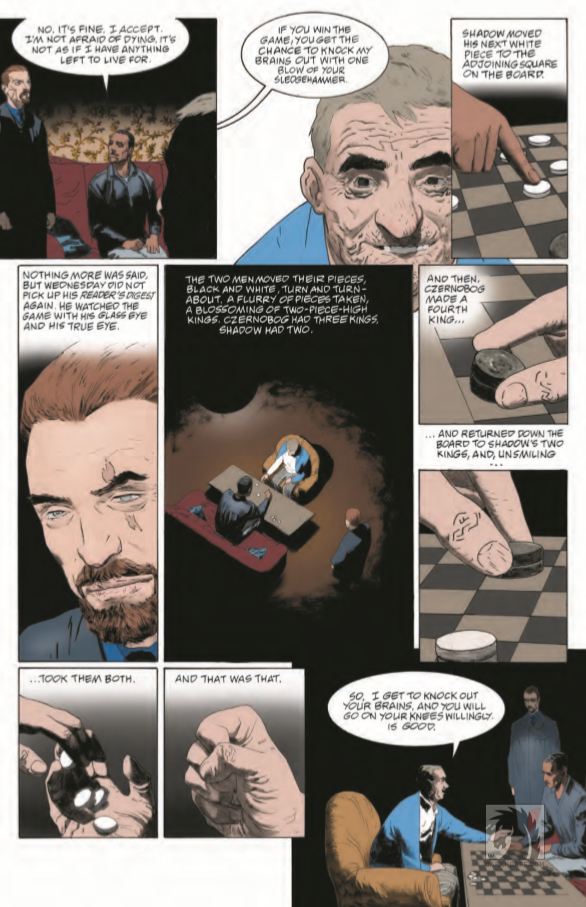 The art by Scott Hampton perfectly captures the atmospheric tone of the narrative. This issue is filled with a lot of apprehension and tension, and I found that Hampton wonderfully captured the edginess of the characters emotions through their animated facial expressions. I also enjoy the way that he frames certain scenes, drawing attention to specific objects or interactions. There is also an interesting painted quality to his art which gives the feeling of depth and texture, whilst also creating a sense of light and reflection. The colouring is dark and gritty and reflects the dramatic nature of what's happening. I also thought that Zorya Polunochnaya stood out on the page, like she was bathed in vibrant moonlight, making her appear luminous. I should also mention the art for Coming to America – 1721, by the legendary Colleen Doran. Her art is beautifully detailed and expressive, capturing the vibrancy of Essie and her many adventurous exploits.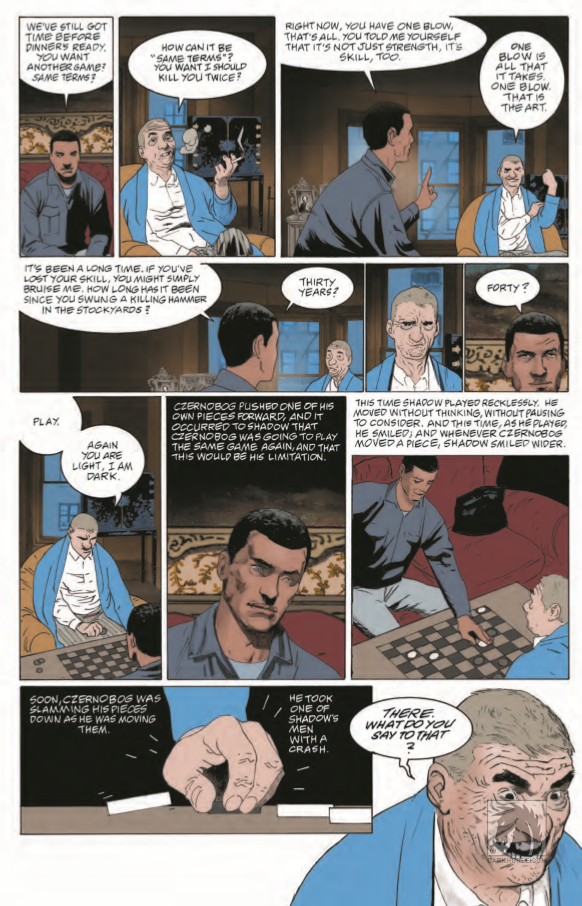 Overall, I'm enjoying this comic adaptation of American Gods. This is such an excellent and engaging story, and seeing it imagined with expressive art is an absolute treat. I know I'm enjoying a story when I come to the end and I'm bitterly disappointed that it's over…well, this is how I feel when reading American Gods. Don't hesitate, do yourself a favour and grab a copy ASAP!
I'm giving this issue 4 out of 5 stars!
---
COMIC DETAILS
CREATIVE TEAM: Neil Gaiman, P. Craig Russell, Scott Hampton, Rick Parker, Colleen Doran and David Mack.
PUBLISHER: Dark Horse Comics
PUBLICATION DATE: June 14, 2017
REVIEWER: Dana Folkard