Films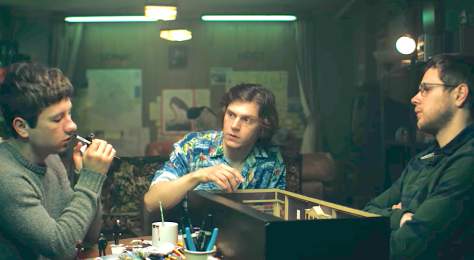 Published on October 2nd, 2018 | by Damien Straker
American Animals – Film Review
Reviewed by Damien Straker on the 17th of September 2018
Madman presents a film by Bart Layton
Produced by Derrin Schlesinger, Katherine Butler, Dimitri Doganis and Mary Jane Skalski
Written by Bart Layton
Starring Evan Peters, Barry Keoghan, Blake Jenner, Jared Abrahamson, Udo Kier and Ann Dowd
Music by Anne Nikitin
Cinematography Ole Bratt Birkeland
Edited by Nick Fenton, Chris Gill, Luke Dunkley and Julian Dart
Running Time: 116 minutes
Rating: M
Release Date: the 4th of October 2018
What distinguishes films from real life is that characters choices must be logical and driven by clear reasoning. The irrationality and impulsiveness of life are cheap shortcuts for writers failing to define the psychology of a character. For this reason, real-life stories do not always make good movies. It can be difficult to pinpoint why people act, which leads to illogical decisions and cliché story choices.
American Animals recreates a true crime story and offers some explanation for the bizarre actions of its young characters through humour and drama. Ironically, the film's need to justify its characters and to employ a coda about life choices undercuts the idiocy and hilarity. Perhaps some of the craziest stories are best left unexplained rather than applying reasoning.
British filmmaker Bart Layton wrote and directed the film. One of his most famous projects to date was the documentary The Imposter (2012), which was about a Frenchman who convinced an American family that he was their missing son. Layton's main subject here is Spencer (Dunkirk's Barry Keoghan), an American college student who in the year 2003 is struggling to fit in with his peers. His only friend is the disruptive Warren (X-Men: Apocalypse's Evan Peters), who we first see stealing meat from a fridge. He claims it's an act of protest.
One evening, Spencer and Warren discuss how artists such as Monet struggled but soon made their mark in life. After seeing John James Audubon's book The Birds of America at the Special Collections Library at Transylvania University, the Kentucky liberal arts college where they are studying, they entertain the thought of stealing the artist's book. It is said to be worth twelve million dollars.
The conversation strikes a chord with Warren. He pesters Spencer while he's working in a supermarket about fulfilling their lives. 'Aren't you curious?' he asks him. The wide-angle camera shot frames the aisle around them as though their lives are equally as structured and pre-packaged as the goods.
Unfortunately, while Spencer flirted with the idea, Warren becomes increasingly obsessed. Over an eighteen-month period, he neglects his college sports scholarship to recklessly execute the plan. The way he orchestrates the caper to infiltrate the library and steal the book makes him comparable to a stressed film director. He enlists the help of Chas (Everybody Wants Some!!'s Blake Jenner) and Eric (Jared Abrahamson) and assigns them roles.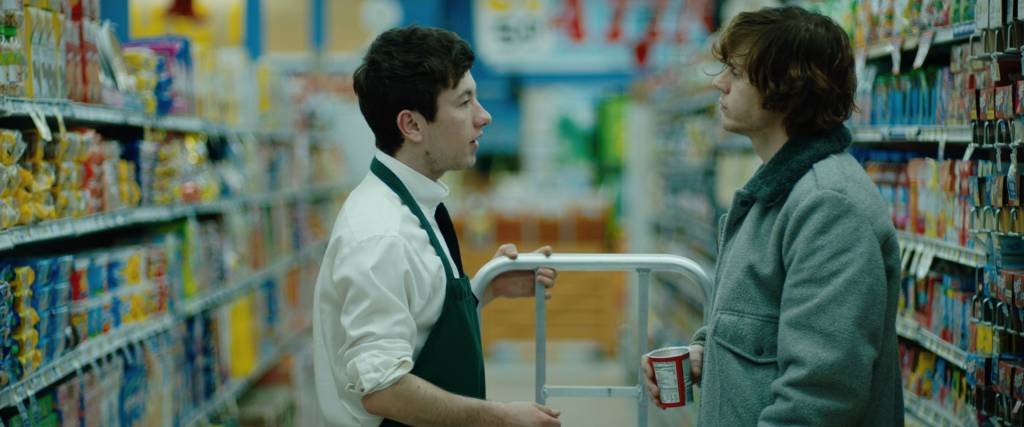 Eric is asked to find gaps in their plan and he vehemently refuses to hurt Betty Jean Gooch (Ann Dowd) who is the gentle librarian overseeing the book collection. Chas is a sportsman who is hired to be their getaway driver. He ensures his driving points are timed to perfection. There are some hilariously silly moments in their preparation, including a trip to Amsterdam to meet with a fence, which results in an awkward encounter with two stone-faced heavies (one of whom is played by Udo Kier). To prepare for the scheme, Warren also watches several heist movies. The camera humorously scans the side of each DVD case.
Bart Layton has told this true story with stylistic flair and a good understanding of tonal shifts. He shoots many of the early scenes with dark colours and at night to reflect the loneliness of the characters and their isolation from their peers. The film is at its most engaging though when it's funny and embracing its cinematic artifice. One example of the artifice is Layton's decision to include the real Spencer, Warren, Eric and Chas in the film.
Comparable to a documentary, Layton regularly cuts to them talking to the camera, which typifies his post-modern filmic style. Similarly, a scene rewinds to show how Eric and Warren remember a moment differently. Warren meets a man in Amsterdam, but Eric refutes it and says the contact looked different; the man's hair colour changes accordingly.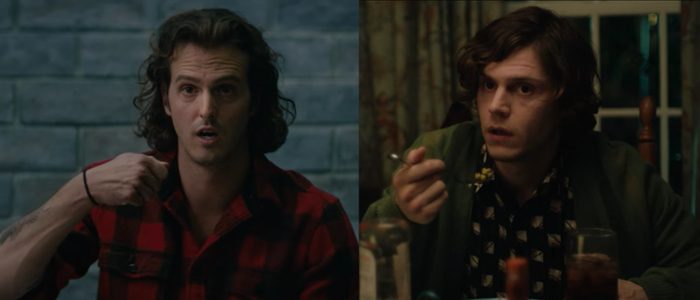 The effect of the binary, the docudrama approach and the stylistic artifice, is that Layton neatly distinguishes fiction and reality. He argues that young people often fail to separate these modes and believe their lives can unfold as briskly as the choreography of a movie scene. It is about these young men failing to realise their privilege as they discard their education and allow their choices to have terrible consequences on the people around them.
In one gloriously energetic moment, Warren imagines the heist unfolding as an effortless crime spree as the Elvis' song 'A Little Less Conversation' plays on the soundtrack. There's also a shot of one of the boys waiting to be picked up, which recalls an opening frame from The Dark Knight (2008). In another great moment, Warren assigns everyone a colour ala Reservoir Dogs (1992). Eric hilariously quips that everyone in that film died, and much like Steve Buscemi's character, Eric laments being assigned the tag of 'Mr. Pink'.
Layton's distinction of fiction and reality is also evident in the way he quickly shifts the film's moods. The heist unfolds with a plausible shift in tone, verging from comically absurd to a disturbing crisis of danger and risk. On their first attempt, the group are disguised as silly old men. One character complains that his sideburns are falling off. The ridiculousness of their costumes shows the absurdity of not only considering a plan but acting upon it, which makes the situation even funnier.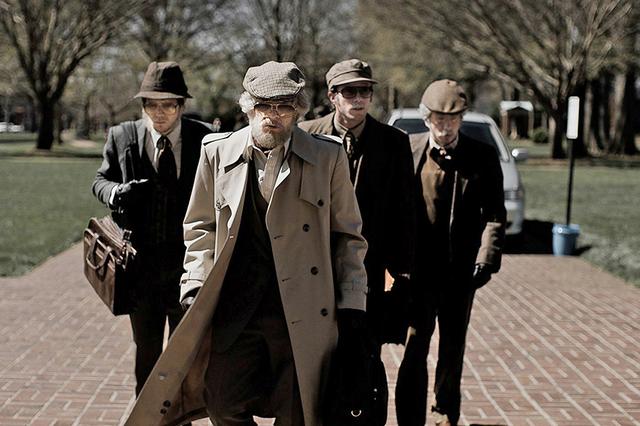 When people are hurt in the second heist attempt, the tone shifts to a darker and more intensified emotional register. The characters visibly show how the stress of the situation is affecting them. As the sweat pours off Warren, one sees his anguish as the reality of his actions are realised. His manic, nervous energy and his hysteria in these scenes is terribly convincing and real. Similarly, the pivotal librarian, Betty Jean Gooch, reacts in such a believable way in these heist scenes that we immediately feel sorry for her.
However, one must ask if creating a pattern of behaviour to understand the group was necessary. There's the implication that Warren's home life was deeply unhappy. In one darkly comic moment, his mother announces to the whole table that she is leaving his father. In another strange scene, Spencer sees a flamingo from Audubon's book walking along a narrow road as though it symbolises his destiny. As humorous as it is, what's the point of this? He later says, 'I had to make something happen on my own', thereby reflecting the false idea of becoming an artist through this crime. Did we need a scene with Warren arguing with his sports coach and lamenting the town? It builds a portrait of restlessness, angst and dissatisfaction but nothing can rationalise the decision to steal the book.
American Animals walks a tightrope between accurately recreating a real-life event and loosely speculating about why it occurred. This is a rare case where it wasn't entirely necessary to give context to these fools who thought they could escape the mundanity of their lives with this ill-conceived, destined-to-fail heist. At the end, the real Betty Jean Gooch poses the film's most honest question: 'do they know why they did it?'. Regardless of the over-speculation, the movie works when it's hilarious and intense because we are invested in the result of the unlikely caper. After a long build-up, it's the boys' actions that matter most.
Summary: Regardless of the over-speculation, the movie works when it's hilarious and intense because we are invested in the result of the unlikely caper. After a long build-up, it's the boys' actions that matter most.