Hardware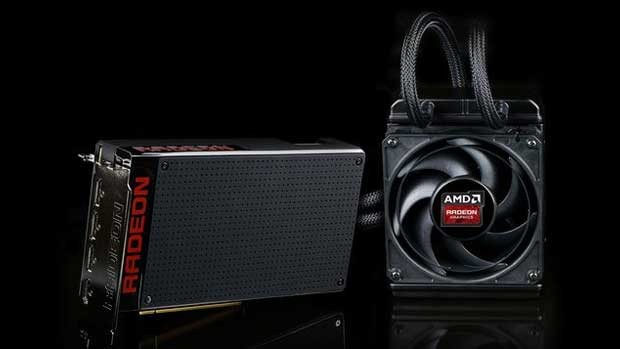 Published on August 14th, 2015 | by Tony Smith
AMD Radeon R9 Fury X Review
Summary: The AMD Radeon R9 Fury X is an extremely powerful graphics card for gamers which successfully combines its architecture with water cooling technology
AMD Radeon R9 Fury X Review
Fellow gamers, it gives me great pleasure to introduce the future of gaming, ED-209… err… the Fury X! All childish Robocop references and jokes aside, AMD's new gaming graphics card has been built for gaming and boasts a 1050Mhz core clock, 4GB 500Mhz HBM (High Bandwidth Memory), 8.9 billion transistors and 4096 stream processors which uses the powerful Fiji GPU. It also supports true 4K gaming and even liquid cooling to keep this beast chilled while it renders your virtual gaming worlds.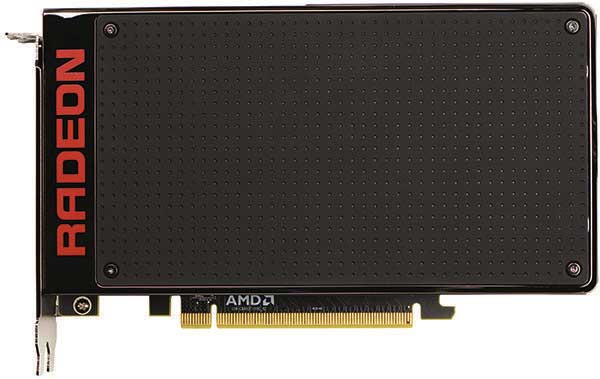 So let's officially check out the AMD Radeon R9 Fury X!
AMD Radeon R9 Fury X Specifications
Stream Processors: 4096
Texture Units: 256
ROPs: 64
Boost Clock: 1050MHz
Memory Clock: 1Gbps HBM
Memory Bus Width: 4096-bit
VRAM: 4GB
FP64: 1/16
TrueAudio: Y
Transistor Count: 8.9B
Typical Board Power: 275W
Manufacturing Process: TSMC 28nm
Architecture: GCN 1.2
GPU: Fiji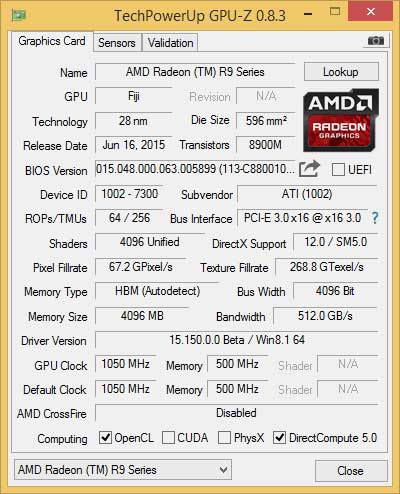 However all this power comes at a cost and in Australia, the Fury X retails from $999AUD (August 2015). So with a very fast GPU of 1050Mhz, this card also boasts a very uncanny 8.9 billion transistors that makes this one of the most powerful consumer graphic cards available and with the inclusion of HBM memory, AMD have succeeded in exceeding the bandwidth (512GBps) and performance of this card which also uses the 28nm manufacturing process. Needless to say, it's a very well designed card from AMD.
Furthermore, with the HBM technology which uses stacking opposed to off-chip memory, it considerably increases the bandwidth and I'm sure we will see this infrastructure used more in the future. The competition of this card is also the NVIDIA GeForce GTX 980 Ti which retails for around the same price of the Fury X but is dependent on the manufacturer itself. The Fury X definitely gives the competition a run for their money!
When it comes to connections, the Fury X supports three DisplayPort 1.3's and one HDMI 1.4 port which is all you need to hook this godling up to a decent monitor or television, hopefully both with 4k support. Even though it's missing DVI, given that it has three DisplayPorts and HDMI, it's really a moot point and this card is for high-end monitors or televisions.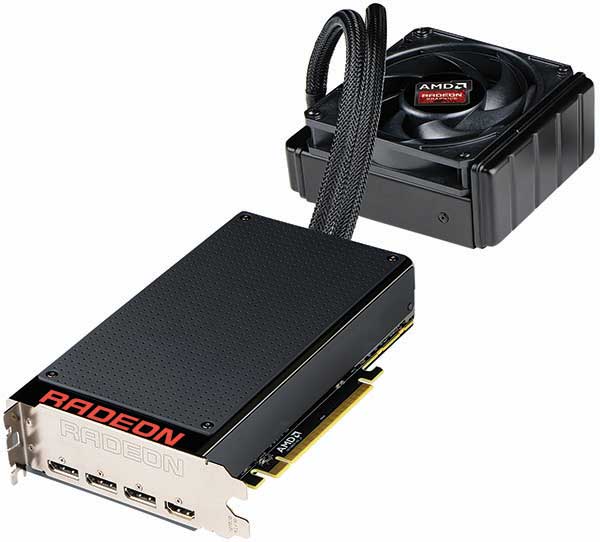 In terms of system specifications, you do need a decent power supply that can run this card as it needs two eight-pin connectors thanks to the TDP of 275W. Then you have the water cooling technology and although the card is smaller than most of the high-end cards on the market, its unique design employs water cooling which does need a little bit of tweaking when installing this card but most gaming cases should have no issues.
A cute little feature of the card  is that it contains eight red LED's and the more power the card uses, the more LEDs are lit up. Then you have a green LED which is turned on when the card is in "sleep" mode. Needless to say it's a well-designed card and definitely screams of high-end quality and really highlights the thought that has gone into creating this card by AMD.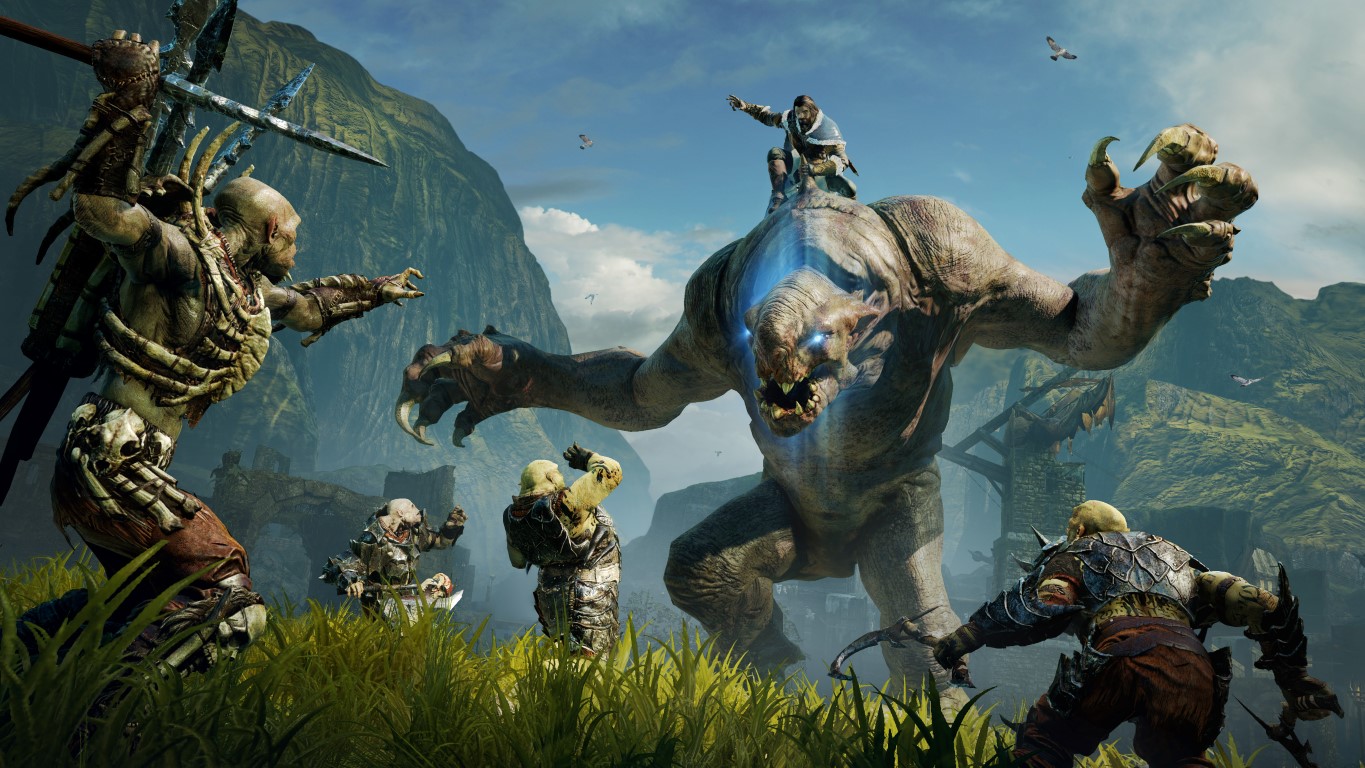 Another cool aspect about the card is that thanks to the water cooling technology, the maximum temperature of the card for us was around 62 degrees Celsius at full load with the idle around 38 plus it's considerably quieter than cards using traditional fans to move the warm air away. The card also has two bios which I'm guessing can be used as a second profile or a backup should something go awry.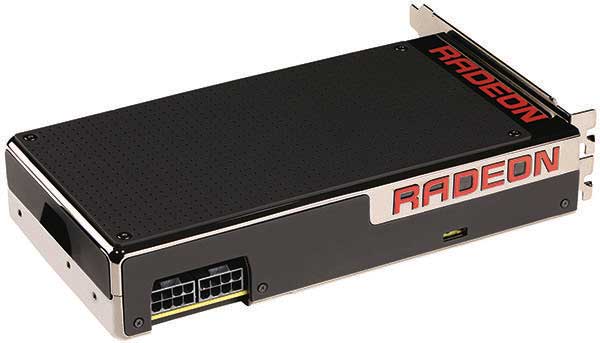 To power this beast, we tested it on an Intel Core i7-5930K processor with 32GB of RAM plus a 500GB SSD with Windows 7. For our benchmarking, we tested this card with 1440p and 4K which this card was built for. Sure, it does support lower resolutions like 1080p, however running at these other modes really takes your games to a totally new level especially with the insane resolution and detail.
Radeon R9 Fury X Performance (4K)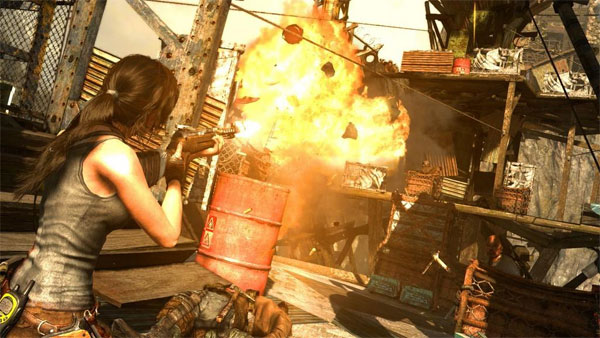 Radeon R9 Fury X Performance (1440p)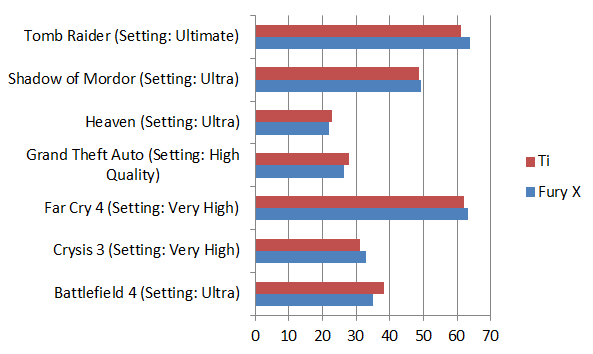 As you can see from our benchmarks, the Fury X really challenged the  NVIDIA GeForce GTX 980 Ti when it came to performance and both cards were extremely close. Given the various tests that we performed on these games, I would have to say that the victory goes to the Fury X.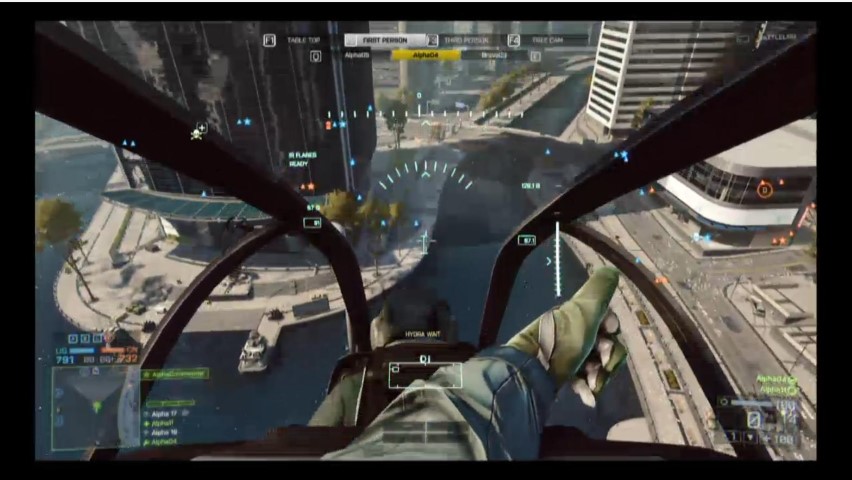 With some further tweaking and perhaps overclocking, you could push out a few more frames per second. Two games that did look amazing were Tomb Raider and Far Cry 4 which look extremely realistic in both 4K and 1440p. Battlefield 4 was another great game at these resolutions, especially with the attention to detail and explosions to die for… literally!
Final Thoughts?
The AMD Radeon R9 Fury X is an extremely powerful graphics card for gamers which successfully combines its architecture with water cooling technology to push your graphics to the 1440 and 4K levels with ease. Seeing games like Tomb Raider or Shadow of Mordor in ultra-detail on a 4K screen is an amazing experience and the detail leaves you gobsmacked. It also gives NVIDIA's GTX 980 Ti a run for its money and the only negatives of this card is the price and that you need to make room for the watercooling component of the Fury X… but apart from that, what a card!