Hardware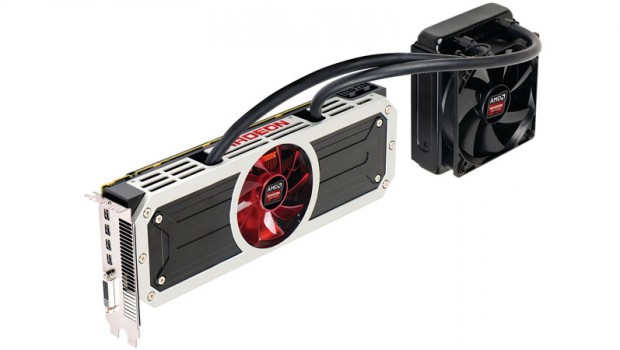 Published on May 25th, 2014 | by Admin
AMD Radeon R9 295X2 Graphics Card Review
Summary: If you want the best than the AMD Radeon R9 295X2 Graphics Card is the answer to pure 4K gaming bliss!
AMD Radeon R9 295X2 Graphics Card
Product: Video Game
Company: AMD
Reviewer: Tony Smith
Welcome to the PC equivalent of the Ferrari with the AMD Radeon R9 295X2 Graphics Card, one of the world's most powerful video cards. With an insane eight gigabytes of GDDR5 (5Ghz) memory and two AMD R9 series GPU's, this graphics card takes gaming to truly new heights, especially with the ability to run games at the mythical resolution of 4K.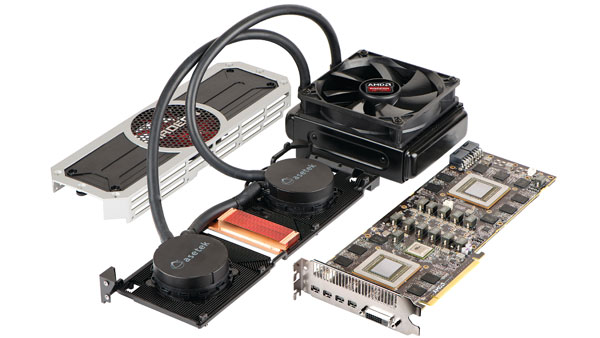 That's right, things just got very serious with AMD but keep in mind that this video card can cost anywhere from $1800 to $2000AUD in Australia (May 2014). It's not cheap, especially for a 4K card but it does produce some truly gorgeous gaming graphics.
AMD Radeon R9 295X2 Graphics Card Highlights
11.5 TFLOPS
5632 stream processors
8GB memory
512-bit memory interface x 2
Dual liquid-cooled AMD Radeon™ GPUs
Asetek closed-loop liquid cooling
Given that, you also need a system capable of running this card and a case that has enough room to seat this powerhouse as it measures at 307mm in length. You also need a power supply that can power this behemoth, especially if you want to see games on a 4K screen. If you do have all the correct specs, gaming has never looked this realistic.
AMD Radeon R9 295X2 Graphics Card Specifications
With such a powerful video card, the above R9 295X2 highlights are truly epic, especially the two R9 GPU's that run at a very impressive 1018 MHz each. However as they are on one card, AMD have successfully implemented an Asetek closed-loop liquid cooling system to ensure the heat is kept to a minimum.
Codename Vesuvius
Core Clock Up to 1,018MHz
Stream Processors2 x 2,816
Texture Units 2 x 176
Rasterisers 2 x 4
Tesselation Units 2 x 4
ROPs 2 x 64
Transistors 12.4 billion
Die Size 2 x 438mm2
Process Node 28nm
Memory
Amount 2 x 4GB GDDR5
Frequency 1.25GHz (5GHz effective)
Interface 2 x 512-bit
Bandwidth 2 x 320GB/sec
Card Specifications
Power Connectors 2 x 8-pin
Stock Card Length 307mm
TDP 500W
In terms of testing we tested this card with an Intel Core i7-4770K processor with 16GB of DDR3-2133Mhz memory plus a Samsung 28" 4K UHD LED screen. The card also requires two 8-pin PCI express power connectors and a power supply that can provide 28amps on each 12v rails. If you don't, you will have trouble powering this card up. The ports on the card include four mini DisplayPorts plus a single dual-link DVI. The card even boasts a HDMI 1.4a compatible with allows for audio and Blu-ray 3D support.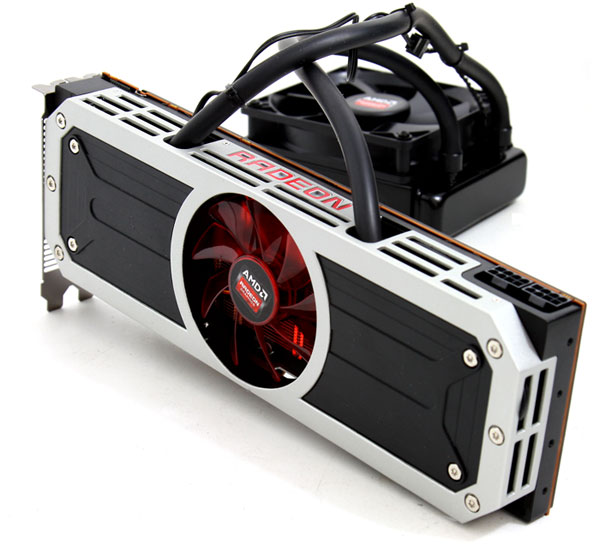 Another highlight of this card is the liquid cooling which really keeps the temperature of the GPU's low, especially at 4K. The liquid cooled Asetek system also reduces noise and the included fan does a great job at dissipating heat away from both cores. Given how powerful the card is, the integrated cooling is probably the only way this card could be kept cool but thankfully the 120mm radiator and the fan does this well.
Benchmarks
With a 4K graphics card, we chose some of the latest and greatest games available that include titles such as Battlefield 4, Tomb Raider and BioShock Infinite. Playing games since the 90's, I must admit that I have never seen games this clear before. More importantly, they played exceptionally well, especially at the illusive 4K resolution of 3840 x 2160.
Battlefield 4
Battlefield 4 is the genre-defining action blockbuster made from moments that blur the line between game and glory. Fueled by the next-generation power and fidelity of Frostbite 3, Battlefield 4 provides a visceral, dramatic experience unlike any other.
1080p – 112 FPS
4K – 57 FPS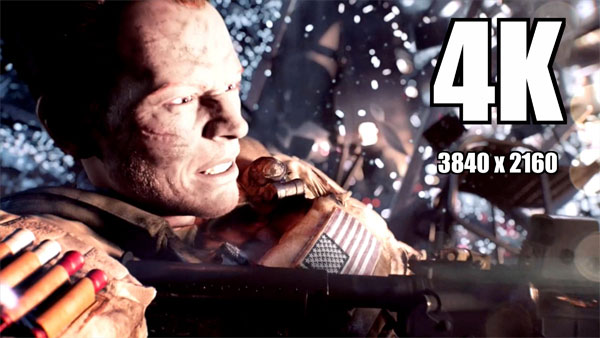 Bioshock Infinite
In this first-person shooter set in 1912, the player assumes the role of former Pinkerton agent Booker DeWitt, who is sent to Columbia to rescue Elizabeth, a young woman imprisoned there since childhood. He develops a relationship with Elizabeth, augmenting his abilities with hers so they may escape from a city literally falling from the sky
1080p – 169 FPS
4K – 55 FPS
Assassin's Creed 4
Assassin's Creed IV Black Flag begins in 1715, when pirates established a lawless republic in the Caribbean and ruled the land and seas. These outlaws paralyzed navies, halted international trade, and plundered vast fortunes. They threatened the power structures that ruled Europe, inspired the imaginations of millions, and left a legacy that still endures.
1080p – 65 FPS
4K – 42 FPS
Tomb Raider
Tomb Raider is an Action-Adventure game that introduces players to the origin of one of the most identifiable video games icons of all-time, Lara Croft. The game features a blend of survival, stealth, melee and ranged combat, and exploration gameplay as a young Lara Croft is forced to push herself past her know limits to survive and unravel the dark history of a forgotten island.
1080p – 154 FPS
4K – 41 FPS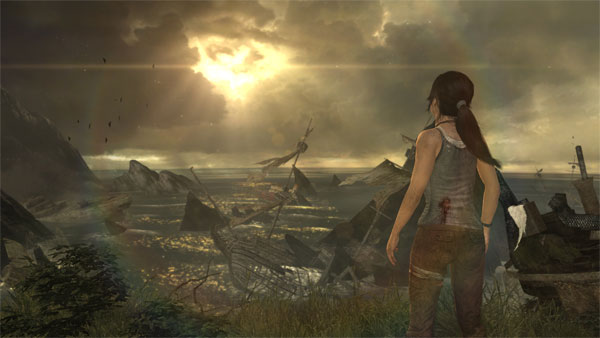 Batman Arkham Origins
Batman: Arkham Origins is the next instalment in the blockbuster Batman: Arkham videogame franchise. Developed by WB Games Montréal, the game features an expanded Gotham City and introduces an original prequel storyline set several years before the events of Batman: Arkham Asylum and Batman: Arkham City, the first two critically acclaimed games of the franchise.
1080p – 189 FPS
4K – 99 FPS
Grid 2
Be fast, be first and be famous as the race returns in GRID 2, the sequel to the BAFTA-award winning, multi-million selling Race Driver: GRID. Experience aggressive racing against advanced AI and become immersed in the race with GRID 2's new TrueFeel™ Handling system which powers edge of control exhilaration behind the wheel of every iconic car
1080p – 102 FPS
4K – 89 FPS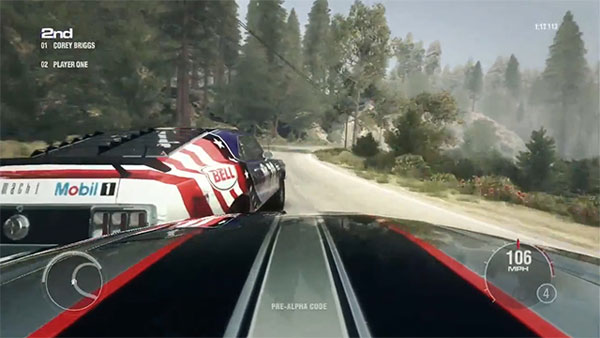 Gaming at 4K looks amazing, even if the frame rate is considerably lower than the stock standard 1080p FULL HD graphics. Games such as BioShock Infinite and Tomb Raider really are breathtaking, especially on our Samsung 4K monitor. With that said, the card can even be overclocked for some additional scores to the frames per second. However as this was a test card, we did not delve into those waters but according to other journalists, they have managed to push both GPU's to 1100 Mhz.  Considering the resolution, the card remained on around 80 degrees Celsius and didn't produce any more noise than when it was on idle.
Final Thoughts?
So is the AMD Radeon R9 295X2 Graphics Card worth the price? Unfortunately most people have standard FULL HD monitors so unless you own a monitor or TV capable of producing 4K than you will definitely not the get most out of this card. However if you want the best and also own a screen capable of pushing the 4K boundaries than this card definitely delivers on not just performance but some amazing graphics that we have not experienced before. Games such as Battlefield 4 and BioShock Infinite almost look like Hollywood CGI movies.